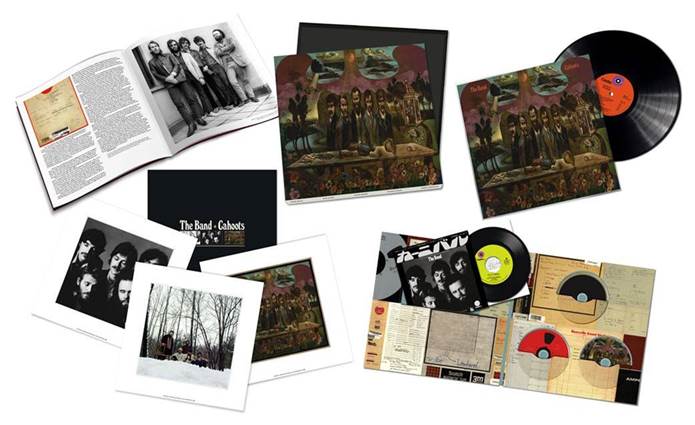 We're celebrating the 50th anniversary of THE BAND's classic fourth album, CAHOOTS, with an assembly of newly remixed, remastered and expanded 50th Anniversary Edition packages, including a multi-format Super Deluxe 2xCD/Blu-ray/1xLP/7-inch vinyl box set along with 2xCD, 180-gram half-speed-mastered black vinyl and limited-edition 180-gram black vinyl packages.
All the Anniversary Edition releases were overseen by principal songwriter Robbie Robertson and sport a new stereo mix by Bob Clearmountain from the original multi-track masters. The box set and CD configurations boast a bevy of unreleased recordings, including Live at the Olympia Theatre, Paris, May 1971, a rousing bootleg partial concert consisting of 11 tracks culled from the initial throes of a European tour that found The Band perched at the top of their live game; and early and alternate versions of "Endless Highway" and "When I Paint My Masterpiece" along with six other early takes, outtakes, instrumentals, and stripped-down mixes.
Pick your version and order your copy HERE.
When THE BAND pulled into the unfinished Bearsville Sounds Studios in Bearsville, New York in early
1971 to record CAHOOTS, their fourth studio album in as many years, they were still basking in the success of and acclaim for their first three history-making records. The Band's landmark debut album, July 1968's Music From Big Pink, drew inspiration from the American roots music melting pot of country, blues, R&B, gospel, soul, rockabilly, the honking tenor sax tradition, hymns, funeral dirges, brass band music, folk and good ol' rock 'n' roll to foment a timeless new style that forever changed the course of popular music. When they released their seminal eponymous second album, The Band, the following year in September 1969 – or "The Brown Album," as it would lovingly be called – not much more was known about the reclusive group. Even so, August 1970's Stage Fright, recorded over 12 days on the stage of the Woodstock Playhouse in upstate New York, cemented the fulfilled promise of those initial back-to-back albums that solidified The Band as one of the most exciting and revolutionary groups of the late 1960s, who were able to carry their avowed excellence directly into the 1970s without interruption.


Originally released on September 15, 1971, Cahoots contains a number of The Band's best-loved and most enduring songs, including "Life Is A Carnival" and "When I Paint My Masterpiece." As recounted in the liner notes, longtime Band road manager Jonathan Taplin notes how "Carnival" was born in part out of Robertson's infatuation with some of the more peculiar characters on display in Marcel Carné's 1945 film Les Enfants du Paradise, not to mention his having worked on the midway at the Canadian National Exhibition in Toronto in his youth. In addition to The Band's own impeccable style of groove-making, the song's Mardi Gras-esque atmospherics are also due to legendary New Orleans R&B producer Allen Toussaint having been deployed to compose a most excellent, and decidedly funky, horn arrangement to buttress the track.
Meanwhile, "When I Paint My Masterpiece" ensued from a visit by lifelong Band compadre Bob Dylan, an instant classic that's bolstered by Levon Helm's mandolin and Garth Hudson's accordion, both of which lent the track a European feel that best matched Dylan's lyrical axis. Be sure to spend time with the "Masterpiece" alternate take near the end of CD1, which begins with a more prominent mandolin chord and world-weary Levon vocal, rather than the song's more familiar 25-second fade-in. You'll also discern differences in Garth's accordion accompaniment, Rick Danko's animated bass playing and Richard Manuel's insistent drumming. (Manuel often took to the drum chair whenever Levon would switch off to mandolin.)
Incidentally, Cahoots features another guest of note who also happened to be a Woodstock resident at the time: namely, Van Morrison, who adds his indelible vocal stamp to "4% Pantomime." One afternoon, Morrison stopped by Robertson's writing studio, heard Robertson noodling on some chord changes and a melody on piano, and the next thing anyone knew, Morrison was singing and creating lyrics on the spot while looking right at Richard Manuel. Morrison (whom Robertson dubbed the "Belfast Cowboy") was so galvanized by the tune that he suggested they all head to the studio to cut it that same night. A few hours and a few false starts later, "4% Pantomime" was officially on tape. In the finished version, Morrison and Richard Manuel trade impassioned face-to-face vocals captured only a few feet apart (with Manuel also turning in double duty on piano), Levon Helm supplying the unmistakable backbeat, and Garth Hudson adding all the right organ fills. (You can hear that initial false start version on one of the key outtakes on CD1.)
Fifty years on, Cahoots remains a stone-cold masterpiece, reinforced with a vibrant swath of refreshing stereo and surround-sound mixes alike for lifelong fans and those discovering the wonders of The Band for the very first time. Believe it or not, Cahoots is most definitely worth more than "two bits a shot."
Get the reissue of Cahoots now at Horizon or in our webstore. And check out these other releases by The Band, too!