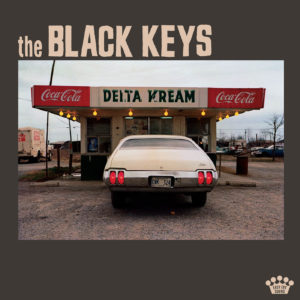 "It was literally the easiest record Dan and I have ever made," PATRICK CARNEY explains of THE BLACK KEYS latest, DELTA KREAM, "because it's the music we have listened to the most." Astonishingly, the phenomenal musicality on this tribute to the North Mississippi blues of Junior Kimbrough and RL Burnside took only 10 hours to record across two days in December 2019. In a further head-melting revelation for we mere mortals, the majority of the performances were improvised first takes.
Get Delta Kream on vinyl LP or CD HERE. 
Helping Carney and DAN AUERBACH pay homage to two of the Mississippi hill country's brightest lights were a pair of musicians who were there first-time round: slide guitar ace Kenny Brown, who Burnside dubbed his "white son", and bassist Eric Deaton. "It may be The Black Keys' most authentic record," says Carney. "There was no discussion. It just came out."
Auerbach first made a pilgrimage to Mississippi at the age of 18, playing at Kimbrough's Junior's Juke Joint club in Chulahoma and soaking up the rich musical and cultural heritage documented in Robert Palmer's seminal documentary Deep Blues. There, he immersed himself in a style distinct from the delta blues prevalent elsewhere in the Magnolia state, enraptured by the deeply rhythmic, mesmerising cycling song structures, with few chord changes and an emphasis on the groove.
Later, The Black Keys borrowed Burnside and Kimbrough's Do The Romp on The Big Come Up, before paying their dues more extensively on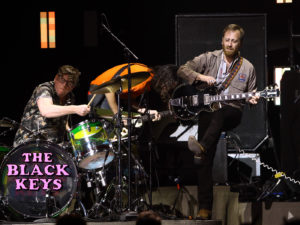 Chulahoma: The Songs Of Junior Kimbrough in 1998. The end of that record features a voicemail endorsement from Kimbrough's widow Mildred, who says the duo are "the only ones that really, really played like Junior".
Indeed, Auerbach and Carney sound entirely at home in the company of Kimbrough's sidemen. The loose, natural understanding inside Auerbach's Easy Eye Sound studio in Nashville is audible as each of these 11 songs stumble sleepily into action, the musicians gathered in a tight circle feeling their way as Carney alternates instinctively between muscular thud and artful shuffle, expertly guiding everything along.
A controlled howl of musical feedback introduces the six-minute "Crawling Kingsnake," ushering in Carney and Deaton's loping foundation and a devilish riff Auerbach describes as "almost disco". While John Lee Hooker notably recorded the song, descended from versions by Blind Lemon Jefferson and Victoria Spivey, it's the Kimbrough incarnation that's channelled here, and it's worth the price of admission for Brown's scorching slide solo alone. The duel between the two guitarists that winds through the song is spine-tingling. "Kenny's got his slide laying across all six strings, and I'm like, 'That's it! That's the sound from those Junior Kimbrough records!'" recalls Auerbach of the session.
Track two, "Louise," was unearthed by musicologist Alan Lomax, with Mississippi Fred McDowell cutting his version in 1964. The take here is mesmeric, the push and pull between Auerbach and Carney elastic as the song's muse entices the protagonist to "warm Chicago, down the Gulf of Mexico". Burnside's "Poor Boy A Long Way From Home," meanwhile, is a perfect encapsulation of the powerful metrical strut that typifies North Mississippi blues. The cycling foundation is decorated by Brown's scything slide work and the fierce attack of his soloing on Auerbach's red Gibson Trini Lopez formerly owned by McDowell.
Sink deep into Deaton's smoky bassline and Auerbach's throaty hushed tones on the blissful "Stay All Night," from Kimbrough's Fat Possum label debut All Night Long and you could be ensconced at a table in Kimbrough's Juke Joint. Brown and Auerbach exchange slow, luxuriant licks of the highest calibre, the feel and trust between blues master and student intuitive. "That song, the whole feeling, takes me back to the first time I saw Deep Blues," remembers Carney. "That documentary changed my life."
Arguably the high point of the whole endeavour is the sultry "Going Down South," from Burnside's A Ass Pocket Of Whiskey album, Auerbach sliding into an evocative falsetto, while the gently decorative percussion and Deaton's probing bass pulse lay the path for another slide masterclass, accentuated by the sweet vocal tones of a Hammond organ.
The band's second attempt at "Do The Romp," is elevated beyond the rootsy lo-fi charm of the version on The Big Come Up. The lead playing is exceptional, lit up by a series of scintillating bends, the musicians settling into an easy slumbering groove and the laughter in the studio at the conclusion signifying a job well done.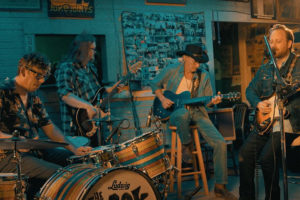 Brown revisits his role on "Sad Days, Lonely Nights" Lonely Nights from Kimbrough's 1994 album of the same name, recorded live at the Juke Joint, with Carney in deft control of the dynamics, his crash cymbal providing gentle encouragement to the heavenly soloing. "He always puts down his drumming," says Auerbach of his long-time musical partner. "He is very self-deprecating. But I don't know if he can do that much longer."
Delta Kream concludes on Kimbrough's haunting and hypnotic "Come On And Go With Me," Auerbach's pacific sweet nothings and unhurried, fluid phrasing summoned up on the fly before Brown indulges in some final electrifying slide work. The veteran guitarist's presence here, as Burnside's unofficially adopted son, feels fitting with Auerbach and Carney cast as unquestionably worthy carriers of the torch. The performances are simply staggering, the sessions built on mutual respect and admiration between four consummate Mississippi hill country blues devotees from two generations.
"We grew up learning to play like these guys," says Carney. "That's why we keep coming back to this music. It's the reason why the band even exists.  We did this album to remind people of what inspired us."
Delta Kream is in-stock now at Horizon Records and in our webstore, along with these other red-hot Black Keys releases!