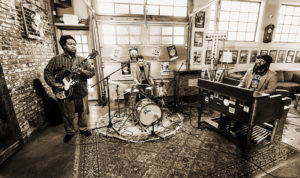 Many musicians are self-taught. Many can find a second livelihood gigging locally and most stay in that mode throughout their musical pursuits. Few break out to national or international touring status but the DELVON LAMARR ORGAN TRIO, once seemingly destined to the former, has indeed broken out.
The band features organist Delvon , a virtuosic musician with perfect pitch who taught himself jazz and has effortlessly been able to play a multitude of instruments, guitarist Jimmy James who eases through a wide range of styles from Steve Cropper to Hendrix to slinky Grant Green-style jazz and drummer Dan Weiss, also of the powerhouse soul and funk collective The Sextones.

I TOLD YOU SO is their third album, second studio effort in their self- dubbed "feel good music." The unit, also referred to as DLO3, will certainly evoke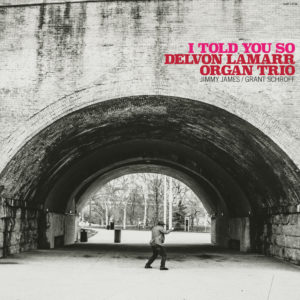 the '60s organ jazz stylings of Jimmy Smith and Baby Face Willette; a pinch of the soul strut of Booker T. & The M.G.'s and The Meters; and sprinkles of Motown, Stax, blues, and cosmic Jimi Hendrix-style guitar. It's looser, louder, and a more rock oriented than the Jimmy Smith, Brother Jack McDuff kind of organ trio material, and to many, it may be more exciting, better geared to live performance and unabashed booty shaking.
Get I Told You So in our webstore on CD and vinyl LP HERE.

THE ALBUM:
The nine tracks on I Told You So will immediately get you moving; it's impossible to sit still without at least tapping a foot.  They may even just get up and out of that comfortable chair. The funk and swagger are immediate and invigorating on the opener "Hole in One," already released as a single. "Call Your Mom" and "Girl Face" have more relaxed, smooth, soulful grooves that will keep you swaying. "From the Streets" is a sweet, slow burner featuring Weiss's greasy backbeat drumming and James leading the melody. "Fo Sho" ratchets up the tempo with a steady groove as Lamarr displays his mastery of his beloved B3.
"Aces" begins with syncopated funk and stands as the clearest evocation of Booker T & the MGs with James engaging in a soaring solo. Wham's "Careless Whisper," as the title suggests, brings the boil down to a simmer with Lamarr chording behind James' clean lines before he leads into the romantic melody. "Right Place, Right Time" is a bubbling sizzler, an exercise in precise and sweaty funk. The closer, "I Don't Know" is yet fine example of the trio's impeccable sense of rhythm and interplay as all three engage in lively dialogue.
The unrelenting, intoxicating grooves of The Delvon Lamarr Organ Trio are everything one would want from an organ trio – a pinch of late'60s, some elements of more modern funk, and a riveting, magnetic swagger that won't let go.
I Told You So is in-stock now at Horizon Records and in our webstore, along with the rest of Delvon's delectable catalog!