Yes indeed, we were thrilled to have the masters of the Elephant Six musical collective, Elf Power right here at Horizon Records in The Bohemian Cafe on Friday, July 14th, stopping by to celebrate the lovely psyche glory of their brand-new new CD/LP "Twitching In Time" before their full show at The Spinning Jenny in Greer that night at 8 p.m.!
Elf Power's latest album "Twitching in Time" combines experimental arrangements and sublime songwriting with their powerful live bombast, into their strangest, most cohesive, and most exciting sounding album yet.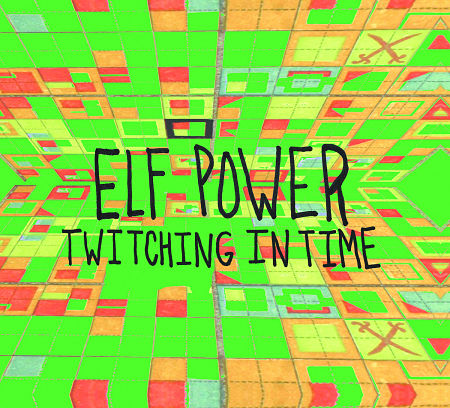 The opening track "Halloween Out Walking" combines minimal and beautiful folk rock arrangements with otherworldly Moog synthesizer gurglings to awe-inspiring effect. Other highlights include "Watery Shreds", a piano ballad that transforms itself into an explosive an unexpected distorted guitar drone freakout, sounding like an unlikely marriage of avant-garde keyboardist Laurie Anderson and drone metallers Sunn 0)) . Songs like the title track and "Cycling Aimlessly" are classic fuzzed out melodic rock songs the likes of which the band has become known for, while songs like "Gorging on the Feast" explore a jazzy, melancholy terrain before descending into a shredding heavy rock assault.
The constant shifting of sounds and styles makes for one of the band's most diverse and satisfying albums yet. On this album, singer/songwriter Andrew Rieger and longtime collaborator multi-instrumentalist Laura Carter are joined by Matthew Garrison on bass, Peter Alvanos on drums, and Davey Wrathgabar on guitar.

Horizon is thrilled to welcome Elf Power to their first-ever in-store performance, and we have "Twitching In Time" in-stock now along with these other favorites: