THE MOUNTAIN GOATS have created some alluring musical worlds before, worlds of stories about lost youth, urban diaspora, punk roots and goth pretensions, with a musical scope that encompasses indie noise, soft rock grace notes, jangle-rock guitars and smooth swinging rhythms. But their new album In League With Dragons, is about a world NO ONE expected them to create.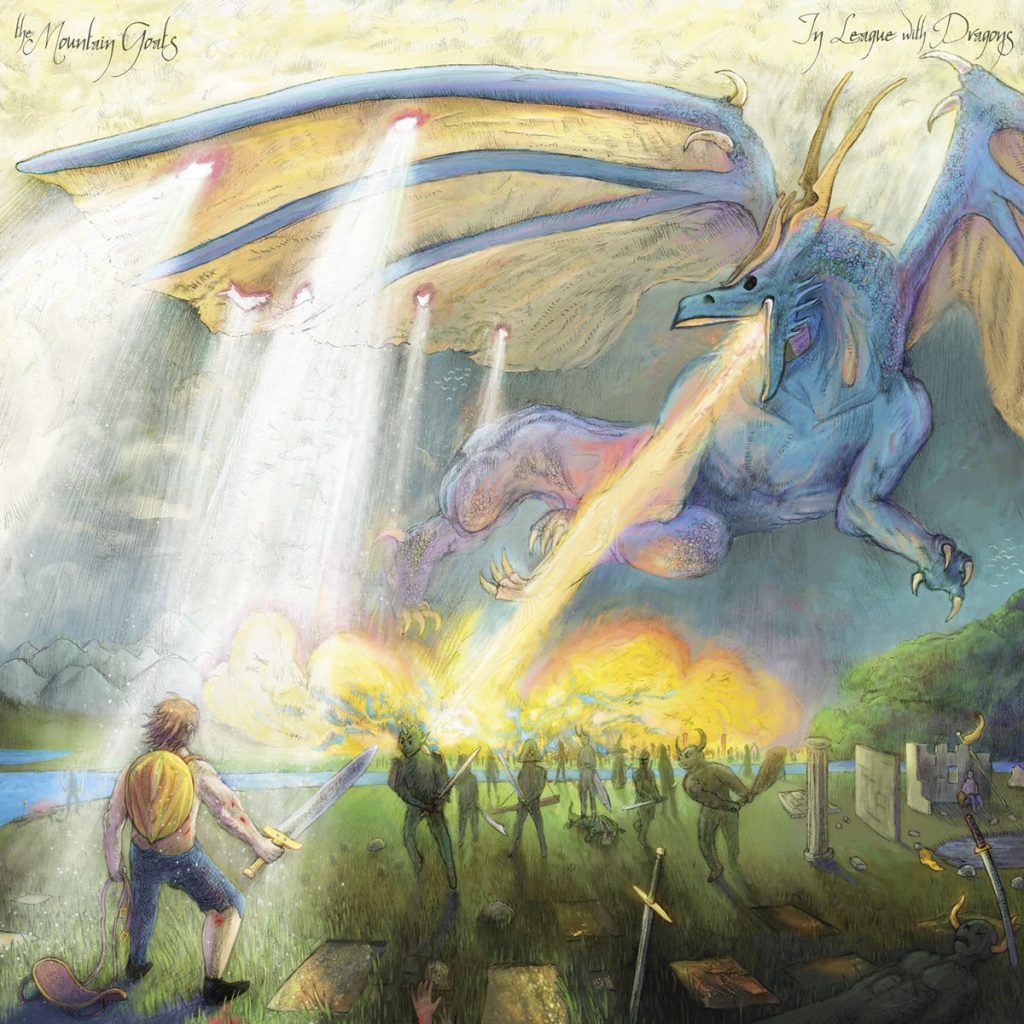 We'll let head Mountain Goat John Darnielle fill in the details:
"This album began life as a rock opera about a besieged seaside community called Riversend ruled by a benevolent wizard, for which some five to seven songs were written. When I'm focusing on a project, I always distract myself from the through-line with multiple byways, which are kind of like mini-games within the broader architecture of a long video game. As I worked on the Riversend stuff, weird noir visions started creeping in, probably under the influence of Leonardo Sciascia (a Sicilian author, he wrote mysteries) and Ross MacDonald's The Zebra-Striped Hearse, which a friend from Port Washington gave me while I was in the thick of the writing. I thought these moods helped complicate the wizards and dragons a little, and, as I thought about my wizard, his health failing, the invasion by sea almost certain to wipe out half his people, I thought about what such a person might look like in the real world: watching a country show at a midwestern casino, or tryout pitching for an American League team years after having lit up the marquees. Finally, I wrote the title track, which felt like a drawing-together of the themes in play: rebellion against irresistible tides, the lush vistas of decay, necessary alliances. I am earnestly hoping that a new genre called "dragon noir" will spring from the forehead of nearly two years' work on these songs, but, if not, I am content for this to be the sole example of the style."
So what we've got here apparently is 2xLPs of fantasy-indie-rock with acoustic singer-songwriter accents, wrapped up in a mythical concept a la 1970's prog-rock.
Count us in.
We'll have In League With Dragons in-stock on double-CD and double-vinyl LP on April 26th, and we've got some less-dragon related Mountain Goat titles in the house, too!