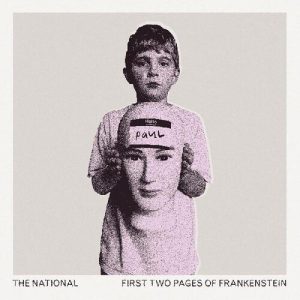 Anchored by evocative melodies and an enthralling lyrical narrative, THE NATIONAL's new album FIRST TWO PAGES OF FRANKENSTEIN signals a new chapter in the band's beloved discography. The 11-song album was produced by The National at Long Pond Studios in upstate New York and features guest appearances by Taylor Swift, Phoebe Bridgers, and Sufjan Stevens.
Order your copy on CD, LP or exclusive indie-store only red vinyl HERE.
After two back-to-back albums and several busy years of touring, First Two Pages of Frankenstein was initially stalled while lead singer Matt Berninger navigated, "a very dark spot where I couldn't come up with lyrics or melodies at all… Even though we'd always been anxious whenever we were working on a record, this was the first time it ever felt like maybe things really had come to an end."
Instead, The National "managed to come back together and approach everything from a different angle, and because of that we arrived at what feels like a new era for the band," according to guitarist/pianist Bryce Dessner, whose bandmates also include his brother Aaron (guitar/piano/bass) as well as brothers Scott Devendorf (bass, guitar) and Bryan Devendorf (drums).
The band has also shared the first single off the album, the deceptively upbeat "Tropic Morning News". Partly recorded live in Hamburg, the song merges its mercurial textures and kinetic rhythms with a lush, yet subtle grandeur achieved through Bryce Dessner's work with the London Contemporary Orchestra. "When Matt came in with that song in the depths of his depression, it felt like a turning point for us," says Aaron Dessner. "It's almost Dylan-esque in its lyrics and it's so much fun to play; everything suddenly felt like it was coming alive again."
First Two Pages Of Frankenstein is in-stock now on CD, LP and indie-store-only red vinyl, along with these other National platters!