David Childers, songwriter, rocker, folkster and raconteur supreme is back with a new album called Run Skeleton Run on Ramseur Records!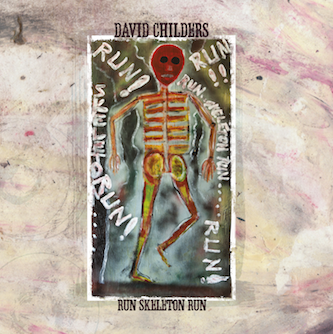 Run Skeleton Run is the latest chapter in the epic songwriter-rocker saga of North Carolina's own David Childers. Always singing to the beat of his own drummer, Childers once again treats us to his wit and wisdom drawn from looking at life from many angles. Any new David Childers release is cause for gratitude and that can be expressed while experiencing a live show this Thursday at The Spinning Jenny in Greer, with his new band, The Serpents. – Gene Berger
"These 12 songs cover quite a bit of territory: sailors, hermits, lovers, murderers, facing off against fate, or simple ordinary life. Throw in guilt, innocence, desperation, sorrow, gratitude and it's difficult to find subjects he doesn't touch on. Then there's the music; an amalgam of rock, folk, rockabilly, Cajun and country. He gives the listener something to focus on in each song, none much like the other. The idea of "Promise to the Wind" where the wind caught the promise and took it away, is both simple and brilliant. I was struck by the funky rhythm in the title track before focusing on its strange idea. "Goodbye to Growing Old" seemed to me as completely appropriate to my place in life. Childers treats it with a mix of defiance and acceptance with lines like this, "Well, it's mostly just a state of mind/And I ain't about to say that it's time/ To surrender to anything. Anything. Anything." – Jim Hynes, Elmore Magazine
Singer-songwriter David Childers is the proverbial study in contradictions. A resident of Mount Holly, North Carolina, he's a former high-school football player with the aw-shucks demeanor of a good ol' Southern boy. But he's also a well-read poet and painter who cites Chaucer and Kerouac as influences, fell in love with folk as a teen, listens to jazz and opera, and fed his family by practicing law before turning in his license to concentrate on his creative passions.
The legal profession's loss is certainly the music world's gain. Childers' new album, Run Skeleton Run, out now on Ramseur Records, is filled with the kinds of songs that have made him a favorite of fans and fellow artists including neighbors the Avett Brothers. Scott Avett contributes to four tracks, and Avetts bassist Bob Crawford co-executive-produced the effort with label head Dolph Ramseur. (Crawford and Childers, both history buffs, have recorded and performed together in the Overmountain Men).
In fact, it was Crawford who kickstarted this album, Childers' sixth solo effort, by suggesting he reunite with Don Dixon (R.E.M., the Smithereens), who'd produced Crawford's favorite Childers album, Room 23 (done with his band the Modern Don Juans). Crawford also suggested tracking at Mitch Easter's Fidelitorium Recordings.
Run Skeleton Run is in-stock now, along with these other Childers gems.