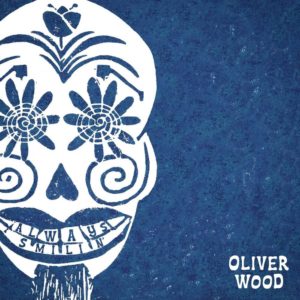 OLIVER WOOD's ALWAYS SMILIN' is a delight, an album brimming with feel-good songs and interesting, well-crafted storytelling with an all-star cast of guest musicians.
Get it on LP or indie-store-only clear vinyl HERE.
At a time when the pandemic forced the Wood Brothers to clear its touring schedule and spend most of 2020 at home, the Nashville-based Oliver Wood began gathering solo material he'd been writing with other musicians to get creative and jam with musical friends. Gradually, an album started to take shape.
Guests include Chris Long (who performed alongside Oliver in King Johnson), percussionist Jano Rix (the Wood Brothers), Susan Tedeschi & Tyler Greenwell (Tedeschi Trucks Band), Phil Cook (Hiss Golden Messenger), keyboardist John Medeski (Medeski Martin & Wood), Phil Madeira, and singer/songwriter Carsie Blanton.
Oliver Wood explains, "People would come through Nashville during the year before the pandemic, and I'd set up a co-write or a jam in our studio, just to do some stuff outside of my own band." He adds, "There wasn't an album in mind. I just wanted to be creative. But when the pandemic happened, the songs started building up."
"Kindness" starts the party, a rootsy feel-good tune with great groove and country-soul flourishes. Oliver Wood has the perfect voice for this kind of philosophical storytelling, infusing insight and wisdom as if he's singing directly to you. This is one of the tracks sparked by the improvisational jam sessions Oliver hosted in Nashville. A talented wordsmith, he tells the story of a man who is always smiling, and when asked for the secret, he sings, "Kindness is my religion." Guitar, banjo, chicken coop (yes, you read that correctly), Wurlitzer, drums, bass and backing vocals, all weave into the fabric of this standout, catchy song.
Beautiful and funky piano enters the picture on "Roots," complete with a compelling melody and moving chord changes. Laid back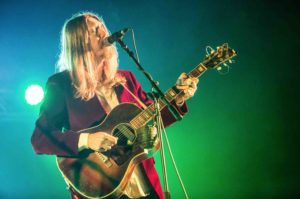 with vocal grit, Oliver spins his story about the roots of the past and present, offering encouragement to keep going and to not turn back. It's funky, rootsy, with a Leon Russell vibe. Layers of piano, organ and guitar fit neatly into the pocket of bass and drums. Another standout song to put you in a happy place. The backing singers add a light touch of gospel.
Percussion plays a role on Wood's album Always Smilin' and kudos to percussionist Jano Rix on "Get The Blues," featuring the great Susan Tedeschi. With syncopated rhythm and beefy horns, this song is flush with all kinds of sonic textures. A gospel-esque, bluesy track, Oliver sings, "Lord, can you hear us" with drums, horns, including trombone, all socking it to ya'. Tedeschi's soaring voice is heard throughout, harmonizing with Wood and solo.
Oliver makes room for an unlikely percussion instrument—the chicken coop that once played a major role in his pre-Wood Brothers projects. He says,  "Donny McCormick was one of my mentors back in Atlanta," referencing the southern rock drummer from the 1970s band Eric Quincy Tate. "We had a band together called Coop DeVille, and we'd play these blues gigs with Donny playing the chicken coop. He'd kick the side of it, play it with sticks, and drag a drumstick across the slats. It's a real spectacle to watch, but also a very musical instrument. I think of the chicken coop as part of my musical heritage, so I got one for Jano and made sure we used it on the album."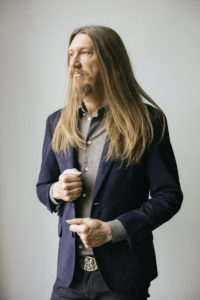 Chicken coop is indeed played by Jano Rix on the wonderful, funky "Fine Line" that kicks off with a percussive scratch and acoustic  guitar, bass and the subtle stomp of drums. Oliver's songwriting chops are showcased so well here. Lyrical and rhythmic with lines like "It's a fine line between love and lust, between truth and trust, dreams and dust," he imparts wisdom on this fun and insightful tune with a voice that's all character.
Another standout that weaves the story of the ravages of big development and big business that overtake a small town, is the country-soul ballad, "Soul of This Town." It's a meaningful but mournful story, calling attention to the heart of a town with independent business owners who are at risk of being whisked away. A moving melody with harmonies and horns, Oliver sings, "What about the soul of this town." Acoustic bass, a tap of percussion, wisps of guitar, all lay the groundwork for Oliver to sing the tale and play tasteful guitar riffs.
Always Smilin' by Oliver Wood is an album of celebration. He has released a solo triumph with meaningful, well-written songs accompanied by a group of outstanding musicians who are obviously having a great time playing together.
Always Smilin' is in-stock NOW on LP and indie-store-only clear vinyl at Horizon Records and in our webstore, along with these other Wood Bros. releases!