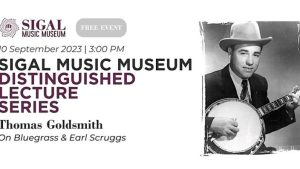 Few people are in a better position to discuss American roots music than THOMAS GOLDSMITH. Not only is he an acclaimed author, researcher, musician, songwriter, and producer, he was also a member of THE CONTENDERS, an offshoot of the beloved SC group UNCLE WALT'S BAND. Goldsmith will lecture at the SIGAL MUSIC MUSEUM on the Heritage Green campus at 516 Buncombe St. in Greenville on SUNDAY, SEPT. 10th at 3pm.
This event is free to attend, but registration is required. Get your seats HERE.
Goldsmith will be talking about Earl Scruggs, whose career as a world-recognized musician sprang from his upbringing in the Carolinas banjo universe and stayed with him throughout his life.
He'll include the basics on the birth of Bluegrass as we know it, in 1945, with Scruggs very much at the right hand of Bill Monroe, the style's creator. He'll also bring in the importance of the Spartanburg-Greenville-Shelby, NC, axis to the careers of such foundational figures as the Monroe Brothers, Snuffy Jenkins, and Don Reno.
Thomas (Tommy) Goldsmith has been involved with American roots music since the late 1960s as a writer, researcher, musician, songwriter, and producer. His credits include two books for the University of Illinois Press, the 2004 IBMA-award winning volume "The Bluegrass Reader" and the 2019 IBMA-nominated "Earl Scruggs and Foggy Mountain Breakdown: The Making of an American Classic."
In addition to a 40 -ear career as a news journalist, he's written several book chapters and liner notes for albums by artists including Bill Monroe, Lester Flatt, the Dukes of Leicester, and the "Appalachia Waltz" trio of Mark O'Connor, Edgar Meyer, and Yo-Yo Ma. His songs have been recorded by the Nashville Bluegrass Band, Alice Gerrard, Riders in the Sky, David Olney, and Uncle Walt's Band.