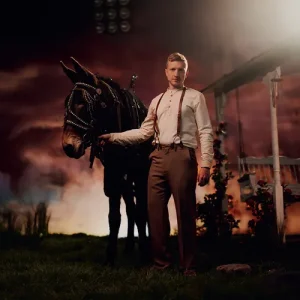 Singer-songwriter TYLER CHILDERS is back with a stellar new album RUSTIN' IN THE RAIN, recorded with his remarkably intuitive, rough-and-ready band THE FOOD STAMPS.
Order your copy on CD, LP and indie-store-only green blend vinyl HERE.
Musically, Childers returns to his roots of crafting genuine love songs, and "In Your Love" the first  single, shines as brightly as his beloved track, "Lady May." The song features cascading vocal melodies soaring above a backdrop of simple piano and mandolin as Childers tenderly croons, "We were never made to run forever / We were just made to go long enough / To find what we were chasing after / I believe I found it here in your love."
"Merle Haggard grew up dirt poor, working his tail off. And you can grow up like that, and work your way out of it and understand the weight of where you're at now. And you're never going to forget how hungry people are," Childers said. "I think a lot of times now, if you look at the songwriters in country, where do they live? Nashville is an extremely necessary town; everybody's got to meet somewhere, and this is a heck of a meeting place. But there's this hard disconnect. The writers didn't necessarily grow up in a rural setting, but the nostalgia for that way of life resonates with them in some way. So they're working within these stereotypes of this nostalgia that they might not even have any reference point to understand."
Notably, Childers' past albums, Long Violent History and Can I Take My Hounds To Heaven? tackled heavy subjects: racial inequality and religious intolerance, respectively, and the new album is sure to fearlessly face reality like its predecessors.
Intriguingly, Childers shared that Rustin' In The Rain takes inspiration from the love songs of Elvis Presley and his experiences working with mules during the COVID-19 lockdown. The album features a rich tapestry of love songs with allusions to horse-drawn equipment and pieces of harnessing rooted in his family's history of farming.
"My mom loved me to death, and my dad worked his tail off. I didn't want for nothing," he continued to share. "But it came at a price. Time away from family — they worked very hard to take care of us. They instilled in me to work and understand the weight of that. I grew up in that community. And then I lived in that community."
"Rustin' in the Rain" is a succinct seven songs, which is very intentional. Childers's albums "are getting shorter as they go," he said. "A countdown." What happens when he gets to one? "I go home," he said — to his mules, his wife and their baby boy, and to his farm. To his own rural story.
We're thrilled that Childers decided to give us this tight-but-expansive collection of songs.