"Work hard, rock hard, eat hard, sleep hard,
grow big, wear glasses if you need 'em."
— The Webb Wilder Credo –
WEBB WILDER'S piping-hot new platter, Mississippi Moderne, brings a world of swampadelic, Wilderized wisdom, bluster, and mayhem, and he brought all of that chaos with him to his performance cafe-side on Friday, Dec. 18th.
"Before there were KINGS OF LEON, KEYS OF BLACK or WHITES OF BLACK in Nashville, there was WEBB WILDER. Rock 'n' roll, from Nashville. Formed from Mississippi mud, tinged with British mod. Bruised by the blues. Baptized by Buck and Chuck. Psychiatric psycho-rootsy. Sizzling, glistening, uneasy listening. As it has been for three decades, it is now and ever shall be."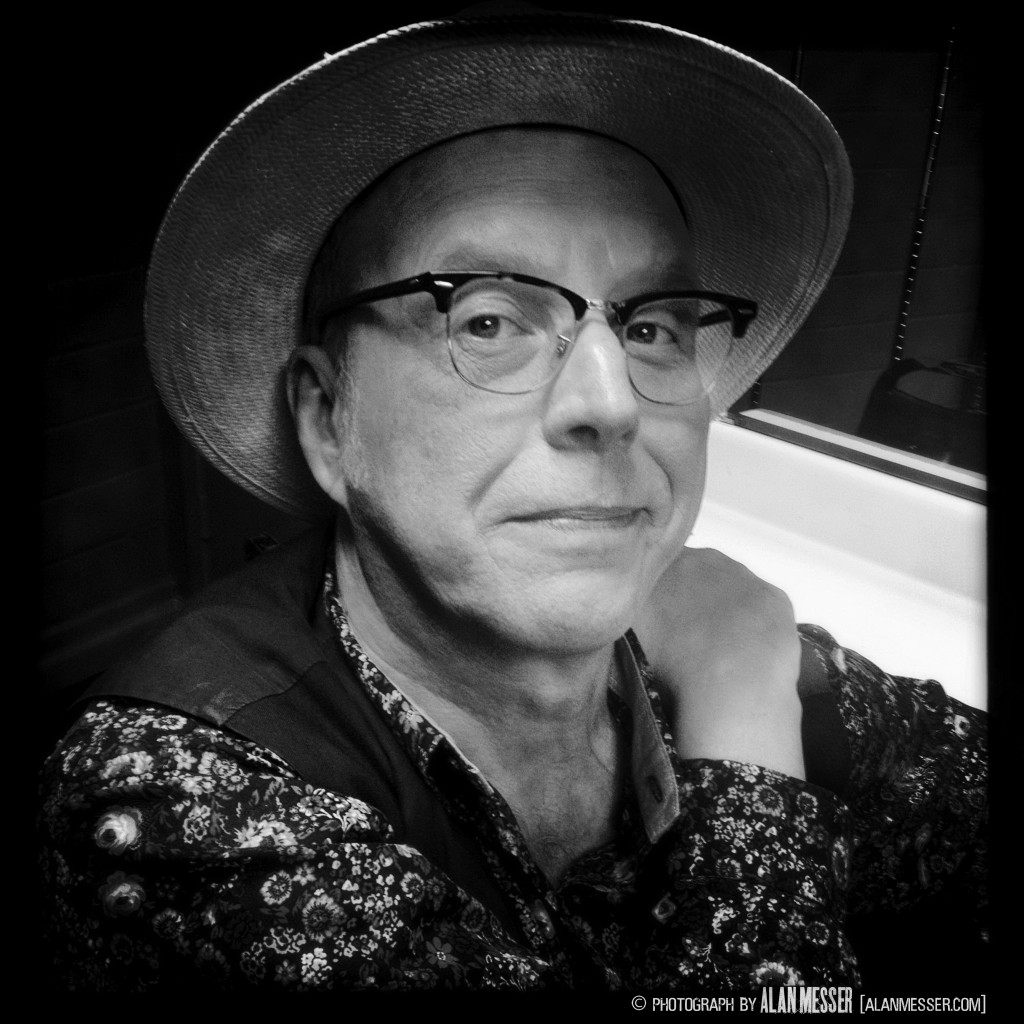 "Mississippi Moderne. Pronounce it however you like, but WEBB WILDER pronounces it "Moe-durn." Hybridized and improvised.
"I hate to use the word 'mature,'" Webb says. And so we shall not.
Born more than 60 years ago in Hattiesburg, Webb Wilder is not mature. He is the last of the full-grown men, and the last of the boarding house people. He is a unique presence among the peasants. He is a force for good, and a friend to animals.
And he has just made an album of uncommon uncommonness, of unusual unusualness.
Mississippi Moderne. Again, pronounce it however you like. The main thing is to listen, and in your listening you shall hear a marvelous encapsulation of things right and righteous, wistful yet wild, strange at times but always strong. Garage rock and bluster blues. Fuzz-tone and fury, and, in many ways, a full and unbroken circle back to the days when Webb Wilder was a boy possessed of the mind of a full-grown man, listening to The Kinks and The Move, an Anglophile in Mississippi.
"It's a journey, and one thing I've learned about myself is that I haven't grown up," Webb says. "The good news is, I'm a musician. The bad news is, I'm a musician."
The journey has taken Wilder from the Magnolia State to Music City, with some hazily important, 1970s gestation time spent in Austin. Mississippi Moderne reflects stops along the way, and suggests future flights." – Peter Cooper, webbwilder.com
"The South is the holy land of rock and roll,"Wilder says, broadcasting his latest black and bluesy message from a Nashville studio that sounds like it's coming from a muddy, kudzu-entwined tabernacle in the Mississippi delta. It's a great homage to an often overlooked area that is indeed the home church of rock and roll." – Grant Britt, No Depression
"With a title like "Mississippi Moderne," the blues certainly makes choice appearances across the album and Wilder saves his most tenacious playing for such times. He releases a gnarled solo somewhere between bluesy, surf-guitar and country flat-pickin on the greasy "Rough and Tumble Guy," which rattles with intensity. The guitarist settles into the heated groove of "It Takes Time" like a grizzled blues veteran, continuing to impress on the following "Lucy Mae Blues" as it wades farther in the sludgy marsh. In a nod to his Mississippi blues roots, Wilder channels legends Robert Johnson and Howlin' Wolf on the haunting "Stones In My Path," his voice deep and paranoid.
"Mississippi Moderne" is a forward-thinking album that speaks to Wilder's varied influences with style and heart. Put it on and it will not disappoint." – Garrett Bethmann, tahoeonstage.com
"Typically twangy and decidedly offbeat, this record is Webb Wilder through and through. Fans will dig it and newbies will enjoy it as an introduction to a guy who's always interesting to hear."– Michael Verity, thebluegrasssituation.com