HORIZON RECORDS was proud to host a PRE–RELEASE DAY LISTENING PARTY in celebration of MANDOLIN ORANGE's new CD/LP Tides Of A Teardrop om Thursday, Jan. 31st, and we were blown away by Greenville's response.  We dropped the needle on the new album at 6 p.m. sharp for a packed house, while our pals next door at The Bohemian Cafe  were slingin' some delicious hors d'oeuvres, including Boho burger sliders and other snack-tastic goodies, and a good time was had by all. THANK YOU, and as always, WE LOVE YOU.

We LOVE the music that Andrew & Emily make as Mandolin Orange, and we're proud to say they've done in-stores here at least three times in the past. So join us for free food, free signed band merch (including screen prints, hats, t-shirts and stickers), and a first listen to this amazing new record. YES WE WILL have copies to sell you on CD and vinyl LP, of course! So mark yer calendars and let's do this.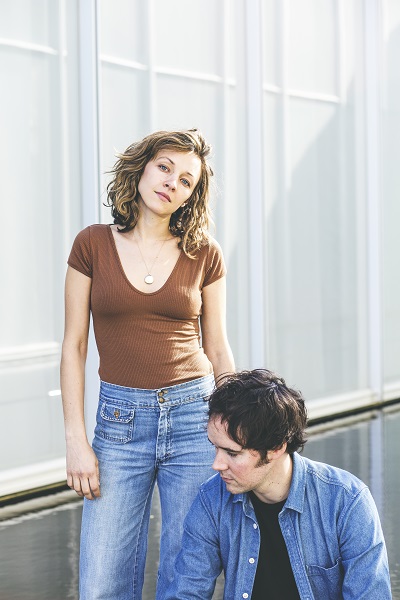 Lean in to Mandolin Orange's sound, and it's bound to happen. You'll suddenly pick up on the power and devastation lurking in its quietude, the doom hiding beneath its unvarnished beauty. You'll hear the way it magnifies the intimacy at the heart of the North Carolina duo's music.
Mandolin Orange and Yep Roc Records are proud to hereby proud to announce Tides Of A Teardrop. The album, MO's first new music since 2016, is out officially on February 1st and finds Mandolin Orange exploring the intimate grief at the frayed edges of their songwriting and confronting loss head-on, facing down the depths of despair and emerging with something renewed and redemptive. It's a progressive, personal statement from one of roots music's most thoughtful young groups, on the cusp of yet another prodigious breakthrough.
The duo of Andrew Marlin and Emily Frantz has earned fans from Austin City Limits to the Telluride Bluegrass Festival, and it's been an auspicious journey for a pair who casually met at a bluegrass jam session in 2009. Singer Roseanne Cash described their music as having, "the plainspoken, mournful power of bluegrass and the elegance and intricacy of American classical, like Copland or Barber," and who are we to disagree?
On the self-produced Tides Of A Teardrop, their slow-burning acoustic meditations on love and loss are belied by a newfound directness as Marlin tackles the death of his mother, who died when he was 18. "I think her passing was almost the genesis of my writing," says Marlin. "That was when I really began to find refuge in writing songs."
Marlin's songwriting voice emerges clearer than ever, set in sharp relief by the indelible performances of Mandolin Orange's longtime touring band: Josh Oliver on keyboards and guitar, Clint Mullican on bass, and Joe Westerlund on drums. Whether it's the trilling, weighty atmosphere of the allegorical "Wolves" or the Appalachian yearning of the hymn-like "Suspended In Heaven" (written on Mother's Day), Marlin and Frantz's vocal and instrumental interplay is as dialed in as ever, the instinctual expression of deeply known but unspoken truths. Mandolin Orange's last album, 2016's Blindfaller, is an exceptional outlier in the age of streaming — a quietly reflective, acoustic album that made a lot of noise.
Horizon is thrilled to share TIDES OF A TEARDROP with Greenville, and we'll have all of Mandolin Orange's releases in-stock for the listening party!