They were never as popular as their 1970's peers, but when it comes to playing and songwriting, there are few rock bands with the dexterity, instrumental prowess and songwriting magic of the mighty LITTLE FEAT.
And now, thanks to Rhino Records, you can get two of their most seminal albums, 1972's SAILIN' SHOES and 1973's classic DIXIE CHICKEN as deluxe, packed-with-extras reissues, available on 2xCD and 3xLP.
Get your copy of Sailin' Shoes HERE.
Get your copy of Dixie Chicken HERE.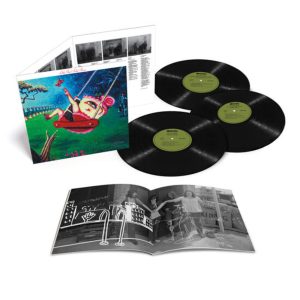 Released in 1972, Sailin' Shoes was the second studio album from the founding quartet of singer-guitarist Lowell George, drummer Richard Hayward, keyboard player Bill Payne, and bassist Roy Estrada. Ted Templeman produced the record, which was the first to feature artwork by illustrator Neon Park, who created covers for nearly all of Little Feat's albums.
Sailin' Shoes opens with a newly remastered version of the original album, which introduced signature tunes like "Easy To Slip," the title track, and an updated version of "Willin'" a song that also appeared in 1971 on the band's eponymous debut. Several outtakes from the album's recording sessions make their debut on the Deluxe Edition, including alternate versions of "Cold, Cold, Cold," "A Apolitical Blues," and "Willin'."
The magic that Little Feat conjured in concert takes center stage in the new set with a newly discovered and previously unreleased complete show recorded at the Palladium in Los Angeles on August 28, 1971. This live set marks the only multi-track recording in existence to feature the original lineup of the band. The performance features songs from both Sailin' Shoes ("Tripe Face Boogie," "Teenage Nervous Breakdown") and Little Feat ("Hamburger Midnight," "Snakes On Everything.") The set also comes with illustrated liner notes written by acclaimed music journalist, David Fricke.
Dixie Chicken, the band's third studio album, emerged in 1973 and introduced fans to Little Feat's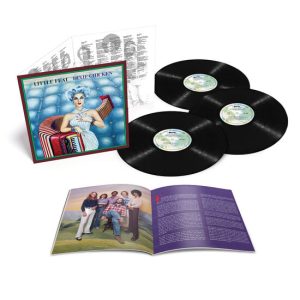 evolving sound and new line-up. The group's shift toward New Orleans-style funk was accompanied by the arrival of three new members, guitarist Paul Barrere, percussionist Sam Clayton, and bassist Kenny Gradney (who replaced Estrada).
Dixie Chicken contains the newly remastered album, which features classics like "Two Trains," "Fat Man In The Bathtub," and the title track. Several unreleased session recordings debut in the new set, including alternate versions of "Roll Um Easy," "On Your Way Down," and "Juliette." The unreleased live music was recorded at Paul's Mall in Boston on March 1, 1973. They feature songs from Dixie Chicken ("Two Trains," "Walkin' All Night") and the band's earlier albums ("Willin'," "Got No Shadow.") The illustrated liner notes included in the collection were written by author Dennis McNally, who got his start as the Grateful Dead's publicist.
That's a lot of Little Feat, and we've got both titles in-stock now!