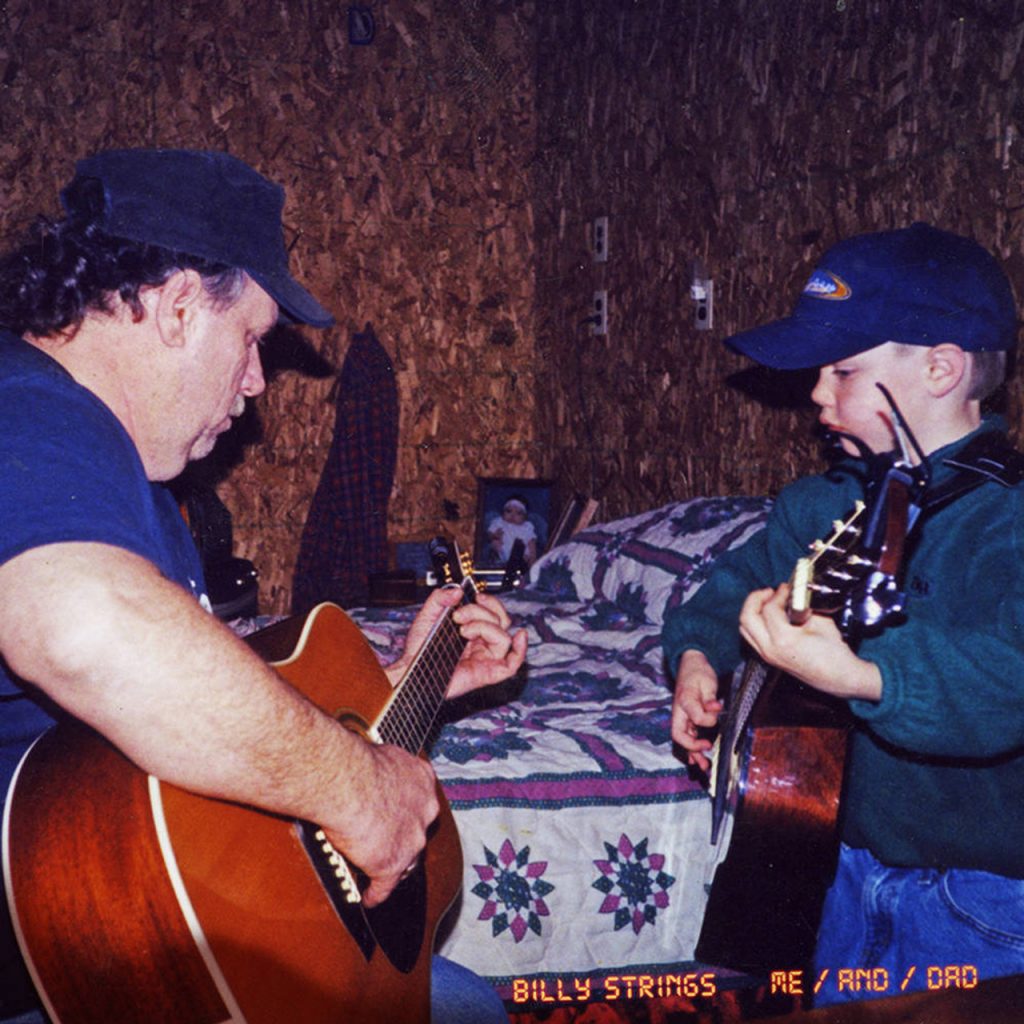 "As long as I can remember I wanted to make a record with my dad," BILLY STRINGS says, his dad, Terry Barber, seated next to him. "I've been burning up and down the highways the last 12 years, and as time slips away, you start thinking, 'I need to make time.' It's been a bucket list thing for me, something I've been afraid I wouldn't find the time to do. And that scared me; not doing this record scared me."
That dream of coming together to make a proper studio album is finally realized with ME AND DAD — out November 18 on Rounder Records. It's a collection of 14 classics that Billy and Terry know like the back of their hands, from Doc Watson and Bill Monroe songs to hymns and traditional classics. It's the music that literally and figuratively made Billy the musician and human he is today with the finished album representing a lifelong goal finally achieved: a way for the Grammy-winning musician to honor the man who taught him how to play guitar.
Earlier this year, in the midst of his seemingly nonstop touring schedule, Billy brought his father from their native Michigan to Nashville's Sound Emporium studios, along with an all-star band including bassist Mike Bub, mandolinist Ron McCoury, banjo player Rob McCoury, and fiddler Michael Cleveland. Jerry Douglas and Jason Carter sat in too.
Terry arrived with his cherished Martin acoustic, the guitar he played when Billy was just a boy and then pawned to financially support his family. When the guitar was sold, Terry thought it was lost forever — until Billy, who refers to it as "the family jewel," located it online and reunited the instrument with its original owner.
"I've never been so dumbstruck in my life," Terry says. "It was like bringing my mother out of the grave."
It's the sound of that guitar, mixed with Billy's own playing on a series of Martins, that propels Me and Dad. Over its 14 tracks, father and son trade licks, vocals, and memories. On some songs, like the traditional "Long Journey Home" and Monroe's "I Haven't Seen Mary in Years," Billy sings lead. On others, like the hymn "Wandering Boy" and the staple "Little White Church," it's all Terry. The decision of who would sing was hardly a decision at all, according to Billy.
"We've done these songs forever. We get to the part where someone has to sing and we'll look at each other: 'You or me?' We've been doing it since I was 3 years old," he says, turning to Terry. "I can't play with anyone like I can play with you."
"And I can't either," Terry replies. "I've tried, and forget about it."
While that unspoken father-son bond is the through line of the record, Me and Dad is a true family album. Billy's mother, Debra, lends her voice to the record's final song, "I Heard My Mother Weeping." "I remember him and my mom singing it when I was a kid so beautifully. I knew it was always going to be the last song on the record," Billy says. "That's me and my mom and dad. Just us three."
Me / And / Dad is in-stock now at Horizon Records on vinyl LP and CD along with these other killer Billy Strings releases!