In the midst of a crushing cold spell, we suggest these two caliente-infused Latin jazz re-issues: CESAR MARIANO & CIA's Sao Paulo, Brasil and THE LEBRON BROTHERS' Psychedelic Goes Latin, from the modest-sized re-issue specialty labels Mr. Bongo and Get On Down, respectively.
Stop by and pick up one of both of these gems, fire up the gas logs, pour a very black coffee and/or your favorite adult beverage, and get warmed up.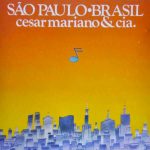 CESAR MARIANO & CIA, Sao Paolo, Brasil (CD/LP)
Mr Gene sez: "Straight outta 1977 to our store and into your brain and yer hips: One of the finest Brazilian jazz funk fusion albums ever recorded; thoroughly deserving of its cult status. First official reissue outside of Brazil. Cesar Camargo Mariano is a celebrated Brazilian jazz pianist, composer and producer, born in Sao Paulo in the 1940's. He has played and worked with the likes of Elis Regina (to whom he was married at one point), Som Tres and Sambalanco Trio and still plays very regularly today. 'Sao Paulo Brasil' saw Mariano and co. step deep into jazz funk/fusion territory – and nail it. Tight, tough drum grooves, intricate arrangements, layers of synthesisers, percussion and FX transport and tell a story from the first beat. Imagine Rufus grooves melted into Herbie Hancock, Azimuth and mid era Weather Report type jams….oh yes."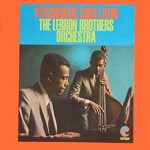 THE LEBRON BROTHERS, Psychedelic Goes Latin (LP)
Recorded and released in 1967 at the height of the Psychedelic movement on the Cotique imprint, The Lebron Brothers deliver an incredible release more than worthy of revisiting. Producer and Cotique label chief George Goldner recalls "All the tricks of way out sounds are put into these numbers. You will hear the weirdest sounds ever cut in Latin dance music. No one has ever dared to produce this sound in Latin Music in the past, but I felt the time had come to do it as all past records had the same sounds. Of course, arrangements had a lot to do with my decision to go on this electronic trip." And that trip is back in effect with Get On Down's special Black Friday reissue from an oft overlooked portion of the Lebron Brothers' storied history.