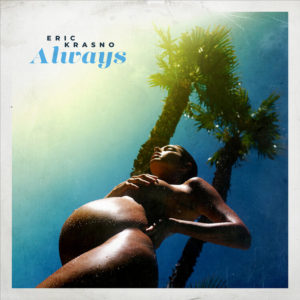 ERIC KRASNO consecrates, commends, and celebrates the permanence of family on his fourth full-length solo album, ALWAYS. Across ten tracks with inimitable instrumentation, eloquent songcraft, and raw honesty, the Soulive and Lettuce co-founder, singer, multi-instrumentalist, and two-time GRAMMY® Award-winning songwriter-producer defines himself as not only an artist, but also as a husband, father, and man.
Get it on blue vinyl LP or CD HERE.
A unique collaboration between Kraz and Bay Area-based producer/multi-instrumentalist Otis McDonald, Always finds Eric Krasno at a peaceful, introspective place in life and his career. What began as some innocuous demos of a Bob Dylan cover blossomed into a full-fledged coalescing of musical souls. The connection bore juicy fruits, unspooling into ten masterful cuts that incorporate many of the elements that we've come to know & love from Krasno, infused with the fresh, funky, tasteful touch of Mr. McDonald.
Kraz credits his young family as the revelation and motivation behind this collection of songs. During the past couple of years, dating back to before pandemic times, both his life and career began to evolve in major ways. Beginning with a cross-country move to Los Angeles after two decades defining Brooklyn, Krasno got married, had a son, the family moved into a new house, and with it, he a new studio. Soon thereafter, Kraz embarked on a swiftly-prolific musical partnership with McDonald. The sum of these parts and his personal evolution can be heard in full bloom amid the focused, nuanced compositions that make up Always.
Seemingly tailor-made for this kind of project, Otis McDonald is a master at work on numerous instruments and various production duties, as well as a pretty solid vocalist to boot. On a whim, Krasno sent him some demo recordings of Bob Dylan's "Man in Me", and before long McDonald had sent him back a version of the song spiced with his own brand of soulful magic. A new dynamic duo was born.

Always is almost entirely the work of these two individuals, Krasno's vision with McDonald as co-pilot, while sewing in contributions from Blades, vocalist Mary Corso, plus horns via Daniel Casares (Atta Kid) and Mike Olmos, a pair of Bay Area brass mainstays.
In a deft display of doing more with less, on album opener "Silence" Kraz takes it back to the essence. A mid-tempo pocket that has golden-era hip-hop and soul'd-out Soulquarian baked into the vibe, the song sets a laid-back, sexy tone for the record. "So Cold" reaches back toward Brooklyn style, a contemplative bluesy tune with just a dash of Daptone. An older idea recently reborn, "Lost Myself" is a cold-sweat stutter-step rinsed in that vintage vibe, the groove-train ably assisted by the Atta Kid horns.
Kraz's bare-bones soul arrangement of Dylan's "Man in Me " is a sweet cross-section between The Band and Jerry Garcia Band, a tune that will likely lively-up itself in a concert setting with newly-minted band Eric Krasno & The Assembly. "Alone Together" unveils a dreamscape of sound and color, equal parts Marley Marl and Brian Eno, as Beatles harmonies and Floydian textures surf a boom-bap head-nod. Krasno resurrects his steamy "Leave Me Alone", a beloved favorite of Chapter 2 and Dr. Klaw setlists, revisited in laconic, sensual fashion.
Boasting a sizzlin' guitar tone and an assertive bounce, "Where I Belong" splits the difference between early Lenny Kravitz and Tame Impala, an emotive rumination that reveals a certain vulnerability on its sleeve. Fans of Kraz's pioneering work with Lettuce will dig "Good Thing", a swaggering blaxploitation groove with a whiff of Steve Miller Band, a sick synth-bassline, elastic brass from the Otis McDonald Horns, and even a few Fender Rhodes riffs from Krasno himself.
A nod toward the church choir and a tip o' the cap to the sob rocker, the penultimate track is pretty damn special. "Hold Tight" somehow summons the spirit of D'Angelo to Levon Helm's barn, pulling up a wooden chair and singing the sweetest of guitar tones. "Always With You" is the album's final salvo, a coda that reminds one of Voodoo's "Africa" by way of both intention and execution. "Always With You" is a ballad rich in space and harmony, a strikingly abstract sojourn in sound. The patient closer is at once ethereal and emotional, purposeful and psychedelic, an inspired document's delicate disembarkation point.
Always is in-stock now at Horizon on blue vinyl LP and CD. You can get it at the shop or in our webstore.