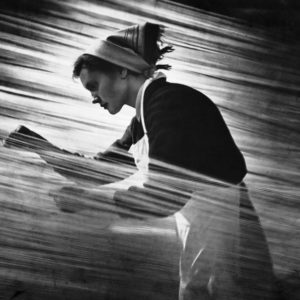 Just four months after JACK WHITE released the ultra-modern, brutalist fuzz of FEAR OF THE DAWN in April, then he returns with ENTERING HEAVEN ALIVE. Where Fear of the Dawn was sharp edges and cold, sterile distortion, Entering Heaven Alive is soft, fleshy and acoustic.
The final song on White's latest, "Taking Me Back (Gently)" is actually just a wildly different rendition of "Taking Me Back," from April's album. This new gentler version takes up the song with brushed drums and violin rather than giant slabs of overdriven guitar. The difference in tone is emblematic; White clearly decided to organize the albums so that there's a loud one and soft one.
On songs like album opener "A Tip From You To Me," "Tree on Fire (From Within)" and "Please, God Don't Tell Anyone," White foregrounds the piano and acoustic guitars. The AM radio vibe draws from Bob Dylan, Dire Straits and Wilco. But there's also a massive helping of Beatles influence here, too. This is hardly surprising given White's obsessive knowledge of the Fab Four.
The tuneful and gentle "Help Me Along" feels a bit like Paul McCartney's "I Will," off The White Album. Without White's fairly recognizable voice, I doubt many listeners would even know this was him. With its strange calypso vibe, "Queen of the Bees" feels a little like "Good Day Sunshine."
White's talents as a guitarist are more subtle on this album. The nimble nylon-string guitar strumming on "Madman from Manhattan" and the strange effects that warp the guitar solo in "If I Die Tomorrow" will blow guitarists' minds, even as those without calloused fingers may miss their significance entirely. White's gentle acoustic guitar work on minimalist ballad "Love is Selfish" rivals recognized masters like Leo Kottke and John Fahey. On it, Jack White sings, "Love is such a selfish thing/ It's always crying me, me, me/ It's always trying to mess up all my plans."
White's influences seem a bit more obvious on his latest. "If I Die Tomorrow" could've oozed from some AM radio station into your parent's car on their way home from seeing "The Exorcist," and they would've thought it was Christopher Cross or maybe a new one from America.  The jazzy drumming and screeching, fuzzed-out guitar tone and playing on "I've Got You Surrounded (With My Love)" are straight out of a '60s movie with martinis and weird jump cuts.
Jack White is obviously doing something right. Some of us struggle just putting on anything besides sweatpants after more than two years of COVID-19 lockup. Somehow, White managed to write and record two albums and propose to and marry his longtime girlfriend Olivia Jean. Jack White is clearly firing on all cylinders, and we're lucky his boundless creativity have netted us two fantastic albums this year.
Entering Heaven Alive is in-stock NOW at Horizon Records along with these other great Jack White releases!