THIS JUST IN: The all-day listening party today to celebrate the CD and vinyl LP release of Jason Isbell album with The 400 Unit, The Nashville Sound was awesome, but remember:
YES WE DO have the indie-record-store only vinyl edition, featuring an exclusive booklet of song chords and artwork.
YES WE DO have the CD at a killer low price.
And YES WE ARE still going strong with the Jason-Isbell-branded turntable giveaway contest!

WIN A JASON ISBELL-MODEL TURNTABLE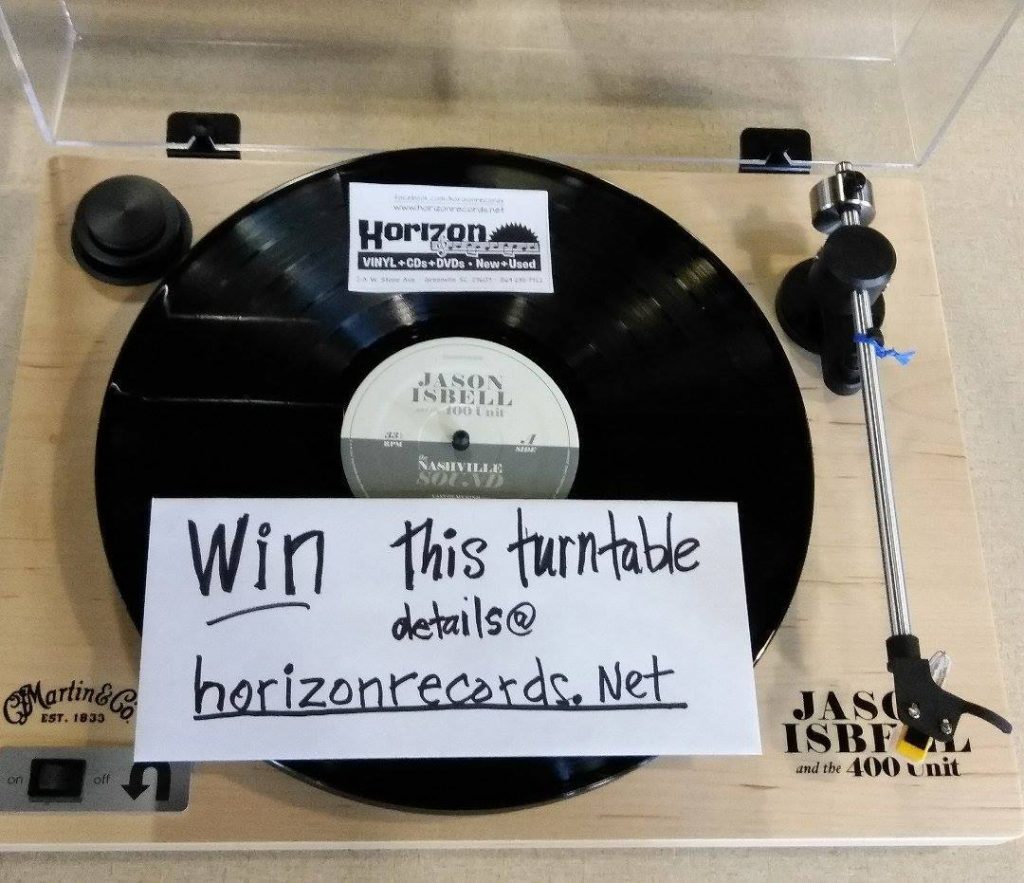 Horizon customers will have a chance to win a custom U-Turn turntable by coming into the store, taking a photo with the The Nashville Sound turntable display, uploading the photo to Horizon's social media (FB, Twitter or Instagram) using the hashtag #thenashvillesound and tagging the store. One winner per store will be randomly selected by the store.
Built by hand in Boston, MA, this Isbell-branded turntable features:
– Low-resonance MDF platter.
– AT91B cartridge with conical stylus.
– Precision gimbal tonearm for accurate tracking and low distortion. Features internal anti-skate and adjustable counterweight.
– External belt drive eliminates motor noise and ensures speed consistency (33/45 RPM).
"We at Horizon remain super-energized by what Jason Isbell brings, the sound of his crack band, the 400 Unit, and what this all means to the music scene. Hell, he just sold out 5 nights at the legendary Ryman Auditorium in less than two hours! It seems the wider world has discovered (at last) that so-called country music goes way beyond formulaic "get drunk-cheatin'-pickup-truck-Wal-Mart"-style country. Jason and his colleagues (ie Chris Stapleton & Sturgill Simpson) ARE the new Nashville sound, just as Willie was in Austin, and Rodney Crowell, Emmylou Harris and Sam Bush have been for years. As I said when I introduced Jason & the 400 Unit here as they helped us celebrate Record Store Day 2015, 'Good things happen when the vibe and the spirituality and the grit are all lined up right,' and it rings truer than ever now." – Gene Berger
With the release of 2013's Southeastern and its successor, 2015's Something More Than Free, Jason Isbell proved that he is a solo force to be reckoned with. After recording with the Drive-By Truckers and his own band, the 400 Unit, for more than a decade, Isbell struck out on his own and earned a host of critical and commercial acclaim in the process; to date, Isbell as a solo act has earned two Grammys, five Americana Music Awards and countless other accolades from fans and critics alike.
Now, the Americana music man has teamed back up with the 400 Unit for the release of a new studio album, The Nashville Sound on June 16th.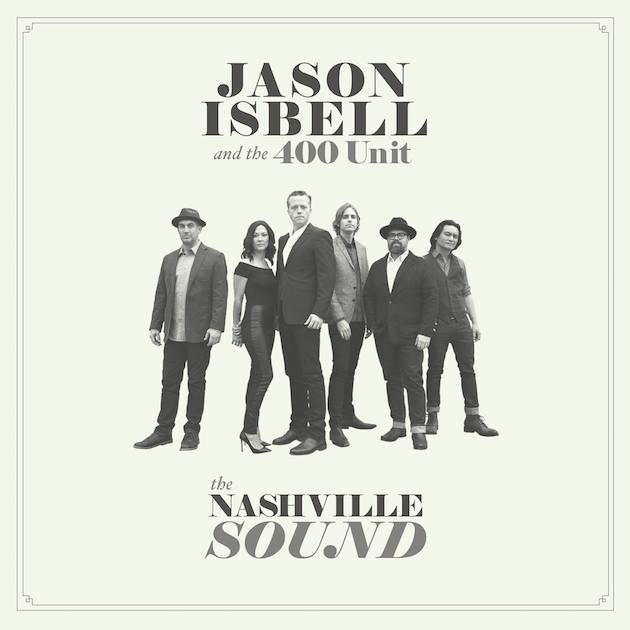 Isbell and the 400 Unit will release The Nashville Sound on June 16th through the singer's own label, Southeastern Records, via Thirty Tigers which has released his past two records.
Producer Dave Cobb returned to produce his third consecutive record with Isbell. The Nashville Sound joins the likes of Chris Stapleton's Traveller and Sturgill Simpson's Metamodern Sounds in Country Music, both of which found their sound under Cobb's guidance.
"It's not broke, so I wasn't gonna try to fix it," Isbell tells Rolling Stone of his partnership with Cobb. "It's really easy to find the sounds I want with Dave, and we have a good time."
Cobb, Isbell and the 400 Unit recorded The Nashville Sound at RCA's legendary Studio A.
"The studio survived thanks to some kind locals and the grace of God, however you see it," Isbell reflects. "I'm happy that room's still there, because it was a pleasure to record it, and we got some really good work done. At the end, I thought, 'Should I be more frustrated when I'm making an album?' It was so fun and so easy, I wondered if the album could be any good if it's just a breeze to record."
"I try to document where I am in my life, and right now, one of my primary concerns is, 'What is my role as a white male in a society that really is in dire need of understanding and empathy for people who aren't white males?'" Isbell explains, adding that the lyrics to "Hope the High Road" are a call "to be vigilant but to still stay classy, for Christ's sake."
"If you're doing too much yelling and too much screaming and acting out of frustration," Isbell adds, "you're not effecting change in any positive way."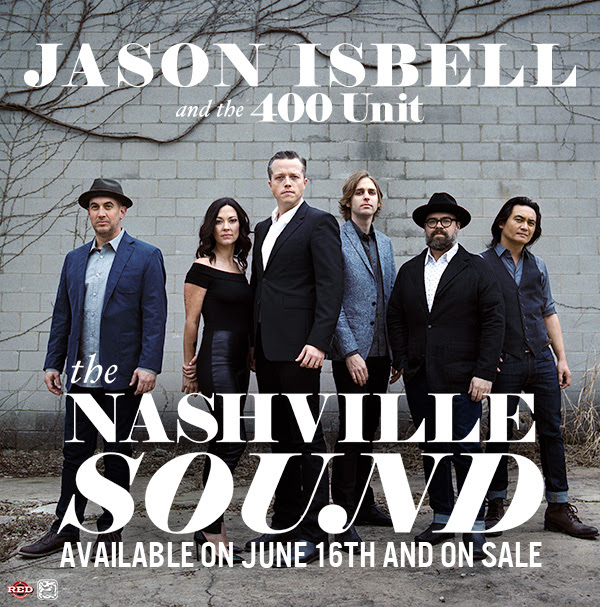 The Nashville Sound includes 10 brand-new tracks, the names of which were released in a string of tweets on Southeastern Records' Twitter page on March 12. Each tweet included the name of one song, accompanied by a black-and-white photo of a Nashville landmark. Isbell has stated that his new record was inspired by the current cultural and political climate in America. The artist has already proven on Twitter that he's a critic of President Donald Trump, and in February, he told Rolling Stone that "the album is topical, current, a record of time passed."
However, addressing the national landscape isn't the only way The Nashville Sound plans to make its mark. Isbell's prior teasing of the album reveals an edgier, more-rock 'n' roll sound than his previous solo albums.
"Lyrics and melody are still the driving force behind what we're doing, but this time around, there's more of a rock 'n' roll influence," Isbell says. "You might shed some tears, but for once, there's a chance you might also dance a little."
In addition to politics, Isbell says that the birth of his daughter, Mercy Rose, in 2015 has also changed the way he sees the world; specifically, he explains, "everything began to look like a dangerous object" after she arrived.
"I also try to pay attention to the world she's seeing," Isbell notes. "For her, it's as good as it will ever be, as far as I can tell … There's nothing better than the learning process. Once you know what everything is … every day a little bit more of the magic is gone."
Horizon will have Jason Isbell & The 4oo Unit's "The Nashville Sound" in-stock on Friday, June 16th, along with these other stone-cold classics from the Isbell catalogue: