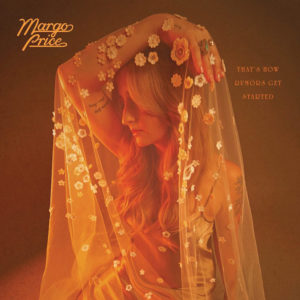 "Everybody wants to know / how I feel and what I think," MARGO PRICE sings in her emotive, bittersweet twang, halfway through her third full-length record.  On THAT'S HOW RUMORS GET STARTED, Price has committed her genre-bending rock-and-roll show to record for the first time, stretching out into sky-high soft-rock, burning psychedelic rock ballads, stomping road songs, and sprinkles of pop.
But this time around, Price—vocalist, songwriter, producer, guitarist, percussionist—is not wearing her heart-on-her-sleeve so easily. Following her autobiographical 2016 debut Midwestern Farmer's Daughter and 2017's acclaimed follow-up All American Made, following three sold-out nights at the Ryman Auditorium in 2018, and a Best New Artist Grammy nomination in 2019, a lot more people want to know how Margo feels and thinks. But rather than opening up a hotline, she crafted an album of layer and intrigue to make people listen closer than ever.
"This album is about relationships," Margo says of her first release for Loma Vista Recordings. "It's about growing pains." Brimming with poignant reflections on motherhood and sharp prose debunking the mythology of rock-and-roll success, with production from her longtime friend STURGILL SIMPSON, it shows both of them pushing into unexpected directions.
The record was notably made while Price was pregnant, which meaningfully shaped its outcome: "They're both a creation process. And I was being really good to my body and my mind during that time. I had a lot of clarity from sobriety." Price sounds assured on its mid-tempo title track, part postcard to a Nashville she hasn't seen in a while, part breezy, piano-pop kiss-off to a bridge-burning ex-friend. Its side B opener, "Heartless Mind," is a standout for Price as a songwriter and Simpson as a producer, with new textures, an earworm of a hook, huge soaring synths and stomping pop drums. It finds Price running through her restless feelings, her voice pushing its limits alongside layered guitar leads, some played in reverse.
That's How Rumors Get Started was largely cut in less than a week at East West is Los Angeles, in the tiny room where Pet Sounds and Dolly Parton's "9 to 5" were recorded.  For this record, Price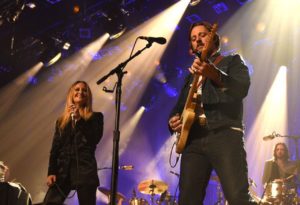 continued to collaborate on much of the songwriting with her husband Jeremy Ivey. One of their most impressive collaborations is the epic "I'd Die For You," an ode to selflessness and empathy on small and large scales. "Some say 'ours', some say 'mine', but we all bleed the same blood…" Price sings. The song finds her meditating on their relationship, but also on gentrification in Nashville, and the national healthcare crisis. "People can't even afford to live," Price says. "It's just the corporate structure of the world we live in."
"Twinkle Twinkle" starts with a snapshot of a young Price growing up in small-town Illinois—"Riding with my headphones on  / in the back of my mama's car / winding down that dirty road," she sings. In those days, it was all Lucinda Williams, Tom Petty and Patti Smith blaring through her her walkman to block out the world: "It was a way for me to escape the place that I lived. It was a nothing town, but it was poetic in a way. It was desolate middle America. It always felt like Tom Petty would talk to me in songs, the way he would talk about a girl in the middle of nowhere but make it so romantic. It made my life feel a little more important. I dreamed about getting out."
The song was inspired by a back-stage encounter with Marty Stuart and the Superlatives at a music festival. After the show, in Stuart's trailer, while he tuned his guitars, he said to Price, "So, you and the band have been on the road a lot lately, do you all hate each other yet?" As Price recalls it: "I said, 'No, well, I mean, our marriages are falling apart and our health's deteriorating. But other than that we're great.' And he looks at me, and he gets this gleam in his eye, and he says, 'You wanted to be a star.. Twinkle twinkle.'"
On the swinging "Prisoner of the Highway," Price takes a hard look at the reality of life on the road. She reckons with sacrifices made and her dissatisfaction. "I wrote that song on an airplane after I found out that I was pregnant and I was really grappling with how I was going to have the baby and then be gone all of the time," she says. "I thought of all the things I already had sacrificed in my life. All the weddings that you miss, and all the funerals, and the people that you don't get to see."
On a similarly personal note, "Gone to Stay" was written for her son. She's watching him getting older, and she's getting older too, parsing through mistakes made and time wasted, regrets and self-doubt, and the harsh reality that you can't turn money back into time. "The river it runs only one way, and when it's gone, it's gone to stay," she sings.
"I had written a song for the baby I lost, and wanted to write a song to my son," she explains. "It's about when I'm gone on the road, but also—when I die, take these things with you. Jeremy helped me refine it to have every line be meaningful. It's the wisdom that you want to pass on to your kids."
She's passing that wisdom along to us too.
That's How Rumors Get Started is in-stock now at Horizon Records and available in our webstore HERE. We've also got her first two fantastic albums here, so you can complete the set!