All of these titles and more are available for curbside pickup and in our webstore. Give us a call at 864-235-7922 or email info@horizonrecords.net to arrange for curbside pickup, or click HERE to visit the webstore!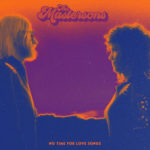 THE MASTERSONS, No Time For Love Songs (LP/CD)
The Mastersons are singer-songwriters/multi-instrumentalists Chris Masterson and Eleanor Whitmore. Longtime members of Steve Earle's band the Dukes, the musical and marital twosome make inspired albums of their own vivid, deeply humanistic songs. Their fourth album, No Time for Love Songs, marks the 10th anniversary of their partnership and creative journey with a collection of songs that could easily serve as the soundtrack to our lives—or at least one version of it. Produced by Shooter Jennings and recorded at L.A.'s legendary Sunset Sound Recorders, the album was engineered and mixed by five-time Grammy Award-winning engineer, Ryan Freeland. No Time for Love Songs explores the emotional challenges of a morally compromised era, and reflects the experiences that the pair has accumulated in their travels. Those experiences helped to inspire the big-hearted songcraft of such compelling new tunes as "Spellbound," "Circle the Sun," "Eyes Open Wide," "The Silver Line," "There Is A Song to Sing," and the album's poignant title track, and showcase the Mastersons' organic harmonies, stirring melodies and insightful lyrics, which consistently offer clear-eyed optimism in the face of loss and discouragement.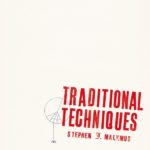 STEPHEN MALKMUS, Traditional Techniques (LP/CD)
Best known as lead singer, guitarist and principle songwriter with Pavement, Stephen Malkmus has ruled out any new material from the reformed cult icons for the time being, choosing to focus instead on his third solo album, hot on the heels of the electronica fused Groove Denied, which was only released last March.  If Pavement and Malkmus's other band, The Jicks, are primarily about skewered indie rock, as the title suggests, Traditional Technqiues is more in line with the acoustic, alt-country tinged oeuvres of friends and associates such as the late David Berman – as Malkmus was also a member of Silver Jews – or Pavement classics like Range Life or Gold Soundz. Lead single Xian Man is a gentle groover, a catchy country pop number featuring intricate jamming and Malkmus's laconic and iconic vocals. Shadowbanned is accompanied by a brilliant video featuring a cast of famous friends like Kim Gordon, Conor Oberst and Kurt Vile, plus a playful Instagram filter entitled Becoming Stephen Malkmus. This latest offering from camp Malkmus will certainly chime with his long-term fanbase, even though it probably won't exactly set the world on fire. On recent form, Stephen Malkmus has been prolific, consistent and challenging. While we would dearly love Pavement to surprise us with something of the same calibre of their 90s' run of classic albums, this will more than make do.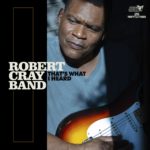 THE ROBERT CRAY BAND, That's What I Heard (LP/CD)
Robert Cray and Steve Jordan continue their fruitful partnership on "That's What I Heard," a collection where the guitarist and singer's original songs blend seamlessly with a strong set of less-than-famous covers. Cray and Jordan, who produces while also adding drums and percussion, have collaborated on several albums, including Cray's excellent previous record where he was joined by musicians who played for Hi Records. On "That's What I Heard," Cray is back in the studio with his longtime band, including redoubtable bass player Richard Cousins, keyboardist Dover Weinberg and new drummer Terence F. Clark. The band's sound explodes right out of the gate on "Anything You Want," another of Cray's typically unresolved relationship songs. Clark's performance is especially crisp. Then, the romantic is followed by the devout with a take on the Sensational Nightingales' traditional "Burying Ground." Among the other Cray originals, "Hot" is exactly what the title says; "This Man" is a deep groove with topicality; while "To Be With You" and "Can't Make Me Change" are blues with a lean-and-clean guitar sound. Cousins co-wrote "A Little Less Lonely" and "You're the One" is from the Bobby "Blue" Bland songbook. Cray, at 66, is no longer the new kid on the scene, but his youthful looks match his vigorous performances on "That's What I Heard," an album that expertly balances blues, R&B and soul and keeps up his streak of strong and extremely pleasing efforts.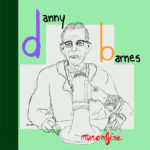 DANNY BARNES, Man On Fire (LP/CD)
With his new album, Man on Fire, Danny Barnes mines mostly traditional templates, largely setting aside his more eclectic bents. The opening track, "Mule," establishes the tone of the set, a straightforward take spotlighting Barnes' rollicky banjo and well-pitched vocal. "Awful Strange" is the most adventurous track on the album, veering into a funky progression reminiscent of one of Les Claypool's collaborations (Duo de Twang, Oysterhead, The Claypool Lennon Delirium). With "Zandapp," Barnes, John Paul Jones on bass, and Matt Chamberlain on percussion wend a brisk tempo, with producer Dave Matthews contributing a well-blended back-up vocal. On "Hey Man," Barnes' voice is daubed with a spacey reverb (one can't help but think of the textural "Hey You" and "Hey Man, Don't Look at Me Like That" from Dope Lemon's Smooth Big Cat). Jones' mandolin part adds tonal depth, doubling effectively with Barnes' banjo. On "Juke," Bill Frisell nails a jazzy guitar rhythm and languorous solo reminiscent of his work with Lucinda Williams (The Ghosts of Highway 20). "The Less That I Know" features a strummy acoustic guitar and Barnes' tongue-in-cheek vocal: "I went broke after 30 years of working." The album closes with "Ballad of Nope," a down-home tribute to shattered love, the unpredictability of life, and the gift of resilience: "It didn't turn out the way I was hoping / but it's still all right with me." Grounded in perennial structures and melodies, Man on Fire is reminiscent in style and range to Barnes' 2016 bluegrass tribute Stove Up. While the latest from Barnes, the 2015 winner of the Steve Martin Prize for Excellence in Banjo and Bluegrass, will delight fans and appeal to country and bluegrass aficionados, some listeners may find themselves craving a more generous dollop of Barnes' experimental side (check out 2009's Pizza Box and 2011's Rocket, for starters). Either way, Man on Fire is a skillfully rendered and consistently engaging sequence.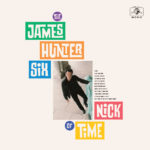 THE JAMES HUNTER SIX, Nick Of Time (LP/CD)
The winning streak continues for The James Hunter Six and Daptone Records as Nick of Time is yet another fantastic slice of grooving retro soul. Hunter and producer Bosco Mann merge their Northern English style with classic American R&B over thirteen pristine sounding tracks that lovingly recalls past greats of the genre. Opener "I Can Change Your Mind" announces its intentions from the start as shakers and soul shout outs color the upbeat track pairing nicely with the shimmying title effort which brings to mind Sam Cooke at his peak. "Till I Hear It From You" uses a Dave Brubeck "Take Five" inspired pacing along with horns and a melodic harmonica solo while "Can't Help Myself" waltzes around the room with heartbreak and some funny lyrics about our future planet of the apes and the protagonists' hopeless chances for love. The tempo is slowed down for the smooth rhumba lines in "Who's Foolin' Who" and "Never" which showcases excellent vocals from Hunter who uses his almost out of breath croon perfectly around smooth doo-wop inspired backing.  The slow tight acoustic blues of "Paradise For One" also display his way of twisting a phrase and singing a line delicately while affectionately describing loneliness and relationships woes.  The whole album breezes by with tight musicianship, perfect production and engaged vocals yet a few tracks rise up and demand to be noticed. The love is war metaphorical "Missing In Action" expertly uses its slow grooving organ before the rollicking "Ain't Goin' Up In One Of Those" pumps up the horns and snaking guitars in a Ray Charles manner. Wrapping up with the bass and drum lead "He's Your Could Have Been" The James Hunters Six seems to have no limits to their crisp retro R&B love, shimmying and shaking out into the night. Nothing new here, just Hunter and company wearing their love for rocking soul music on their sleeve as they dive through the thirteen tracks on Nick of Time with vigor, affection and professionalism.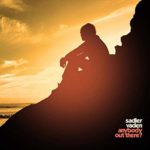 SADLER VADEN, Anybody Out There (LP)
There's a moment on Sadler Vaden's new album where he sings, "No one asks if I'm doing alright / Does anybody seem to care? / I'm just trying to get through tonight, so tell me / Tell me, is there anybody out there?" It's the title track to Vaden's sophomore LP, Anybody Out There?, and though it may come across as a plea for help, it's more likely that it conveys something else entirely. Vaden is a self-professed rock and roll nerd; he's a guy who has been playing music since he was 10 years old and who's managed to create a life centered around what he loves. When he gets to the chorus on "Anybody Out There?" — a track that sounds like something Led Zeppelin might make today — he's not crying out for some assistance. He's looking at the world around him and saying, bluntly, "I know that you're all talk / So I'm walking home again." As long as Vaden has rock and roll in his life, he doesn't need anything else.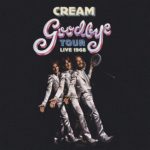 CREAM, Goodbye Tour – Live 1968 (4xCD)
Cream collect four complete concerts from the supergroup's farewell tour for their upcoming Goodbye Tour Live 1968 box set. The four-CD set, features the three of band's October 1968 California concerts – Oakland, Los Angeles and San Diego – as well as Cream's November 26th, 1968 farewell gig from London's Royal Albert Hall. Of the box set's 36 tracks, 29 were previously available on CD, with 19 of those unreleased entirely."Cream was a shambling circus of diverse personalities who happened to find that catalyst together….. any one of us could have played unaccompanied for a good length of time," Eric Clapton said of  the performances in a statement. "So you put the three of us together in front of an audience willing to dig it limitlessly, we could have gone on forever…. And we did….just going for the moon every time we played."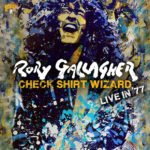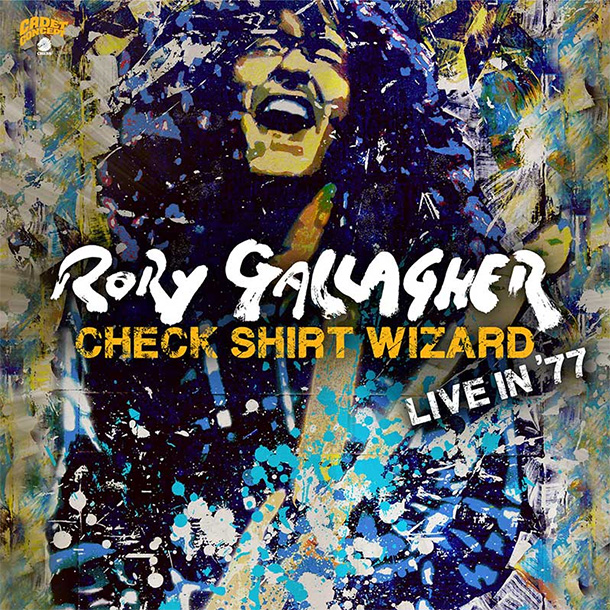 RORY GALLAGHER, Check Shirt Wizard: Live in '77 (LP/CD)
Cunningly stitched together from tapes of four UK shows in early 1977, this 20-track, two-CD/three-disc vinyl set captures Rory Gallagher, bassist Gerry McAvoy, drummer Rod de'Ath and keyboard player Lou Martin on their final world tour as a four-piece. There are, though, no tensions or shortcomings in evidence. Every song, old and (then) new, crackles with life, and the band are mole-grip tight. Calling Card, the sixth (of 11) studio album, was at the time recently released, and eight of its nine songs are featured here, including the bluesy title track, a scorching Secret Agent and Barley & Grape Rag as part of a five-strong acoustic set.
BLACK MARKET BRASS, Undying Thirst (colored vinyl LP/CD)

CAROLINE ROSE, Superstar (LP/CD)
U.S. GIRLS, Heavy Light (LP/CD)
SWAMP DOGG, Sorry You Couldn't Make It (LP/CD)
MAC MILLER, Circles (CD/LP out 4/17)
ERIC JOHNSON, EJ Vol. II (LP/CD)
MY DYING BRIDE, The Ghost Of Orion (LP/CD)
METAL CHURCH, Human Factor (colored vinyl LP)
GENE PICKS: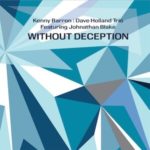 KENNY BARRON & DAVE HOLLAND, Without Deception (LP/CD)
Pianist Kenny Barron and bassist Dave Holland have covered a vast amount of sonic terrain throughout their brilliant careers. On Without Deception, they co-lead a trio that includes the spectacular drummer Johnathan Blake, pairing versatility and musicianship in a collection of originals and shrewdly chosen covers that feels like an expansion of their conversational duo album The Art of Conversation. "Porto Alegre" opens the album with a lovely bossa groove that relies on Blake's hot snare tones to make the rhythm even more attractive. Besides revealing a strong unity, the three musicians enchant with personal statements abundant in rich idioms. Carrying something of Jobim, "Until Then" offers another alluring canvas painted with elegant bossa nova colors, while on the title track and "Speed Trap", also written by Barron, the trio delivers the goods with a different posture. Barron's flagrant rhythmic figures easily evolve into smart lines that prompt the drummer to respond, and Holland employs irresistible slides and wise interval hops to complement his forward-moving pizzicato. Though "Secret Places" waltzes with the poignancy of Bill Evans, it develops with the tender touch of Barron, differing from the groove-centric irreverence of "Pass It On", a composition by Holland that first saw the light of day on his 2008 sextet album of the same name. Showing off his monster technique, the bassist is both the glue that holds everything together and the booster this music needs to flow ahead. Blake's terrific wallops and Barron's linear tangents contribute to the positive effect.
LSO PERCUSSION ENSEMBLE, Quartet Quintet (CD)
Distinguished orchestral players with enviable reputations in their own right, the Lso Percussion Ensemble returns with a vibrant, jazz-infused album of music by Gwilym Simcock, Steve Reich, Chick Corea & Makoto Ozone. Quartet Quintet centers around the world premiere of Quintet, a five-movement suite by the British pianist and composer Gwilym Simcock that pulls inspiration from seminal jazz fusion acts Steps Ahead, Yellowjackets and Weather Report, and Steve Reich's 2013 Quartet for two vibes and two pianos. The album also includes new arrangements of classic pieces by jazz legends Chick Corea, Makoto Ozone and Joe Locke.

NICKOLAI LUGANSKY, Franck: Preludes, Fugues & Chorales (CD)
Given the scarcity of César Franck's piano music on recordings, Nikolai Lugansky's focus on this composer is to be commended. On his third release for Harmonia Mundi, the Russian pianist reveals an organ master strongly attached to the musical forms inherited from J.S. Bach: the prelude, the fugue, and the chorale. Translated to the piano keyboard, Franck's music, with its expansively conceived structures, requires a completely fresh approach that puts the greatest performers to the test. Lugansky took on an additional challenge by preparing his own transcription of Franck's celebrated Choral pour grand orgue No. 2.
KILLER REISSUE: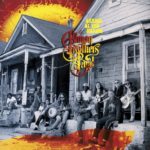 THE ALLMAN BROTHERS BAND, Shades Of Two Worlds (180g colored vinyl LP)
Somehow out-of-print in America for a LONG time, the Allman Brothers Band's "Shades Of Two Worlds" finds them deep in the comeback groove after warming up with "Seven Turns." A bracing dose of blues, Southern rock and soul that finds Gregg Allman at the top of his vocal game on popular tracks like "End Of The Line," "Get On With Your Life" and an absolutely devastating acoustic version of "Come On In My Kitchen" with Dickey Betts' sharks'-tooth slide guitar. The remastered 180g version of Shades makes the music sound better than ever, and hopefully this reissue will establish the album as the best of the Allman Brothers, Mark II.