YO LA TENGO, There's A Riot Going On (CD/LP)
The chorus that Georgia Hubley sings softly on the second track of Yo La Tengo's 15th studio album serves almost as a mission statement for the trio: "Whenever I see you, there are shades of blue." Yo La Tengo are, as so often, blue: but theirs is not the midnight blue of despair, but the pale blue of melancholy, and sometimes the sharp, unending blue of a cloudless sky. The song exemplifies the group in other ways: its jaunty rhythm is taken straight from 60s beat pop, befitting their record collector reputation, but recast into something somnambulant and soothing all their own. There are flickers of the old fire on There's a Riot Going on (which bears no similarity to Sly and the Family Stone, to the surprise of precisely no one). On For You Too, James McNew's bass puts all four to the floor, with the fuzz pedal turned on, but Ira Kaplan refuses to rise to the bait, picking arpeggios around the basslines instead of wigging out, murmuring his vocal – but for the most part Yo La Tengo are gently blowing on embers rather than poking the logs. After the relative brevity of 2013's Fade, There's a Riot Going on heads back beyond the hour-mark, and it's gorgeous and elusive, the perfect expression of Yo La Tengo's blending of ambience and rock classicism.
THE DECEMBERISTS, I'll Be Your Girl (CD/LP)
"Everything is awful" goes one of the many cheery sounding, morosely themed choruses from The Decemberists' eighth album, I'll Be Your Girl. Seventeen years into the Portland rock eccentrics' career, Colin Meloy is writing more plainspoken lyrics than ever while his band accesses the joy of '80s synthpop. Meloy's signature nasal keen and fascination with folktales remains, but there's a new helping of easily accessible sentiment—and Donald Trump–related angst.
HOT SNAKES, Jericho Sirens (CD/LP)
Is it fair to say that punk, however you define the term, has gone through a crisis of cultural placement since the turn of the century? With the integration of poptimism, music for the strange-of-heart has, arguably, drifted away from raw guitars and caterwauls, folding their sensibilities into forms previously reconciled to mainstream radio. (See: SOPHIE, or the dour postures of SoundCloud rappers.) But the clutching of punk as a talisman of self-protection to ward off the lamestream was, in many ways, always a posture, right? So what you're left with, really, is what was always there anyways: the sound of kicking against. On its first full-length in nearly 14 years, Hot Snakes — singer and guitarist Rick Froberg, guitarist John Reis, drummers Jason Kourkounis and Mario Rubalcaba, bassist Gar Wood — have piled 10 songs into their arms and sidled up to throw them at our feet, bent and bruised. On its three previous records, the group was willing to toy with sustain and release, tension and construction — look at songs like "Suicide Invoice" or "Lovebirds." Those days are gone. Jericho Sirens is a punched-in wall. Between the doom of the opening bars to "I Need a Doctor" and the homage the record closes on ("Death of a Sportsman" crash-ends with a direct lift from Suicide's epochal, nihilistic "Ghost Rider" and that song's four-note spine) lives the sound of not being able to itch your pox. Ever. Don't take my word for it — as John Reis put it: "I have this continuous need to have my head filled with noise — specifically, the noise I make." Reis and Froberg's roots in post-rock and post-hardcore — yes, these genres' distinctions get insufferable fast — can be traced to their earlier band, Drive Like Jehu. But also Rocket From The Crypt, the Froberg-less band that John Reis has fronted since 1990. Hot Snakes shares those genetics, along with the output of Recess Records — Swing Ding Amigos in particular — and the Denton, Texas scene typified by Marked Men and Radioactivity. But maybe they'd resent the comparison. Hot Snakes go deeper, literally; their rhythm section and low-end are some of the best that punk has produced since they debuted in 2000 with Automatic Midnight. Part of the appeal here, particularly for a punk band, is the fact that Froberg's lyrics aren't comprehensible most of the time; they operate as a kind of expressionist splatter of spittle, a fragmentary philosophical rage, across the band's relentless, bubbling-hot canvas. They've been up to it for a minute: The body-perfection lament "Think About Carbs" and the depression reckoning "Suicide Invoice" are examples from Hot Snakes' mid-aughts output (and two of the more easily understood of their whole catalog). Froberg's voice, delivering his new images — "I need a new / Death doula" and "You know I was breastfed on the scaffold, baby" — is high and serrated; it sounds mad, sure. Engaged, maybe. But aloof, mostly. One line in particular, the close of "Candid Camera," captures the detachment: "I'd like to be wrong / But / We'll / See."
KING GIZZARD & THE LIZARD WIZARD, Polygondwanaland (CD/LP)
Enter everyone's favourite Australian psychedelic septet King Gizzard & the Lizard Wizard. Since 2016's infinitely looping Nonagon Infinity, the band have been making steps towards a proggier sound. Their first album of this year Flying Microtonal Banana featured krautrock and world music influences. Murder of the Universe, their next release, was organised into three 15-minute suites with distinct narratives. Finally, their last album Sketches of Brunswick East proved they could handle unusual time signatures. By this point, I was certain a full-on prog album was on the way. Their latest album Polygondwanaland is exactly that. In short, Polygondwanaland is the best progressive rock album in decades. The 10-minute epic Crumbling Castle opens Polygondwanaland majestically. The jazzy rhythms and basslines of SoBE are blended with the world influenced riffs of FMB, whilst frontman Stu Mackenzie mixes medieval warfare and existentialism as he sings "I don't want to be a crumbling, crumbling, crumbling castle". Numerous drum fills and time signatures later, the track transitions into a delicate flute solo, before disintegrating into a sinister synth arpeggio. A vintage Gizz garage rock freakout then appears to conclude the track, until the "crumbling castle" refrain returns for the ludicrously heavy and intensely distorted doom metal outro. The rest of Polygondwanaland's nine tracks are organised into three suites. The title suite recounts a journey to the prehistoric continent of Gondwana ("it's full of dinosaurs!") and features the return of Leah Senior's reticent raconteur from MotU. Next, Horology chronicles gory revolutions and sadistic cult leaders whilst indulging in the album's best melodies. Finally, Tetrachromacy is the most diverse suite, moving from progressive folk to eerie psychedelia, then concluding the album with another garage rock rampage. Most importantly, all the suites easily avoid the modern prog pitfalls. The production is raw and gritty, rather than lifelessly clean or tediously muddy. The melodies are enigmatic rather than cheesy and the songwriting is complex without lacking focus. Polygondwanaland is a sensational addition to King Gizzard & the Lizard Wizard's discography.
ME'SHELL NDEGEOCELLO, Ventriloquism (CD/LP)

SNOOP DOGG, Presents The Bible Of Love (CD)
STONE TEMPLE PILOTS, Stone Temple Pilots (CD)
DEAN WEEN, Rock 2 (CD/LP)
EARTHLESS, Black Heaven (CD/LP)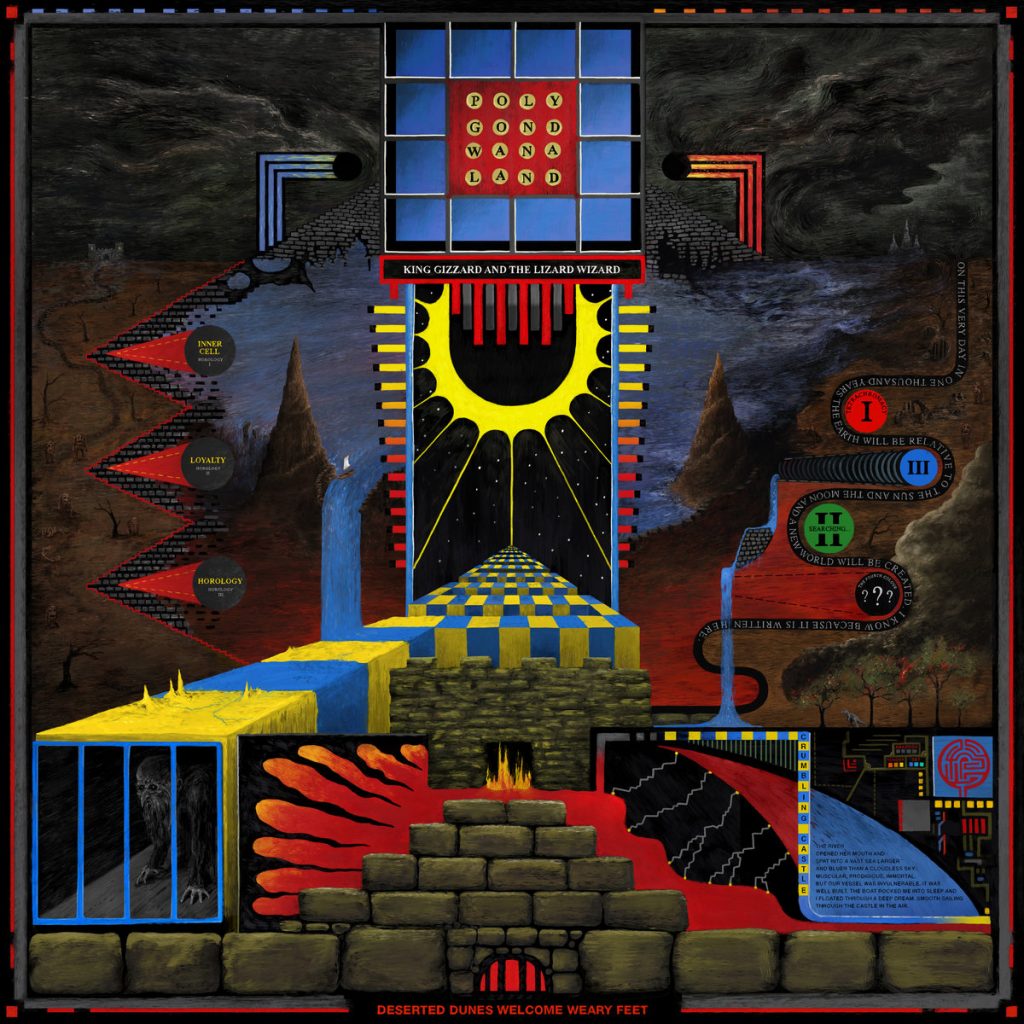 KILLER REISSUES:
THE ALARM:
Eponymous: 1981-83 (CD)
Declaration: 1984-85 (CD)
The band's first ever recordings 'Eponymous 1981-1983' and 'Declaration 1984-1985' have both been expanded, remastered and revised for future generations to enjoy and will be made available for pre-release online and in record stores worldwide from February 9th 2018 onwards. Both titles have been re-mastered from the original master tapes by mastering engineer Pete Maher (u2, White Stripes) under the supervision of Mike Peters.
FOO FIGHTERS, The Colour & The Shape (Expanded Edition) (CD)
COMING SOON: 
KURT ELLING, The Questions (3/23)
WYNTON MARSALIS, United We Swing (3/23)
BETTYE LAVETTE, Things Have Changed (3/30)
And don't forget these STILL-NEW platters that matter!
DAVID BYRNE, American Utopia (CD/LP)
If a brain in a jar could observe the world, make sense of it and churn it into a batch of songs, it would make the album American Utopia. This brilliantly analytical album is from David Byrne — an American treasure, an artistic thinker and creator responsible, in part, for the some of the most memorable and distinctive music of the past 40 years. His albums and myriad other projects have been made possible by a lifetime of collaborators that include Chris Frantz, Tina Weymouth and Jerry Harrison of the band Talking Heads, his now four-decade friendship with producer Brian Eno and, more recently, with the artists St. Vincent and Fatboy Slim. American Utopia is billed as David Byrne's first solo album since 2004. But solo in his case doesn't mean alone; it means "Everybody's Coming to My House," the title of the album's penultimate track and an apt description of the record's cast of characters. American Utopia's origins began with tracks from Brian Eno and it grew and morphed from there, bringing in other collaborators and musicians, including producer Rodaidh McDonald (The xx, King Krule, Adele), producer Patrick Dillett (Nile Rogers, Sufjan Stevens,) drummer Joey Waronker (Atoms for Peace, Beck), Isaiah Barr on sax (Onyx Collective) Thomas Bartlett (aka Doveman) on mellotron, Daniel Lopatin (Oneohtrix Point Never) on keys and electronics, singer and pianist Sampha and Brian Eno on keys, brass, whistling, robot rhythm guitar and more. The list of contributors is actually longer than this. But, suffice it to say, that inspiration for this record came from an awful lot of talent. The music is intense, it's playful and quite memorable. American Utopia takes vignettes from day-to-day life, magnifies them and lays them out for us to rethink how we see the world. The song "Gasoline And Dirty Sheets" examines the proliferation of advertising, fast food and crazy consumption as seen through the eyes of a refugee. "Bullet" describes a killing from the perspective of bullet passing through a body. Byrne's lyrics are matter-of-fact as he sings, "The bullet went into him / His skin did part in two / Skin that women had touched / The bullet passed on through." But beyond the potent subjects, there's plenty of funny stuff in these observations. The song "Every Day Is A Miracle" looks at the world not through human eyes but through the eyes of a chicken. "Now the chicken imagines a heaven / Full of roosters and plenty of corn / And God is a very old rooster / And eggs are like Jesus, his son." It also sees this miraculous world from a tongue's perspective and a cockroach's. American Utopia's closing song is called "Here" and sums up much of what David Byrne's art conveys. It's a song with Daniel Lopatin on drums and keyboards and Byrne on guitar and voice, singing about how the brain processes the world. It's a little neuroscience lesson that ends with this thought and then a question "Here too many sounds for your brain to comprehend / Here the sound gets organized into things that make some sense / Here is something we call elucidation / Is it the truth? Or merely a description?" It's in that closing thought that we're left with something to take into our day to day — and, as scientific as many of these observations are, they are a means toward empathy and understanding. In a world filled with millions of songs about personal problems and love gone right or wrong, we're thrilled to have a record that opens my eyes and widens my perceptions and helps me stop and make some sense of this inexplicable, mind-bending world of ours.
NATHANIEL RATELIFF & THE NIGHT SWEATS, Tearing At The Seams (CD/LP)
Look, there is no "S.O.B. (Part Two)" on this album. But Nathaniel Rateliff & The Night Sweats don't need it. While that joyous, hand-clapping ode to alcohol withdrawal was sharp enough to make people pay attention, the band's sophomore album "Tearing at the Seams" (Stax / Concord) will have no problem building an even broader audience. Rateliff's stirring, soulful vocals shine even more now, whether he is channeling Otis Redding on "Coolin' Out" or updating The Band on "Say It Louder." The Night Sweats' combination of soul and Americana is addictive in pretty much all its permutations, but especially on the gorgeous "Still Out There Running," which ropes some poetic Paul Simon phrasing into the mix. The first single "You Worry Me" has already returned the band to the top of the adult alternative charts, with the horn-tinged rock song seemingly poised to become another crossover hit. "Tearing At the Seams" is potent enough to return Rateliff & The Night Sweats to the spotlight to stay, not as the unexpected beneficiaries of a novelty hit, but as one of Americana's brightest new stars. As Rateliff repeatedly belts out in the title track, "They're gonna have to drag us away."
OF MONTREAL, White Is Relic/Irrealis Mood (CD)
Love and paranoia go hand in hand for singer-songwriter Kevin Barnes on Of Montreal's White Is Relic/Irrealis Mood. The Athens, Georgia-based musician has often paired verbose examination of his own mental health with oblique psychedelic pop, and he's cited the creative process as a means for coping with his depression, most directly on 2012's exhausting Paralytic Stalks. Unease with our increasingly digital world has gradually worked its way into Barnes's songwriting in recent years as well, and White Is Relic/Irrealis Moodcranks up his fear of a simulated reality to Philip K. Dickian levels of dread. Drawing inspiration from '80s-era extended dance mixes, Barnes structures the album as six lengthy tracks, each with two divergent movements woven together with churning electronic or saxophone-fueled interludes. Having earnestly dealt with the fallout of his failed marriage on 2015's Aureate Gloom, he ruminates here on what it takes to seek out love again. The technophobia that pervades the funky, offbeat White Is Relic/Irrealis Mood complements the thematic focus on romantic trepidation surprisingly well, especially as a metaphor for the artificial façades people present both online and in person. "I have to trust the optics of you," Barnes tries to convince himself on the sprawling "Sophie Calle Private Game/Every Person Is a Pussy, Every Pussy Is a Star!," and he goes on to apologize to a new love interest for moving too fast, admitting, "The last year's been kind of rough." In his approach to relationships, Barnes juxtaposes his impulsiveness with a hesitancy born from suspicion both of his own motives and those of others. Love provides him with validation that makes him "feel less ugly now," but he's equally likely to grow uncomfortable within the confines of a relationship. On "If You Talk to Symbol/Hostility Voyeur," he equates the need for companionship to a weakness and points to his own tendency to "want to blow things up again" whenever "things are too nice for too long." The paranoiac thread that runs throughout the album—including references to omnipresent government surveillance, an expanding multiverse, the Orwellian ubiquity of cameras, and even the threat of terrorist bombs triggered by cellphones—leads Barnes to argue that each of us is part of the machine. "Every time you take a breath/The simulation's breathing too," he sings on "Sophie Calle Private Game." To convey this symbiosis, Barnes leans a bit too heavily on studio gimmickry, as in the trippy helium-inflected vocals of "Writing the Circles/Orgone Topics," or the robotic vocal modulation of "Paranoiac Intervals/Body Dysmorphia." This repeated emphasis on fabricated reality has the potential to grow tiresome, but Barnes's willingness to use it as a mechanism for bearing his deepest fears and vulnerabilities—even through the highly stylized filter of a paranoid retro-futurist nightmare—makes White Is Relic/Irrealis Mood deceptively relatable.
BRAD MEHLDAU, After Bach (CD)
Over the two decades since his star ascended, American pianist Brad Mehldau has been cutting a path – often introspective, virtuosic and indifferent to populist antics – that could have led him to jazz's crowded unsung-genius shelf. But as conversations between jazz, classical music and pop have grown ever more fluent, Mehldau's eclecticism has turned him into a major star. He rammed the reasons home this week in an unaccompanied performance split between respectfully straight recitals of several JS Bach classics, and densely dazzling compositions and improvisations inspired by them. The show was a new venture for him called Three Pieces After Bach, co-commissioned by Carnegie Hall, Wigmore and others. A relaxed, cowboy-shirted Mehldau opened with the G minor Fugue No 16 expressed through more dynamic swerves and percussive chord work than a Bach purist might favour, but as the gig progressed, the pianist cherished the original subjects of these pieces with a growing clarity. The C major Prelude from Well-Tempered Clavier Book 2 led him toward a deep rhythmic thunder built out of the source's serene pulse, then a turmoil of interwoven melodies and hints of blues. Bach's delicately turning resolutions were steered toward dissonance, threaded into jazzy lines and pulled from explicit motifs toward vivid abstractions. Book 1's D minor Prelude No 6 was recast as if its motifs had been designed for Broadway-song harmonies, and the E major Allemande sparked a hypnotically Keith Jarrett-like contrapuntal whirl. On the rousing encores, Mehldau scattered the Beatles' And I Love Her across impulsive surges in shifting keys and metres before reeling it in, and punched out the Who's Pinball Wizard in such sympathy with the evening's agenda that it wasn't hard to imagine Bach applauding it. Mehldau can be dense to the point of relentlessness, but though there were moments of that, the balance of space and intensity was almost perfectly struck in this powerful and thought-provoking gig.
GUIDED BY VOICES, Ogre's Trumpet (CD/LP)
Sometimes bands release live albums as nothing more than sleazy cash grabs or they may be bankrupt of new and original ideas so they endlessly repackage past glories. But every now and then the reason for a live album's existence is obvious – and this is one such record. What is this reason, you ask? In the case of Ogre's Trumpet, the first true canonical live album in the bands history, this is Robert Pollard having a dynamite band, playing at a really high level, and he wants you to know it. He is quite proud of this version of the band which includes (for those not keeping up) Doug Gillard, Kevin March, Bobby Bare, Jr. and Mark Shue. It's a lineup that Pollard has rightfully declared the best Guided By Voices yet. This album serves not only to document this but also to immortalize it. Taken from an August 2017 show in Asbury Park, New Jersey, Ogre's Trumpet clocks in at 70 minutes and 25 songs – not a full set list but a finely curated sample of a typical night with Uncle Bob and the boys. What works so well here is the sequencing preserves a story arc and Pollard's penchant for "playing the hits at the end of the show." Four of the last six songs are confirmed fan favorites including a very solid rendition of "Game Of Pricks." They've been playing this live since forever and it still has a unique power to charm. Gillard's guitar has always infused this classic with his Les Paul slinging heroics. The older tunes all fare well but "Gold Star For Robot Boy" deserves special mention. On Bee Thousand the track was a twangy (and beautiful) mess; here it's given a fresh coat of paint without sacrificing any of the song's subtle nuances. To go on too long about the old does a grave disservice to the new and that is where GbV lives. Eleven of Ogre's tracks are from the latest two albums: August By Cake and How Do You Spell Heaven. And this is where the band truly shines. Pollard seems to understand how to keep the band motivated too. It is a more democratic group as evidenced by the inclusion of the Gillard-penned "I Am A Tree" (on which both he and Pollard sing lead) and "Sudden Fiction" written and sung by bassist Mark Shue. The newer material shows the band in their element. Songs like "King 007" (originally from How Do You Spell Heaven) explode into life. While the studio versions of many of these tracks are just fine it's clear they were born to be played live. Another example of this is "Cheap Buttons", a song from August By Cake that never made a huge impression on me. Maybe it's simply that these recent tunes are more in Pollard's current vocal range. Whatever. The net effect is stunning.