We've got live if you want it in this week's new releases, specifically some smokin' live albums from Tedeschi Trucks Band and Gary Clark, Jr. But we've also got Spoon's new guitar-meets-electronica platter an A-list platter by Rick Ross and fresh Depeche! Mode, that is. Read on….
SPOON, Hot Thoughts (CD/LP)
The title track of Hot Thoughts starts like a Kraftwerk tune: electronic drone, metronomic beats and clipped robotic vocals. Then the guitars crash in, and you're reminded almost no one engineers post-punk propulsion into precision-tuned rock-and-roll melody better than Spoon auteur Britt Daniel. Nearly 25 years in, his group has made maybe their best record yet – a line that been repeated, accurately enough, with most every record they've made. With Flaming Lips producer Dave Fridmann on board, the set is as lushly trippy as it is rhythmically hyped, apropos a band named for a song by psychedelic Seventies beat scientists Can. "We come to mesmerize," Daniel chants over the floatation-tank vibraphone funk of "Pink Up" (a slogan for the next Women's March?). Berlin-era Bowie is a clear touchstone: see "First Caress," Sharon Van Etten swirling somewhere in the mix and "Can I Sit Next to You," with its Arabic-scented synth flourishes. Dub breaks, Giorgio Moroder disco pulses and post-rock abstractions bubble up and recede. But Daniel, still a brilliantly ruthless editor, keeps things taut and antsy, even on the closer "Us," a five-minute ambient free-jazz space-out that gives you time to grab another drink, hit repeat and dive back into the groove."
GARY CLARK, JR: Live In North America 2016 (CD/LP)
Back when music was only available on a vinyl album, the pure excitement captured on a live album was considered the ultimate document coveted by hardcore music fans. Clark continues this tradition by bringing the live album to a younger generation of music fans. Live North America 2016 was recorded absolutely live, with no overdubs. What you hear is how it went down. The set is characterized by raw soul and funk, classic solo and blues performances, and several lengthy, tour de force guitar jams. Both live albums chronicle Clark's evolution on stage as his songs expand and find new life beyond the studio recordings.
TEDESCHI TRUCKS BAND, Live From The Fox Oakland (CD)
There aren't many acts that can shift from riveting blues standards to soulful renditions of Leonard Cohen classics to digging deep into the catalogs of artists as disparate as the Beatles and Miles Davis, bringing their unique style and approach to each. Aside from the Tedeschi Trucks Band, there may not be any. As impressive as the sprawling 12 piece is in the studio, this talented aggregation is made for the improvisational freedom the live setting encourages. Hence the group's second double concert CD in five years doesn't feel like the contract fulfiller its presence might imply, even if six of its 15 tracks originate from last year's Let Me Get By. Besides the music, most impressive is that these performances are taken from one show (9/9/2016), not cherry-picked from dozens of dates. That provides the same natural rhythm to the recording as being there. Additionally, extra care is taken in tweaking the mix, especially important for this expanded outfit, which boasts two drummers, a three-piece horn section and backing vocals.
RICK ROSS, Rather You Than Me (CD)
If Black Market represented a nostalgic Ricky Rozay, Rather You Than Me reverses course. A-list rappers are all over this, with Chris Rock even adding a touch of comic relief. Moments of vengeance are embellished by a clarity that comes from experience. Ross paints a vivid picture—the brown bags, ankle monitors, pulling the ragtop back at a red light. "Apple of My Eye" and "Game Ain't Based on Sympathy" contemplate the trap life as smoke twirls in the air. Rather You Than Me is the Bawse's Michael Corleone moment: "Just when I thought I was out, they pull me back in.
BIG COUNTRY BLUEGRASS, Let Them Know I'm From Virginia (CD)
Big Country Bluegrass has been making music for 30 years, and Let Them Know I'm From Virginia is a celebration of the bands' commitment to-and love of-traditional bluegrass music. Founded by husband and wife Tommy and Teresa Sells, Big Country Bluegrass performed it's first show in January 1987 and since that time has made many notable contributions to the bluegrass community. This recording, the bands' fourth with Rebel Records, does the same! Big Country Bluegrass is known for it's hard-driving sound and fine selection of material. The group has had a long standing and fruitful relationship with songwriting legend Tom T. Hall and his late wife Dixie-a combination that has produced such hits as "The Boys in Hats and Ties," "I'm Putting on My Leaving Shoes" and "Bluefield West Virginia Blues," all cuts that have reached #1 on Bluegrass Unlimited's National Airplay Chart. This album features two more Tom T. & Dixie Hall originals, "The Old Crooked Trail" and "If I Ever Get Home," as well as songs by such fine writers as the late James King, Glenn Alford, Marvin Morrow, Tracy O'Connell and Eric Marshall, among others.
DEPECHE MODE, Spirit (CD/LP)
For nearly four decades, Depeche Mode have majored in gloomy meditations on their own personal shortcomings. But their 14th LP offers a bitter, sorrowful elegy for the outside world. Nearly every song on Spirit laments the death of human decency, often in disarmingly beautiful ways (see the fuzzy ballad "Fail," the forlornly crooned "Poison Heart"). They sometimes drift into heavy-handed polemics ("Where's the Revolution"). But with a smart mix of techno-leaning keyboards and bluesy guitar, à la their 1990 high-water mark, Violator, it's easy to get swept away in their gospel.
CONOR OBERST, Salutations (CD/LP)
Salutations is a surprise. After Ruminations (the 10-track album written and recorded by Conor Oberst in the cold confines of Omaha, Nebraska) came out last year, the news that a second album, with full-band arrangements of those same 10 songs plus seven more, would be released this year was an unexpected bonus. Featuring the contributions of The Felice Brothers and Jim Keltner, it promised a new treatment of some of Oberst's most raw compositions. The result is a fulsome new release, markedly different from its 2016 cousin. If nothing else, Salutations is a fascinating look at the changes that come from collaboration and evolution in a studio setting versus the isolation in which these songs were born. Instead of relying solely on piano, acoustic guitar, and harmonica, Oberst and company employ accordions, organs, strings (of both the orchestral and fiddle varieties), and ethereal sound collage elements to build up these tracks and give them a unique character.
PITBULL, Climate Change
Killer Reissues: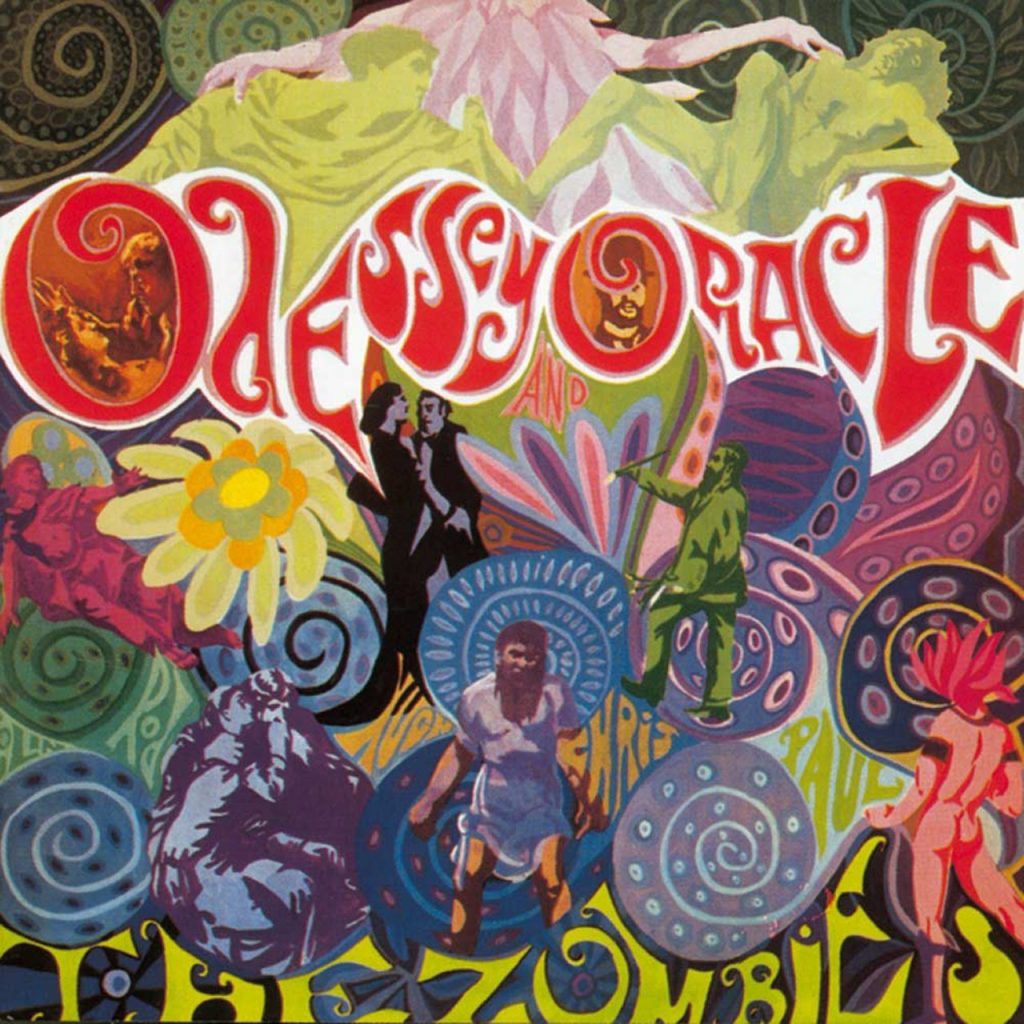 ZOMBIES, Odessey & Oracle: 50th Anniversary Edition (CD)
In 1968 The Zombies released their second full length LP called "Odessey And Oracle" a bonafide classic from start to finish. Recorded at Abbey Road Studios and produced by the band themselves with longtime Beatles collaborator Geoff Emerick handling the engineering duties the album contains 12 songs including the monster hit "Time Of The Season" With "Odessey And Oracle" The Zombies created a collection of tracks that is best enjoyed as an album listening experience. "Care Of Cell 44" opens the album with Rod Argent's brief harpsichord that gives way to Chris White's catchy bass line. Next up is the beautiful "Rose For Emily" right into the heartbreaking "Maybe After He's Gone." For our vinyl listeners Side 2 is packed with the pure pop perfection of "I Want Her She Wants Me," "This Will Be Our Year," "Friends Of Mine" and of course "Time Of The Season." The 50th Anniversary Edition, released through the Varese Sarabande label,and contains 7 bonus tracks including the non-album B-Side "I'll Call You Mine."
LARRY SPARKS, Lonesome & Blue: More Favorites (CD)
Larry Sparks is one of the most respected and beloved figures in bluegrass music. Beginning his career in the 1960s with the legendary Stanley Brothers and then Ralph Stanley, he has carved out his own path in the music with his fine voice, his unique bluesy style of guitar picking and his uncanny knack for finding great material. Lonesome And Blue: More Favorites is a superb 14-track collection spanning Larry's 40 year relationship with Rebel Records. The album features many songs that have never seen the light of day on CD till now along with others that were introduced in the digital age but have been out of print in recent years. Longtime fans will be excited to get their hands on this material once again while new converts will be thrilled to dig even deeper into his extensive catalog.
COMING SOON:
ODDISEE, The Iceberg (3/24)
RODNEY CROWELL, Close Ties (3/31)
And don't forget these STILL-NEW platters that matter!
SHINS, Heartworms (CD/LP)
The Shins' freaky fifth album, Heartworms, teems with psychedelia that'll please the lava-lamp-and-incense crowd. From Magical Mystery Tour-styled sound effects ("Painting a Hole") to hypnotic island vibes ("The Fear"), the project contains some of the band's most adventurous music yet. And songs like "Name For You" and "Cherry Hearts" prove Mercer still pens some of indie-rock's most addictive pop melodies.Mercer's lyrical luster has diminished somewhat since the band's halcyon days, but he still flashes poetic brilliance often on Heartworms: Take "Mildenhall," a lilting, autobiographical standout about spending his teenage years on an English military base. And clever lines hide throughout the album, like the biting aside on "Half a Million" where Mercer sneers, "I'm just too lazy to make amends." True to the band's spirit, but willing to push beyond aesthetically, Heartworms is a rewarding and singular addition to the Shins' catalog.
MAGNETIC FIELDS, 50 Song Memoir (5xCD/5xLP)
Eighteen years after the epic 69 Love Songs, Stephin Merritt has crafted an autobiography in 50 songs, one for each year of his life. The singer-songwriter rifles through twice that number of instruments as his lugubrious baritone drolly documents pivotal experiences. There is the childhood pain of rejection by a pet ("We had a cat called Dionysus … every day another crisis"), his mother's ghastly taste in men and his suspicions, in '92 Weird Diseases, that he may have Asperger's. Some songs are drily or blackly funny, others are wickedly vengeful ("When I write my memoirs, you will read them with pain … searching in vain for your name"), dark or deeply moving. As his life unfolds from romantic disaster to pop crisis ("Rock'n'roll will ruin your life and make you sad," he deadpans) to some sort of equilibrium, the music evolves from a solitary ukulele to richly observed baroque new wave and operatic synthpop, all with terrific tunes. It's an album worthy of Merritt's grand half-century.
REVEREND PEYTON'S BIG DAMN BAND, Front Porch Sessions (CD)
Southern Indiana-bred and Albino Skunkfest-bound singer-guitarist Reverend Peyton is the bigger-than-life frontman of Reverend Peyton's Big Damn Band. He has earned a reputation as both a singularly compelling performer and a persuasive evangelist for the rootsy country blues styles that captured his imagination early in life and inspired him and his band to make pilgrimages to Clarksdale, Mississippi to study under such blues masters as T-Model Ford, Robert Belfour and David "Honeyboy" Edwards. The Front Porch Sessions maintains a potent level of intensity throughout, from the upbeat optimism of the album-opener "We Deserve a Happy Ending" to the blunt slice-of-life rural reality of "One More Thing" to the rollicking, playful swagger of "Shakey Shirley," "One Bad Shoe" and "Cornbread and Butterbeans." Meanwhile, the instrumentals "It's All Night Long" and "Flying Squirrels" demonstrate the Rev's nimble, imaginative guitar work.
MARTY STUART, Way Out West (CD)
Way Out West is Marty Stuart's album-length paean to the myth and magic of the American West. It finds country's stalwart neo-traditionalist turning cosmic cowboy for a journey through the Joshua trees, shadowy canyons and desert dreams that tantalize travelers with the promise of a golden shore on the other side. Stuart grew up in Mississippi, captivated at an early age by glimpses of the West like the Bakersfield sound of Buck Owens and the cowboy ballads of his namesake, Marty Robbins. Having made his mark on country over the last four decades, first as a guitarist with Flatt & Scruggs and Johnny Cash and then as a reliably roots-conscious solo artist, Stuart takes the occasion of his 18th album to bring his Western preoccupation full circle with a moody, atmospheric song cycle. All the elements woven through the record come together, as surf music, spaghetti western soundtracks, psychedelia, and cosmic country merge in celebration of the idealized West that Stuart's album brings to life.
KURT ROSENWINKEL, Caipi (CD)
Ten years in the making and with master guitarist Kurt Rosenwinkel predominantly playing all the instruments (aside from additional contributions from notable guests such as Mark Turner on tenor saxophone and Eric Clapton on "Little Dream"), this is an intriguingly fine album of light, but not lightweight, tracks. Opening with a distinctly Brazilian feel on the title track, its successor, "Kama," is characterised by falsetto, slightly tremulous vocals and legato violin from Frederika Krier. Typically, the pop/rock element of the songs presented here, such as on "Chromatic B," are deceptively straightforward sounding but in truth they're anything but. Skilfully crafted, the tunes contain a wealth of ideas often interposed with complex time signatures and overlaid motifs, that are atypical of most pop music.
PIETA BROWN, Postcards (CD)
For Postcards, Pieta Brown penned simple acoustic demos while in hotel rooms on tour and sent them to various musical collaborators, including Calexico, Mark Knopfler, and David Lindley, to turn into a shared track. That is what is meant by them being postcards. Brown and her co-writers never worked in the same physical place or spent time together. While Brown's the instigator and her name is on the record cover, all of these cuts were co-authored with another from a distance. The results are quite lovely and fascinating. Brown's soft, soothing voice links the songs together even as they differ from each other in tone and substance. The album is full of depictions of sunsets and prairies in all their glory. There is a real, deep, human need to witness and document this. But the world is also full of people. Brown's postcards function best when both sender and addressee engage each other as people as well as artists.
KEB DARGE & CUT CHEMIST, Dark Side (CD/LP)
Picking up where they left off on the 2007 compilation 'Lost & Found – Rockabilly & Jump Blues', Keb Darge & Cut Chemist join forces once again, this time to explore the wonderful world of 1960s Garage music. While Rockabilly could be defined as a DIY emulation of the music of Buddy Holly, Eddie Cochran and others by young American artists, Garage was heavily influenced by British bands of the day like the Beatles, Kinks & Rolling Stones. Simple drum kits, guitars and the occasional organ keep the sound honest and raw, retaining a palpable sense of excitement even to this day. With a multitude of bands springing up all over the SA, many of these wonderful records were released in tiny numbers, making certain titles almost impossible to find. Keb Darge's love affair with this intriguing genre happened almost by accident, while on the hunt for obscure Northern Soul records. "DJ Shadow told me I would like Garage years ago, but I didn't listen." Hearing a few records he liked and being assured by collectors that they were classified as 'Garage' got him hooked, so for the last years he's been digging obsessively for the stuff. Knowing Cut Chemist was a collector, he suggested they collaborate on a compilation, and 'The Dark Side' was born. 30 obscure records, some of which change hands for frightening amounts of money, all with wonderful stories attached as told in Keb's encyclopedic and entertaining liner notes.
TENNIS, Yours Conditionally (CD)
There seems to be a general feeling that pop music should stay a bit simple or escapist and not move through a multitude of moods and notions in the span of one song. That's could be why, six years in and four albums deep, there's still some hesitation toward categorizing Tennis as a "pop group." The duo's latest, Yours Conditionally should settle that issue at last. It's a collection that explores the uncertainty of one's identity and their understanding of past experiences and current trajectory. And it's as poppy as anything.
HA HA TONKA, Heart-Shaped Mountain (CD/LP)
An adventurous band from Missouri opens up its sound with its fifth album, Heart-Shaped Mountain. As with its past releases, the band's gift for clear-eyed, intelligent songwriting proves that they're still a cut above other bands that fuse indie with Americana, while remaining beholden to neither style. A song like "Favor" could fit in as a campfire singalong, "Going That Way" takes on a careening momentum as she comes around the mountain, while a somewhat left field song like "Land Beyond" seems to take its cues from somewhere else entirely.
HURRAY FOR THE RIFF RAFF, Navigator (CD/LP)
Hurray For The Riff Riff, aka Alynda Segarra was born and raised in the Puerto Rican Bronx, which serves as the album's origin point. She embeds the rhythms of the Latinx diaspora throughout this musical narrative, which unfolds like a Broadway musical (the packaging looks like a theater program – a nod to Hamilton, perhaps?). For this project, she's enlisted new collaborators, notably the versatile guitarist Jordan Hyde and several percussionists, including Juan-Carlos Chaurand and Norka Hernández-Nadal. Relating the saga of a particular wandering woman – Segarra's alter ego, Navita Milagros Negron – and of a people displaced through exile, segregation and gentrification, The Navigator repositions roots music as an anti-nostalgic tool: a truth-telling device. And it does so through the undercurrents of Cuban son, Puerto Rican bomba, and Nuyorican salsa, interwoven with doo-wop, rock and gospel soul.
JUDAH & THE LION, Folk Hop N Roll (CD/LP)
With their second full-length album, Folk Hop N Roll, Judah & The Lion shine a light on the place where their influences overlap. It's a wide-ranging sound, with fuzz bass, hip-hop percussion, distorted banjo riffs, and super-sized melodies all stirred into the same mixing pot.
VALERIE JUNE, Order Of Time (CD/LP)
Valerie June's major label debut Pushin' Against A Stone was hailed as a one of the best albums of 2013, and her follow-up The Order of Time carries and expands the weight of that acclaim. The Order of Time continues June's fusion of a diverse set of influences into a modern eclectic style. The title defines the album's driving force as time and the joys, heartbreaks, and pain one naturally encounters in life. Lyrics explore those elements, and June's unique vocals stands as strong as on her debut, but the rhythmic background and integration of a strong series of organ performances creates a sonic quality for time that personifies the album's theme.me
LAURA MARLING, Semper Femina (CD/LP)
Laura Marling's sixth album is not a record much interested in wearing its intelligence lightly. A concept album about femininity and female relationships (or "an exploration of womanhood", as one magazine put it, making it sound like something that worthy Channel 4 would have broadcast in the early 80s), it starts quoting Virgil at you before a note is struck: the Latin title is a bowdlerised line from the Aeneid, which edits a dire warning from the god Mercury that: "Woman is always fickle and changeable" into the more positive slogan: "Always a woman".