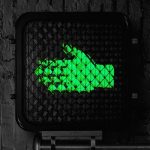 THE RACONTEURS, Help Us Stranger (CD/LP/white vinyl LP)
If you're looking for a crowded hangout, try Jack White's Wikipedia page. From fully realized bands (like the Alison Mosshart-fronted Dead Weather) to one-off collaborations (like his duet with Alicia Keys for the James Bond track "Another Way to Die," or partnering with Danger Mouse and Norah Jones on the Spaghetti Western album "Rome"), White has always kept a full dance card, before and after the White Stripes disbanded in 2011. But for all of the different hats that he's worn, it's White's tenure as a member of the Raconteurs that has most consistently showcased his myriad talents. Formed in 2005, the band paired White with Michigan solo artist Brendan Benson and garage rockers Jack Lawrence (bass) and Patrick Keeler (drums) of the Greenhornes. On their 2006 debut, "Broken Boy Soldiers," and its 2008 follow-up, "Consolers of the Lonely," White and Benson traded off vocals and guitar licks in a blues-tinged, sometimes psychedelic take on classic rock. Then they decided it was time for a break … a long one.  "Help Us Stranger" arrives 11 years after "Consolers" and finds White at a very different place in his career from when the band first started. He's created what can only be described as a musical empire of record labels, pressing plants and, not incidentally, a bustling solo career that included 2018's "Boarding House Reach." There's but one reason to explain the return of the Raconteurs after such a lengthy absence: it appears Jack White is ready to have some fun again. From the first notes of opener "Bored and Razed," it's clear that the mood on Help Us Stranger is an overwhelmingly playful one. You can sense the giddiness on "Razed," where frenzied guitars carry the moment and the band's metropolitan muse, Detroit, gets an early shout-out. The track's tongue-in-cheek title further speaks to the notion that while White and company aren't positing that these songs should be taken as jokes, there's no need to be too serious about them either.  It's probably safe to presume that most reviews of this record will make a special point of highlighting the contributions of Benson. Though he'll never have the top echelon fame of his bandmate, Benson is just as integral to the Raconteurs as White. Not only does his presence serve as a foil for some of White's more indulgent tendencies (look no further than the contrast between "Help Us" and White's sprawling "Boarding House" for additional proof), but Benson's affinity for more melodic, pop-adjacent tunes gives the Raconteurs an added bit of sparkle. It's as though there's a melting point for Benson and White — a musical temperature that, when reached, allows them to congeal their talents. This heat can be felt across the album, from the call and repeat chorus of stomper "Help Me Stranger" to the dual vocals and rowdy piano at the heart of "Shine the Light on Me." Help Us Stranger is a simple, effective return to form for fans of White who continue to hold out hope that a new White Stripes album may one day arrive. That prayer isn't likely to pay dividends, but with the Raconteurs' latest offering, listeners can at least take solace in the best consolation prize possible. More importantly, this album is timely proof that White may actually be at his best when he's constrained by the framework of collaboration. "Boarding House" was an eclectic mish-mash of styles that yielded few gems but revealed White's willingness to summit any sonic peak he sets his mind on. The Raconteurs' latest leads one to wonder if his future Everests would best be attempted not as solo ascents, but as part of a team. There is never cause to encourage an artist to experiment less, but in White's case, his alliance with Benson remains his most viable avenue for continuing to mine the Detroit garage rock sound that first brought the White Stripes to prominence. Toss in the exceptional work of Lawrence and Keeler, and you've got a group that may benefit from the prominence of one member but truly makes its mark as a team. It's impossible to know what White will do next, but as his list of releases and collaborators continues to grow, let's hope there's always room for the Raconteurs in his plans.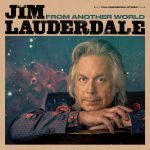 JIM LAUDERDALE, From Another World (CD/LP)
Jim Lauderdale's 32nd studio album From Another World marks the singer/songwriter's encore to last year's acclaimed Times Flies. Lauderdale, of course, has penned country hits for the likes of George Strait, Patty Loveless, George Jones, Vince Gill and others but has relentlessly pursued his own performance career at the same time. He's genre agnostic, having recorded country, bluegrass, R&B, soul, pop, and jam band albums, performing live in straight-ahead country, bluegrass, rock, roots and even blues settings. As a sideman, he's been in bands with Lucinda Williams, Elvis Costello, Ralph Stanley, Buddy Miller, and others.  His work with Miller, Williams and others in southern California in the early '90s was seminal to the birth of Americana. Yet, for many, he resides inexplicably under the radar, partly due to his wandering muse which offers up so many styles. Rather than stray in different directions this time, Lauderdale reunited with the team behind Time Flies, co-producer bassist Jay Weaver and GrammyAward-winning engineer David Leonard (Prince, John Mellencamp). He also stayed in the groove of writing solo and with vaunted co-writers including the legendary Melba Montgomery, Willie Nelson's main man, Buddy Cannon, an emerging Americana artist Logan Ledger, with a dozen tracks. As you've gleaned from his quote, this is Lauderdale's form of healing music, an answer to (or an escape from) the harsh divisiveness and amped up anger of today's world.  His sense for lyrics, melody, and vintage country sounds combined with his deep, resonant voice, make Lauderdale eminently listenable. He's done so much in his career that one gets the sense he could write a song in minutes. And, yes, he can but these are well-crafted indeed. Lauderdale is a master of the 2-4  minute song. The single, "The Secrets of the Pyramids" is a contemporary, slightly psychedelic take on traditional country with its theme being the eternal search for greater love and understanding. Harmonies come courtesy of Lille Mae and her brother Frank Rische.  The opening "Some Horses Run Free" is a rocker imbued with touches of psychedelia and ringing electric guitars. "When You Can't Have What Your Heart Wants" brings in more traditional country sounds with tremolo guitar and weeping pedal steel, but again the musical accompaniment is rich with piano, harmony vocals, and lush production effects. "Like People From Another World" takes a more conventional country path as does the pedal steel-driven "One Away" and the touching "For Keeps." Lauderdale becomes tender as he speaks of admonitions on "Listen."  He's clearly seeking a world with more humility and harmony. Momentum picks up, ironically, with "Slow Turn in the Road," again marked by pounding piano and searing guitar. The classic honky-tonk sound follows with "I'll Forgive You If You Don't." "Graceland Horses," with its acoustic guitar and atmospheric pedal steel is a gorgeous standout track, hearkening back to one of the too many overlooked Lauderdale albums, Headed for the Hills. Lauderdale is at his poetic best in the uplifting country "Ever Living Loving Day" and then, in typical unpredictable fashion, closes with the funked-up, revved-up "Are You Trying To Make a Song Out of Us?" This one lives up to the high-quality standards that Lauderdale brings to every record he makes. It's just as strong as his last one, as we've come to expect. Some of these melodies will linger in your head for days so let your friends and associates forgive you if you seem lost in another world. It's meant to be that way.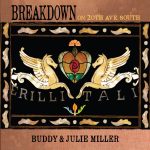 BUDDY & JULIE MILLER, Breakdown On 20th Avenue (CD/LP)
You can't really consider the first set Buddy and Julie Miller have recorded together in 10 years a reunion since they have never stopped being married. Still, Julie was conspicuously MIA (due in part to health issues) during that period and Buddy was busy with other projects, so this reignited musical combination has been a long time coming. The album is especially welcome because Julie pens all dozen tracks (one is co-written) and her unique voice has been greatly missed — both vocally and compositionally — on the Americana landscape. Perhaps sensing this, Buddy Miller takes a backseat, at least vocally. Even though he plays all the acoustic and electric guitar parts (the two are often overdubbed), he gives Julie the bulk of the lead vocals, appearing occasionally as a frontman but more often as his wife's harmony voice. The predominantly stripped down but not skeletal music finds its groove early; the opening title track lays down a mid-tempo folksy swamp rock base with subtle, thumping percussion that the rest of the songs pretty much mirror. But even though the vibe might be similar, these songs never feel repetitious. The subject matter typically concerns matters of the heart, yet are expressed with the experience of a 40-year marriage. The two explore the complexities of love as they harmonize on "Spittin' On Fire" with "Love comes in so sweet at first/Like a gentle rain/But when it does its damage/It hits like a hurricane." On the slow, bluesy "Unused Heart," Miller sounds like she's singing to herself in a cracked, delicate voice ("Is love exclusive or just elusive/It's undeniable, it's unreliable") above Buddy's softly picked guitar. The dark folk of "Feast Of The Dead" looks at spiritual issues ("Think about the things unseen") and "War Child" unpacks the subject of refugees with spellbinding candor ("Is there anyone who remembers your name/War Child no one knows who you are"). The duo takes inspiration from Lucinda Williams on the tough, grinding "Underneath The Sky," where Julie growls "I'm breaking down the walls/I'm kicking in the door/Not gonna stop 'til I find out what I'm down here for." Some basic tracks were recorded in the couple's bedroom (upstairs from Buddy's home studio) which brings additional raw intensity to songs that are already riveting in their exploration of the ups and downs of relationships. The combination of Buddy's husky rumble and Julie's lighter but still incisive approach makes for an explosive vocal blend. There is no filler in these dozen tunes (over 50 were written, from which they chose the best) that remind us what we've missed in the decade since the couple last recorded together. It's a continuation of a musical and personal partnership that's entrancing, honest and one that makes for a mesmerizing listen.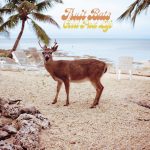 FRUIT BATS, Gold Past Life (CD/LP)
America's having a collective rose-colored glasses moment across ideological fault lines. Folks can't help staring in the rear view with wistful gaze, longing for the good old days, whatever that means from person to person; the Obama administration years, maybe, or the white-bread era of the 1950s-60s, before, say, the Voting Rights Act passed into law. In any conceivable case, those "good old days" are only better in the eyes of the beholder. That's the nature of over-sentimentality. Gold Past Life, the eighth album from Chicago's Fruit Bats, doesn't necessarily reference this self-deluding dynamic—it's less political and considerably more personal than that, which is a relief for listeners with a severe intolerance for aggressively forced political metaphors. But looking backward remains key to the record's heart regardless. Frontman Eric D. Johnson's lyrics settle on reminiscence, whether about time and place ("Drawn Away") or about the dearly departed (most obviously on "Your Dead Grandfather," but also on "Barely Living Room"). Pining over the aforementioned good old days means pulling wool over one's own eyes. Pining over your childhood homes or the hospital where you emerged from your mom's womb, makes for a very different kind of existential anguish. Listen to the deceptively upbeat "Drawn Away," a cheery strummer of a song so written through with sunshine that if you blocked out the lyrics, you'd assume it's genuinely meant to be happy. "Drawn away from every place we've ever lived / Drawn away from every life we've led," Johnson belts on the chorus with lighthearted gusto that belies just how unbelievably goddamn depressing it is to grow up and leave behind the worlds we once knew as kids. Grant that this experience—the long sojourn away from home, from self, from youth—is universal. Everyone goes through it. That doesn't make the track less of a stealthy king bummer. For the most part, Johnson's writing generalizes that "time and place" theme, except for the few instances where he invokes the Great Lake State: On "Two Babies in Michigan," of course, and on "A Lingering Love." "Oh to be where the weather's wetter / With a stomach settled / And a mouthful of great lake," he laments on the intro. That ode to Michigan, where the Wisconsin-born Johnson grew up (at least partly), extends into other tracks; the more specific the songs are, the more clearly his lyrics read to the ear. Where else could "Mandy from Mohawk (Wherever You May Be)" have happened but Michigan? Sure, Route 41 runs from there all the way down to Florida, and sure, there are other Episcopal Churches named St. Peter's By-the-Sea, but Johnson is not being coy about the church he's thinking of and which stretch of highway his words refer to. The effect of tracks "Mandy from Mohawk (Wherever You May Be)" and "Two Babies in Michigan" is to establish Gold Past Life as an album about Michigan, even when it isn't directly about Michigan at all. But Johnson's doleful nostalgia and his fixation on death renders his retrospection somewhat morbid. Gold Past Life, is littered with specters, whether on "Two Babies in Michigan" ("Still broke as a joke / With no clear way to cure it / Back down on the boulevard / Floating around like a spirit"), "Your Dead Grandfather" ("We've been told there's a ghost in the sky / Who pushes the button for the snow"), or "Barely Living Room" ("In a flat fescue meadow / Frozen dead by the cold / In the clothes of a ghost"). If Gold Past Life's musicianship wasn't so uniformly lively, the whole record might just read as morbid.

WILLIE NELSON, Ride Me Back Home (CD)
Two years ago, Willie Nelson delivered God's Problem Child, a tragicomic heart-stopping meditation on the singer's rapidly advancing age. A year later, he released an equally sturdy follow-up (2018's Last Man Standing), and after detouring with his collection of Sinatra standards, the 86-year-old legend is back with Ride Me Back Home, yet another collection of late-life wisdoms and honky-truths. Despite its reliance on other songwriters to convey mortal meditations (see the pair of choice Guy Clark Covers: "My Favorite Picture of You" and the timely "Immigrant Eyes"), Nelson's latest is a crucial addition to the legend's masterful late-career songbook. "Come on time/What have you got for me, this time?" the wordplay wizard asks early on, summoning up his last few years of creative blossoming amidst health scares. "I'll take your words of wisdom/And I'll try to make 'em rhyme."Ride Me Back Home is set to the same worn-in light country-roots blend Nelson has fine-tuned over the past decade-plus with producer Buddy Cannon. This time around, however, Nelson expands upon the songbook he's been drawing from in his carefully-curated mortal trilogy, offering his own versions of Billy Joel ("Just the Way You Are") and Mac Davis ("It's Hard to Be Humble") along the way. Nelson's vocal prowess remains unaffected by age, timeless in its singular phrasing and unconventional approach to rhythm. On Ride Me Back Home, he uses his voice, that profound American musical instrument, to convey his Texas zen on songs like the title track and the fresh original "One More Song to Write." "I've got one more hill to climb, and it's somewhere in my mind," he sings, utterly at peace, on the latter. "I'll know it when it's right/I've got one more song to write."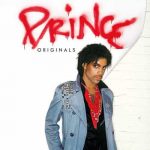 PRINCE, Originals (CD, vinyl out July 19th!)
For Prince, writing for other artists was a way to proliferate his musical influence and secure his legacy. (Depressingly, his closest modern analogue in that respect is Ed Sheeran, a man spreading a considerably thinner gift thinner still.) Originals, a collection of Prince's guide demos for his funk proselytisers, shows the breadth and brilliance of his compositional talents – and also the judiciousness underpinning his own catalog. It unspools like a greatest hits, even though few of the songs included were proper hits: the Bangles sell "Manic Monday" better than Prince does (bearing in mind these scratches weren't made for public consumption), largely because you believe Susanna Hoffs actually understood the workaday grind, and Prince sounds miffed by the very concept of it. His "Nothing Compares 2 U" coexists beautifully with Sinéad O'Connor's version, finding hope and sensuality where she saw devastation. And he could easily have transformed some of the other tracks into chart fare: Jill Jones's coquettish "Baby, You're a Trip" pales next to his church organ-battering, throat-shredding psychedelic rhapsodics, and he pushes Holly Rock into more daring, vivacious territory than Sheila E did. He also shows up Kenny Rogers' pale take on "You're My Love," sinking to deeper, soul-stirring notes almost worthy of Barry White. Sometimes Prince's limitations are revealed: he's no match for the deliciously supercilious Vanity 6 on Make-Up, and adds too much gothic melodrama to Noon Rendezvous, bettered by a suitably crushed-sounding Sheila E. But still – he wrote these songs, a fact that Originals drives home with his trademark casual confidence.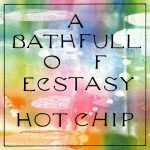 HOT CHIP, Bath Full Of Ecstasy (CD/LP)
With a name like A Bath Full of Ecstasy, you'd be forgiven for thinking indie disco stalwarts Hot Chip were about to hook you up with more pills than The Shamen and take you down to the Haçienda. But Hot Chip have never been about the hedonistic '90s bacchanals. Though built for the dancefloor, there's always been a more introspective groove. The kind of sound that mixes the euphoric with the melancholic, rooted in the mind as much as in the body. There once was a time when they might've been up for cracking jokes, bigging themselves up and "coming on strong", as their debut album introduced them 15 years ago. But now isn't it. After the existential crisis of the fantastic Why Make Sense?, A Bath Full of Ecstasy feels somewhat at peace. They've passed through their chaotic expressionist phase and have now settled on beautiful watercolor landscapes. 'Clear Blue Skies' sees them opening with a surprisingly orchestral movement before the shuffling beats and twinkling synths elevate the record to a heavenly place. Joe Goddard's endearingly warbling vocals remind us that this is still inherently human, however, as he longingly asks "What kind of magic did you use?" As it shifts into album closer 'No God', with its ebullient piano house riff, filled with warmth and long-sought acceptance, it feels like a weight being lifted off your shoulders to an almost transcendent extent. Because this is what Hot Chip do best. Infectious escapism at its finest. But A Bath Full of Ecstasy is never saccharine. Its escapism is always rooted in something real. Where the darkness does creep in, as it is wont to do on Hot Chip records, they always offer a light at the end of the tunnel. There's no sign of them eschewing that floor-filling mentality yet either. 'Hungry Child' is one of the group's most unabashedly club-ready tunes. Muscular grooves, squelchy bass and house-harmonies are all present and correct, building to a moment of pure release. Arms-aloft, body-swaying catharsis where actions mean far more than words. 'Spell', meanwhile, has a surprising Prince-esque sensuality, as Alexis Taylor's usual falsetto is distorted and echoed, and the French touch influence of producer Phillipe Zdar makes itself known. As the band have grown older together, their bond has grown tighter. There's always been a camaraderie there, especially between Alexis and Joe, but A Bath Full of Ecstasy shows a band completely in sync. Confidently displaying their talents, playing off one another and raising each other up. Their more collaborative process has brought an album that, while rarely deviating from that Hot Chip sound, feels lighter and freer. Like a band finally feeling confident in their own skin, inviting us to find escape from whatever troubles us in their music.
TITUS ANDRONICUS, An Obelisk (CD/LP)
LOS STRAITJACKETS, Channel Surfing (CD/LP)
DRIVIN' N' CRYIN', Live The Love Beautiful (CD/LP)
KILLER REISSUE OF THE WEEK:
JAMES BROWN, Get On The Good Foot (2xLP)
This reissue of the Godfather's 1972 album is two LPs of prime new heavy heavy funk, and it includes Soul Brother #1's scorching takes on the title track, "Cold Sweat," "Ain't It A Groove" and "I Got A Bag Of My Own," among many others. Bonus features? The bonus features are the deepest soul and funk tunes alive, friend. You need no more frills than the Hardest Working Man In Show Business leading one of his best, tightest bands into soulful ecstasy.
And don't forget these STILL-NEW platters that matter!
BILL CALLAHAN, Shepherd In A Sheepskin Vest (CD/LP)
Bill Callahan's new collection, Shepherd In A Sheepskin Vest, is unlike any we've heard from him. It's a double album that spans 20 songs and finds Callahan in a transitional phase of his life, navigating the world as a married man and a first-time father. Intimate illustrations of domestic life — humbly rendered on acoustic instruments, a byproduct of having a baby in the house — read like a timeworn, epic testament of the transformative power of love. On "Angela," a song that is plainly about death, Callahan sings: "Love goes on like a birdsong/ As soon as possible after the bomb." No longer a force to be feared, it is deliverance in the face of certain doom. Shepherd In A Sheepskin Vest is Callahan's first album in six years.  Callahan has always alternated between wiseman and wiseass. His jokes are generally at his own expense, funny little asides that bathe darker musings in whimsy, and though Shepherd In A Sheepskin Vest is unmistakably his most earnest album to date, Callahan's sense of humor remains intact. On "The Ballad Of The Hulk," he looks back on his younger years that were defined by an inexplicable anger. Though the song is named for a comic book character, it is a revealing insight to Callahan's inner world. "The master of reiki/ Waved his hands over me/ And said I eat too much steak/ And hold on too long to ancient aches/ And both are so hard/ On my heart," he sings, his baritone echoed by a thick bassline. That past is present on this album, particularly on "Young Icarus," which finds Callahan weaving personal history into Greek mythology, and later, the Bible, over a string arrangement that shifts like a turning tide: "I left Eden with a song up my sleeve/ Well, the past has always lied to me/ The past never gave me anything but the blues." And though much of this album can be described as overwhelmingly happy for Callahan, his worries cast a long shadow. "Everything is corrupt/ From the shoes on our feet/ To the way we get fucked," he sings on "Released," his voice underscored by a tinkering xylophone. Dividing side B from C, it's the loudest, most menacing song on what is otherwise a relatively placid album. The latter half of Shepherd In A Sheepskin Vest finds Callahan more or less content with newfound domestic bliss, though stability presents its own set of problems, too. On "What Comes After Certainty," he declares, "True love is not magic/ It's certainty/ And what comes after certainty?/ A world of mystery." The Beast" is where all of the ideas Callahan juggles throughout the album coalesce: the promise of new life, the specter of death, and the family that provides shelter from an unrelenting, brutal world. "Love is a hill with a view of reality," Callahan sings. "The gravestones from here look like teeth/ With a beast asleep at our feet."

BRUCE SPRINGSTEEN, Western Stars (CD/LP)
Bruce Springsteen has precious little left to accomplish. He has sold well over 100 million albums in his 46 years of recording, won 20 Grammys, and, a full 20 years ago now, was inducted into the Rock and Roll Hall of Fame in his first year of eligibility. He has authored a lauded memoir and been the hottest ticket on Broadway, which, in turn, also made him the anchor of his own Netflix special. At 69, he has brought his inexhaustible road act to the furthest corners of this planet, selling out nearly every venerable concert hall one might imagine. He has long been a voice for the blue-collar worker and a totem for misfits and the restless. His songs are canon; he, an icon. And yet Springsteen does not rest. In fact, as Western Stars, his 19th studio album, proves, he's still got a surprise or two tucked in the back pocket of his jeans. The California country-tinged, cinematic endeavor sees the Boss reflecting, embracing the dark corners of his mind while introducing a slew of West Coast personas and an army of strings and horns. Springsteen has long been a master of nostalgia and here he shifts his sonic touchpoints back to the sounds that floated through his early years, channeling the folk-pop balladry of the late '60s and early '70s. It works, almost without exception—save for the out of place "Sleepy Joe's Café" and the schmaltzy "There Goes My Miracle"—across the 13 new songs here, and in doing so, yields some of the most charming material of the venerable star's career. The lead single "Hello Sunshine" offered the first glimpse at the new direction when it debuted in April. "You know I always liked my walking shoes," he, a man famous for running, admits, as he considers how to escape the isolation he can't help cultivating. "You fall in love with lonely, you end up that way," he ponders over an expansive arrangement. Later, he adds, "You know I always liked that empty road/No place to be and miles to go/But miles to go is miles away." The knowing heft the cut hits you with, square in the chest, comes from an authentic emotional place for Springsteen.  The characters he embodies on Western Stars are in similarly hard-won, ragtag shape. The lamenting title track sees him taking on the perspective of a fading actor who, now forced to shill Viagra on TV, will likely die with that fact that he was once "shot by John Wayne" as his most memorable claim to fame. We're greeted by a former stuntman on "Drive Fast (The Stuntman)," who, beaten up by the job and the life it affords, has got "two pins in my ankle and a busted collarbone." One of the set's standouts—and its singular trip back east—the gritty "Somewhere North of Nashville" finds a burnt-out songwriter regretting all that he's lost. "I traded you for this song," he laments over a simple piano backing and angelic backing vocals. The final notes of the record ("Moonlight Motel") tell the story of a lovelorn middle-aged man staring at a boarded-up motel, an old rendezvous spot for him and an ex. It's this energy that connects Western Stars with the rest of the Boss's catalog. (A similar pull towards bleakness runs through solo albums Nebraska and The Ghost of Tom Joad.) And it's hard not to imagine that as his characters here find themselves run over by a world that's long-since sped past, Springsteen, who enters his seventh decade this year, might be wondering if his own surroundings have done the same. An answer to that anxiety never really arrives, but a warm resolve, one that can only be earned with age, offers comfort. The stunt man may have a steel rod in his leg but, as Springsteen sings, "it walks me home." The show isn't over, it's just moving on down the road.

CALEXICO/IRON & WINE, Years To Burn (CD/LP)
Reuniting on "Years to Burn," their first full-length project since 2005, Calexico and Iron & Wine remind audiences why they initially collaborated. Strong alone, the two bands are stronger together. Sam Beam, better known by his stage name Iron & Wine, has been something of a sensation in the indie world since the early 2000s. Calexico, with main members Joey Burns and John Convertino, is a Southwestern rock band with influences from mariachi to jazz. Together, the two are perfectly complementary. Beam brings his own talents to the table — a raspy whisper of a voice, telling stories and pouring out lyrics wrought with meaning. These talents are only further enhanced by those of Calexico, adding texture and depth with their musical composition. Differentiating itself from the "In the Reins" EP, on which the two acts first collaborated, "Years to Burn" feels more self-assured, like a group of musicians comfortable playing together and not afraid to experiment. "The Bitter Suite" serves as the perfect example of this talent realized. The eight-minute track split into three parts opens with a distinctively Calexico Spanish couplet, followed by an instrumental jam and finishing with a part that sounds like a separate song entirely. The third section would feel disjointed were it not for two lines buried in the verses — "There are dreams wild enough to pass the time" and "This dead bird wants the wings he can't recall" — the same two lines sung in Spanish at the song's start. The title track has all of Beam's usual delicacy, yet there is more to explore, as soft trumpet pushes through the melding vocals of Beam and Burns. "Midnight Sun" is one of the few tracks written by Calexico, but it feels just as at home within the album. With a folklore theme and elusive, thoughtful lyrics, it could have just as easily been written by Beam. The songwriting styles of both fall into step, seamlessly. The reunion feels a long time coming for two groups so wonderfully in sync and complementary. Hopefully, audiences won't have to wait so long for their next collaboration to unfold.

LEE BAINS III & THE GLORY FIRES, Live At The Nick (LP)
We'll let Mr. Lee Bains III himself describe the circumstances behind this fantastic new live album: In November of 2017, we played two nights at The Nick in Birmingham with some of our favorite Alabama bands — \\GT//, Shaheed & DJ Supreme, Bad Example, Dommel Mossel, Me & My Knife, and Snacks, and raising attention for our friends at Alabama Coalition for Immigrant Justice and Hometown Action. Tension was in the air. While Trump's deportation squads, racial vitriol, and anti-worker policies were strafing the country, Alabama was caught in the most heated U.S. Senate race of our lifetimes. Roy Moore, whose reign as a Christian-supremacist homophobic judge had spanned most of our lives, was in great danger of being sent to D.C. as Alabama's senator. Meanwhile, our former Senator Jeff Sessions was implementing and excusing the worst of Trump's policies as Attorney General. It was fitting, then, to find ourselves in the heart of Birmingham's Southside, the neighborhood that so many young Alabamians have found as a sanctuary, and inside the pine-box walls of the Nick, where many of us ordered our first beer, or saw our first indie rock show, or watched our first bleary-eyed sunup. While the world roiled beyond the slanting, sun-bleached front porch, we felt together and strong inside. We still do. We sent Roy Moore packing, and we're working on Sessions and Trump, too. This record is about raising hell for and from your home-place and your home-folks. Let's keep on working.
KEB' MO', Oklahoma (CD/LP)
LUKAS NELSON & PROMISE OF THE REAL, Turn Off The News (Build A Garden), (CD/LP)
CHRIS ROBINSON BROTHERHOOD, Servants Of The Sun (CD/LP)
SHELLAC, The End Of Radio (CD/LP)