Those looking for some much-needed positivity in these troubled times need search no longer – The NORTH MISSISSIPPI ALLSTARS have you covered with a healthy dose of it on their optimistic new record, SET SAIL. 
Order the album on indie-store only "Gotham" vinyl with bonus tracks in our webstore HERE.
For the past 25 years, brothers Luther and Cody Dickinson have been relaying muddy-footed, shimmying missives from their Hernando, Mississippi, home as the North Mississippi Allstars. Their lineup has changed a bit over the years, with longtime bassist Chris Chew leaving in 2015 after nearly 20 years of service. But the brotherly core has remained, with an array of guest stars jumping in over the years, including Othar Turner, Jimbo Mathus, Mavis Staples, The Dirty Dozen Brass Band, and their daddy Jim on piano. The current lineup includes bassist Jesse Williams and lead vocalist Lamar Williams Jr., son of Allman Brothers Band/Sea Level bassist Lamar Sr.
Set Sail is their most soulful, funky creation to date, enhanced by '60s-era soul icon William Bell's ("You Don't Miss Your Water," "Private Number") performance on "Never Want to Be Kissed." Although Bell's career was on the Stax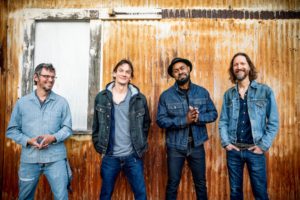 label, his sound here is more like Al Green's Hi Records output, smooth mellow soul sweetened brassily by members of the Memphis-based soul band the Bo Kays.
But the Allstars don't just wallow in one groove throughout. They let the Mississippi mud splash around on "Bumpin'," enhanced with a shimmery hoodoo vibe from the same territory Johnny Jenkins explored on his 1970 voodoo travelogue "Walk on Gilded Splinters." The band digs even deeper into that graveyard locale on "Rabbit Foot," with some last-minute instructions: "Don't spell my name on a stone / give me an unmarked grave and a box of bones."
But the overall message is of hope and brighter days ahead. The family vibe is strong, enhanced by Luther's daughters Lucia and Isla Belle Dickinson singing background vocals on "Didn't We Have a Time" and "Authentic." "I'll see you on the other side of the end / I believe we end only to begin / Our friendship will transcend / I'll find you again after the end," the Dickinsons promise on "Time," and they give thanks to their elders, the old-school guitar players who took the brothers under their wings, on "Authentic:" "Now I'm nearly as old as the old time players were then / time to befriend the young players and do it again."
That voyage is underway here, and from the docks, it looks like smooth sailing ahead.
Set Sail is in-stock and in our webstore now. And check out these other North Mississippi Allstars releases, too!