We've taken an informal poll around the store, and the results are confirmed: Mr. Gene still loves his piano music, any way he can get it. And thanks to a killer reissue from ROGER & BRIAN ENO, and new releases from, the great NILS FRAHM and JEREMIAH FRAITES, we have plenty of beautiful, unexpected and interesting piano platters to spare. Check out the details below, and pick up a copy of one or all of these albums at Horizon or in our webstore HERE.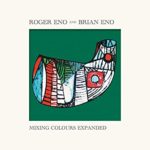 ROGER & BRIAN ENO, Mixing Colours Expanded (2xLP/2xCD)
Mixing Colours, the Eno brothers' duo debut, is a double sound-painting made up of natural phenomena (in tracks such as "Snow," and "Desert Sand") and colors ("Ultramarine," and "Burnt Umber") that plays out as an intimate conversation. Fifteen years in the on-off making, its slowly unspooling, generative beauty feels like a balm for these anxious times. Most of these bejeweled instrumental tracks began with multi-instrumentalist Roger – an experimental musician in his own right – on piano. His slow key strikes are bell-like. These compositional sketches would then make their way to Brian, who would work on them on the train, adding resonance. For all that, electronics are very much to the fore. This feels like an analogue record, each note having a furry aura. The eerie "Obsidian" takes a familiar church organ and repurposes it creepily. But by and large, the state is meditative, sometimes more austere, often less. The "Expanded" version of Mixing Colours includes the Luminous EP. A further conversation between the two brothers, the tightly focused 28-minute EP was created  with the same methods and technology. These finely spun instrumentals have an underlying energy; a fine example is "Manganese," a song anchored by a simple melodic phrase that, when filtered through Brian's effects, sounds like a player piano set adrift in deep space. "Pewter," the original album's Japan-only bonus track, floats free alongside it—a glistening mass of synthetic chords and haunting atmosphere.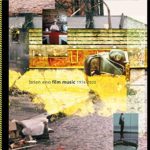 And while we're talking Eno, allow us to recommend Brian's just-released 2xLP/1 CD set, FILM MUSIC 1976-2020, a stunning collection of his TV and movie work. Eno's music has been used in hundreds of films and he has composed more than 20 soundtracks for some of the best known directors in the world including David Lynch, Danny Boyle, Peter Jackson, Michelangelo Antonioni, Derek Jarman and Michael Mann. This release features over an hour of classic Eno compositions and includes several previously unreleased tracks.

NILS FRAHM, Empty (LP/CD)
As an acknowledgement to these unprecedented circumstances we find ourselves in, Nils Frahm surprised the world with a collection of eight solo piano pieces, titled Empty. Conceived of just before Nils broke his thumb and composed the similarly intimate solo piano album Screws, Empty is a soothing vessel of eight simple and serene pieces originally recorded as the music to a short art film he shot with his friend and film director Benoît Toulemonde. Drifting through emotions from the stark and sobering opener "First Defeat" to the gently euphoric "No Step On A Wing" and the contemplative but hopeful closer "Black Notes," with its poignant minute of silence, Empty is a comforting score for these turbulent times. "When I came back from the hospital with a broken thumb and listened to the recordings, I felt they were unfinished," Frahm says of the the Empty album. "I decided to put them aside and started to work on my small album, Screws. Many many other notes of the piano have been struck since these days, and before we all forget about this, I thought it would be a good moment to share these lullabies with you. I hope they help you stay all strong and calm in these days of solitude – despite the hardship, we can discover introspection and reflection unexpectedly. Who knows what it is good for. Much Love."

JEREMIAH FRAITES, Piano Piano (LP/CD)
Through eleven piano led instrumental tracks, The Lumineers' Jeremiah Fraites gently leads us through emotional ebbs and flows from start to finish with his stunning new album Piano Piano. Fraites has been saving up a collection of song ideas that didn't feel quite right for the band to one day release himself, with some ideas written on the road or from his hometown of Denver. He recorded most of the instrumentation himself with the help of a few friends including The Lumineers' violinist Lauren Jacobson. Fraites says that working on the music was about finding the balance between "overthinking and not thinking at all" when in the creation process. From start to finish, Piano Piano is ethereal, and strikingly elegant.
All of these fascinating, entrancing albums are in-stock now at Horizon Records and in our webstore.