S.C. Bach returns for a very big spring concert on Sunday March 25 from 3:30-6pm at Christ Church in Greenville (Saturday 7-9:30pm at Wofford in Spartanburg). Artistic director and conductor David Rhyne offers us the beauty and majesty of Bach's music yet again since his choir and instrumentalists were re-formed and rejuvenated when they started a new era in Greenville in 2014. Featuring heavenly full scale choir-oriented pieces as well as the amazing Trio Sonata instrumental chamber piece. This program is marvelous gift to our community and a great way to enjoy the wonder that the music of Johann Sebastian Bach (and in this concert also one piece from another of his musical family). Tickets are very reasonable and can be handled here.
A chamber ensemble comprised of the North Carolina Baroque Orchestra of David Wilson (violin), Francis Blaker (recorder), Barbara Krumdieck (cello) and Barbara Weiss (harpsichord) will be playing a free preview in-store show at Horizon Records on Friday, March 23rd at 7pm. Included in the program will be two movements of Bach Trio Sonata BWV 529, the "Anunciation" movement of Biber's "Rosary Sonatas," and possibly another surprise or two. Get the info HERE. There will be seats as Horizon sets up its intimate and very informal concert-style space (aka the Horizon Recital Hall).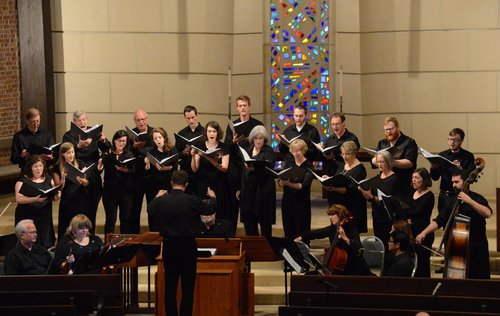 In a world of chaos and noise, treat yourself to an escape into the quiet and often moving, therapeutic sounds of arguably maybe one of the greatest composers ever to write down music.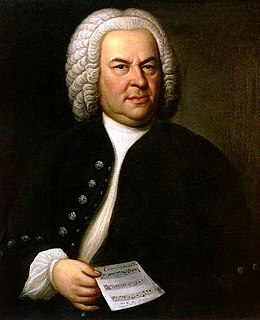 Cantata: Himmelskönig, sei willkommen (King of Heaven, welcome)  BWV 182,  – J.S. Bach (1685-1750)
A church cantata by Johann Sebastian Bach composed in Weimar for Palm Sunday, and first performed it on 25 March 1714, which was also the feast of the Annunciation that year. In Weimar, Bach was the court organist of Johann Ernst von Sachsen-Weimar. On 2 March 1714, he was promoted to Konzertmeister, an honour which included a monthly performance of a church cantata in the Schlosskirche.[2][3] According to Bach scholar Alfred Dürr, this cantata is Bach's first cantata for the court of Weimar, in a series which was meant to cover all Sundays within four years.
Trio Sonata, BWV 529 – J.S. Bach
The organ sonatas, BWV 525–530 by Johann Sebastian Bach are a collection of six sonatas in trio sonata form. Each of the sonatas has three movements, with three independent parts in the two manuals and obbligato pedal. The collection was put together in Leipzig in the late 1720s and contained reworkings of prior compositions by Bach from earlier cantatas, organ works and chamber music as well as some newly composed movements. The collection of sonatas is generally regarded as one of Bach's masterpieces for organ. The sonatas are also considered to be amongst his more difficult compositions for the instrument.
The Sonatas make a world of their own, as distinctive and accomplished as the first movements of Leipzig cantatas or the preludes and fugues of Well Tempered Clavier I. The two hands are not merely imitative but so planned as to give a curious satisfaction to the player, with phrases answering each other and syncopations dancing from hand to hand, palpable in a way not quite known even to two violinists. Melodies are bright or subdued, long or short, jolly or plaintive, instantly recognizable for what they are, and so made (as the ear soon senses) to be invertible. Probably the technical demands on the player also contribute to their unique aura.
Ach, dass ich Wassers gnug hätte in meinem Haupte 'Lamento' – Johann Christoph Bach (1642-1703)
The alto lament Ach, dass ich Wassers gnug hätte was included, along with two arias, in the Altbachisches Archiv, the collection of works by his predecessors-within-the-clan passed down to Emanuel Bach by his father. This collection was very nearly a victim of the Second World War (though an edition of sorts had been published in 1935 to mark the 250th anniversary of Sebastian's birth) but was fortunately rediscovered in Kiev in 1999 and has now been returned to Berlin. Ach, dass ich Wassers gnug hätte has a companion in the bass lament Wie bist du denn, o Gott. Both bear the title Lamento, both are for solo voice, both involve a solo violin, intensely expressive in support of the alto, impressively virtuosic against the bass. Both make use of the rich sonority of a supporting group of violen, marked optional (in one source) in the alto lament but clearly essential in the one for bass. Both are based on Biblical texts: Jeremiah, Psalm 38 and Lamentations for the alto, a metrical paraphrase of passages from the Penitential Psalms for the bass. Both have been previously ascribed to other composers: Heinrich Bach (Johann Christoph's father) in the case of Ach, dass ich Wassers gnug hätte, Johann Philipp Krieger for Wie bist du denn, o Gott, but both have been convincingly welcomed back to the canon of J C Bach's works.
Johannes Passion, BWV 245 – J. S. Bach, excerpts
The St John Passion (German: Johannes-Passion), BWV 245, is a Passion or oratorio by Bach,] It was written during Bach's first year as director of church music in Leipzig and was first performed on April 7, 1724, at Good Friday Vespers at the St. Nicholas Church.