Horizon proudly welcomes Omnivore Recordings reissue of UNCLE WALT'S BAND's 1974 self-titled gem of an album (2 briefly-available early editions were titled "Blame It On The Bossa Nova"). Eleven original tracks plus eleven tasty bonus tracks on hi-fi mono vinyl LP and CD! The amazing and enlightening deep liner notes, commentaries and rare historic images in the booklet further illuminate the magic that was (and still is!) this life changing 1974 recording. And did we mention the limited-edition show poster, free with purchase while they last?
(Before we go any further, we should mention that original UWB member DAVID BALL will be performing with THAT CAROLINA SOUND in Spartanburg at The FR8yard on Thursday, May 2nd, playing the band's classic music alongside WARREN & MARSHALL HOOD, sons of the late CHAMP HOOD! Click HERE for ticket and show info!)

These gentlemen were an eclectic music trio with a capital "E." The band's music was dazzling in its simplicity, adventurous spirit, and aching, high-lonesome vocal harmonies. There was a general disregard for genre in Uncle Walt's Band's acoustic music; the trio nodded toward country, bluegrass, blues, soul, and folk throughout their catalog (two studio albums and two live albums), but the blueprint was usually the same: David Ball's bass provides rhythmic propulsion while he and guitarists Walter Hyatt and Champ Hood weave their vocals together like some sort of Americana goes "Carolina Swing" version of Crosby, Stills & Nash, propelled throughout by Champ Hood's unique Django Reinhardt fueled acoustic guitar virtuosity.  It's all tied together with the brilliant and poignant songwriting contributions from all three guys.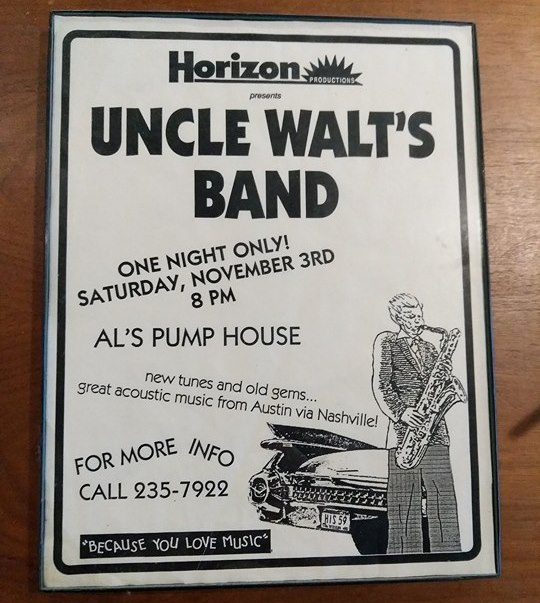 According to the Austin American-Statesman: "Their deceptively sophisticated amalgam of blues, jazz, country and folk was less reminiscent of Willie Nelson than of classic Southern tunesmiths such as Johnny Mercer and Hoagy Carmichael. Though they never broke through to widespread renown, their influence persists today, most notably through the music of Lyle Lovett, an early and devout acolyte. Much of the music collected on the new anthology anticipated what is going on in the Americana genre by three decades."
So it's fantastic, lively, propulsive acoustic music, and at the time, it was a hard sell.
Searching for some kind of an artistic niche, the band moved to Nashville in 1972 and, shortly thereafter, to Austin at the urging of singer/songwriter Willis Alan Ramsey. An attempt at an album with Ramsey at the helm was unsuccessful, so the band headed back to Spartanburg in 1974 to produce their own debut LP, Blame It On The Bossa Nova. The original self-released vinyl edition—1,000 copies sold through performances and self-promotion—disappeared quickly. Heat was gaining for the band, so they headed back down to Austin with a reissue of the album, simply titled Uncle Walt's Band. (Note to collectors: The original Blame It On The Bossa Nova LPs go for hundreds of dollars these days, so keep your eyes peeled!) Gaining the love of Texas music fans, performing regularly throughout the state, yet unable to get traction nationally, Uncle Walt's Band decided to take separate paths in 1983. Although remaining friends and working on various projects over the years, the band members pursued solo music careers. Hyatt released several albums (notably King Tears, produced by Lyle Lovett) and performed on Austin City Limits. Hood became a Texas Music Hall of Fame sideman playing for Lovett, Jerry Jeff Walker and others, and Ball's success with the hits "Thinkin' Problem" and "Riding With Private Malone" established him as a country-music star.
Now, a remastered version of Uncle Walt's Band will be available on CD and vinyl LP from Omnivore Recordings on March 29th. New liner notes include the words of Walter Hyatt, Champ Hood, and surviving member David Ball, plus fellow artists Lyle Lovett, Marcia Ball, Jimmie Dale Gilmore, Marshall Chapman, and journalists Peter Cooper, Doug Freeman, and Michael Hall.


The new liner notes include a history of each re-pressing of this private-press classic (reissued no fewer than six times with different covers and sequence variations back in the '70s). If you were one of the lucky owners of an original that you've worn out over the years, here's your chance to retire that well-loved copy and double your fun discovering the new bonus tracks. For the rest of us, it's the opportunity to own the classic. And check out this groovy vintage poster that comes with the album!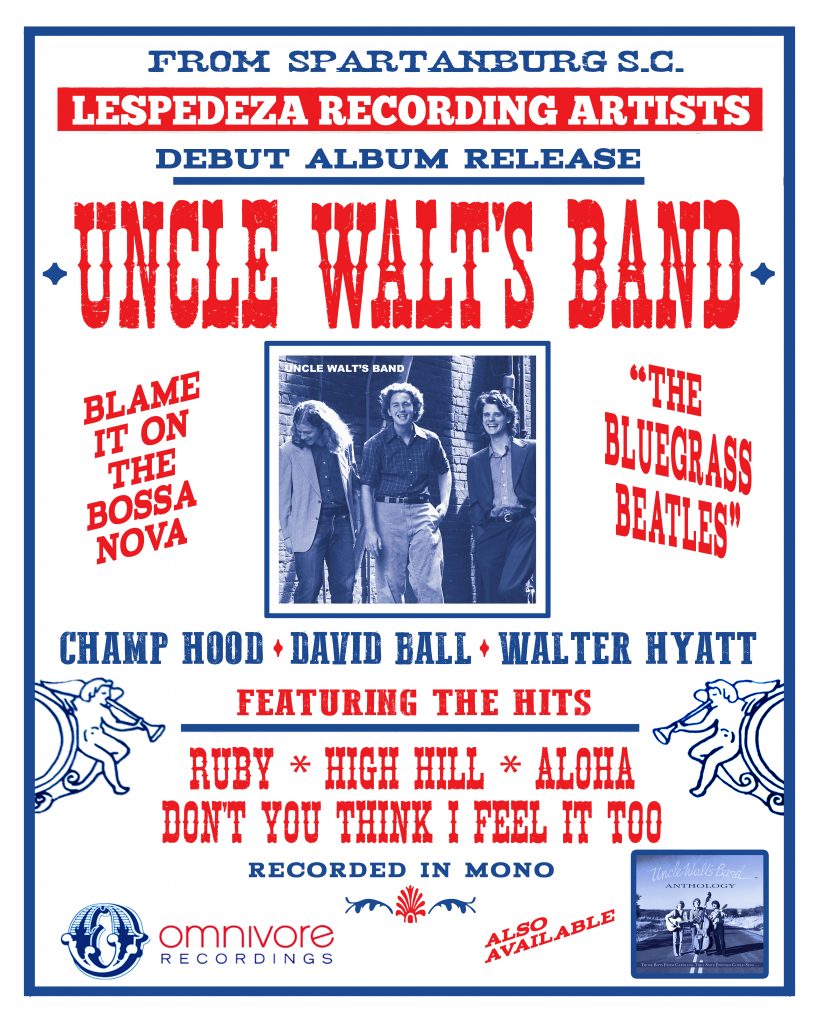 While you're digging on Uncle Walt's Band, we highly recommend this 2xCD anthology of their work, "Those Boys From Carolina, They Sure Enough Could Sing" also courtesy of Omnivore.