"I feel a universal dread that I had never felt before," SUFJAN STEVENS confessed in an interview with Pitchfork in 2017, two years after the personal reckoning of Carrie & Lowell, his last song-based album, and an intimate reflection on the death of his mother. Three years on, that dread is expressed via expansive pop on THE ASCENSION, an album that appears to chronicle a crisis of faith with distinct universality.
GET THE ASCENSION HERE or on exclusive indie-store-only clear vinyl HERE.
If you are a fan of the hushed vocals, finger-styled guitar and emotionally exposed nature of Carrie & Lowell, well, we're in the right ballpark. Except on The Ascension, he's ditched the acoustic instruments entirely and is looking outside instead of looking within. Maybe you've heard the lead off single, a 12-minute epic titled "America." Stevens said it's a "crisis of faith about my identity as an American, and about my relationship to our culture, which I think is really diseased right now. It's overtly a political protest song, specifically about America."
One might not have gotten all that from the simple and repetitive refrain but that's the way it goes with these songs. The more you listen the more you hear. Lyrically, a hidden line in the verse might have you totally rethink the way you hear the chorus. An additional tone in the outro reveals a chord that was there all along. His stated goal for this record, "Keep it simple, Keep it real. Keep it moving" is a deviation from the complicated arrangements found throughout his catalog, but the sonic space here is refreshing and allows his thoughts about what he is seeing in 2020 room to grow and resonate. Like much of his work, The Ascension is chock full of Biblical references which is certainly no accident. Perhaps it's a way to speak directly to a segment of American culture that happens to be a big part of the problem.
Both lyrically and musically, The Ascension appears to be driven by feeling rather than intense intellectualism. Here Stevens' lyrics are suggestive, initiating a slow-burn response from the listener rather than the immediate dagger-to-the-heart specificity of Carrie & Lowell. Like last year's double A-side "Love Yourself/With My Whole Heart", The Ascension deals in well-worn pop terminology, in a language that belongs to everyone – something like hymnal syntax alluding to love ("Sweet fallen remedy/Come run away with me") and God ("I am on the verge of sorrow/Tell me Lord which road to follow"). This is also reflected in the song titles, some of which – "Landslide", "Run Away With Me" – feel like purposeful allusions to the pop canon.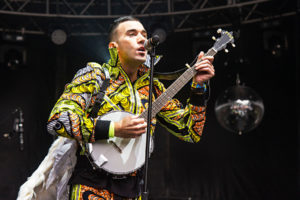 The title track, sequenced penultimately, is a complex and enigmatic reflection on unfixed spirituality, a life-long search for meaning, and personal regret. This astonishing song builds and builds, a continuous phrase waiting to spill over into the exaltation that Stevens alludes to, and then – after almost six minutes – nothing. It is his failed quest for meaning made real.
For all its enormity, there is a sense of unresolved isolation to The Ascension. The listener is left with the underlying feeling that with or without faith in a higher power – God, or a lover, or the abstract idea of love itself – we must, like Stevens, face our personal and universal demons alone.
This combination of stripped-back lyricism and expansive musicality contributes to the sense of The Ascension as Stevens' most plainly spiritual record to date. It'll be in the house NOW on 2xLP and CD, and we've got these other Sufjan Stevens releases in-stock, too! Get them at Horizon's webstore by clicking HERE!