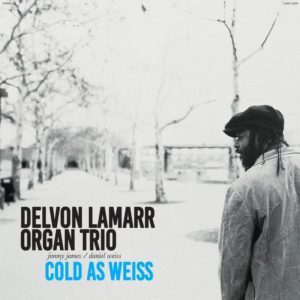 Over the last five years, the DELVON LAMARR ORGAN TRIO have established themselves as the world's premier funky organ trio. Now, with permanent drummer Dan Weiss behind to kit, DLO3 is proud to present COLD AS WEISS, their third studio album to date that finds them tighter than ever, and continuing to push funky instrumental music to a new generation of fans.
Order your copy of Cold As Weiss on LP, CD or indie-store only clear blue vinyl HERE.
The band features organist Delvon , a virtuosic musician with perfect pitch who taught himself jazz and has effortlessly been able to play a multitude of instruments, guitarist Jimmy James who eases through a wide range of styles from Steve Cropper to Hendrix to slinky Grant Green-style jazz and drummer Dan Weiss, also of the powerhouse soul and funk collective The Sextones.
Cold As Weiss so named because it's their drummer's first album as a permanent member, is their fourth album and third studio effort in their self- dubbed "feel good music." The unit, also referred to as DLO3, will certainly evoke the '60s organ jazz stylings of Jimmy Smith and Baby Face Willette; a pinch of the soul strut of Booker T. & The M.G.'s and The Meters; and sprinkles of Motown, Stax, blues, and cosmic Jimi Hendrix-style guitar. It's looser, louder, and a more rock oriented than the Jimmy Smith, Brother Jack McDuff kind of organ trio material, and to many, it may be more exciting, better geared to live performance and unabashed booty shaking.
The album announcement comes with the first single "Pull Your Pants Up." "On every DLO3 tour, at some point, we have to tell Jimmy James to pull his pants up," says Lamarr. "After being blinded by his backside over and over and over again, we decided to write a song about it!"
The unrelenting, intoxicating grooves of The Delvon Lamarr Organ Trio are everything one would want from an organ trio – a pinch of late'60s, some elements of more modern funk, and a riveting, magnetic swagger that won't let go.
Get Cold As Weiss at Horizon or in our webstore, along with these other scorchin' Delvon Lamarr releases!