JONI MITCHELL stands as one of the iconic songwriters of our era. Her songs are more than folk, more than rock, more than jazz; they are simply masterworks, even from the beginning.
And now, we have a better view of those beginnings, because Joni is opening her vault for the first time to create the JONI MITCHELL ARCHIVES, a new series of boxed set releases that will span the next several years.
The archives feature deep dives into unreleased content from different eras of her storied career. Joni has been intimately involved in producing the archive series, lending her vision and personal touch to every element of the project. 
The first three releases in that series are OUT NOW, covering Mitchell's early years from 1963-67, before masterworks like Blue and Court & Spark shot her career into the stratosphere. All three of these gems are in-stock NOW at Horizon Records and in our webstore.
THE ALBUMS: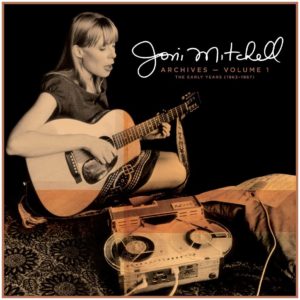 JONI MITCHELL ARCHIVES, VOL.1: THE EARLY YEARS (1963-1967) (5CD w/ limited-edition 7" x 7" art photo print) (Get your copy HERE.)
THE EARLY YEARS (1963-1967) features nearly six hours of unreleased home, live, and radio recordings that flow chronologically to paint a rich portrait of Mitchell's rapid growth as a performer and songwriter during the period leading up to her debut album. This treasure trove of unheard audio includes 29 original Mitchell compositions that have never been released before with her vocals. Archives, Vol. 1 reveals just how prolific a songwriter Mitchell was at the time. In addition to early versions of songs that would appear on Song To A Seagull ("Michael From Mountains" and "I Had A King"), the set also features songs destined for later albums: "Chelsea Morning"  "Both Sides Now" (Clouds, 1969); "The Circle Game" (Ladies of the Canyon, 1970); and "Little Green" (Blue, 1971). This 5CD collection includes a 40-page booklet that features many unseen photos from Mitchell's personal collection as well as new liner notes featuring conversations between writer/filmmaker Cameron Crowe and Mitchell, who recently spent a couple of Sunday afternoons together discussing her archives. Crowe will continue to provide liners for future releases in the series.
EARLY JONI-1963 (180g LP) (Get your copy HERE.)
Early Joni – 1963 features a nine-song CFQC AM performance in her hometown of Saskatoon, Saskatchewan. Barry Bowman was working as a DJ at radio station CFQC in 1963 and provides the liner notes. Tracklist: "House Of The Rising Sun," "John Hardy," "Dark As A Dungeon," "Tell Old Bill," "Nancy Whiskey," "Anathea," "Copper Kettle," "Fare Thee Well (Dink's Song)," "Molly Malone."
LIVE AT CANTERBURY HOUSE 1967 (180g 3xLP) (Get your copy HERE.)
LIVE AT CANTERBURY HOUSE – 1967 3LP features Mitchell's entire three-set performance from October 27, 1967. Bob Franke, who was covering Mitchell's show at Canterbury House for the Michigan Daily while also moonlighting as a doorman at the club, pens the liners, and his original review for the Michigan Daily is also included.
So dive into the history of the one and only Joni with these archival releases, and check the other Joni Mitchell masterpieces we have in-stock by clicking HERE.