Guitarist, composer, multi-instrumentalist, bandleader, and Heartcore Records founder KURT ROSENWINKEL has long been known as a singular creative voice at the forefront of modern music. His imaginative integration of electronics, rich idiosyncratic harmonic colors, genre-bending aesthetics and his masterful collection of original compositions has inspired generations of musicians and listeners and has left an indelible mark on the 21st century sonic landscape. Now, with his trio's new album, ANGELS AROUND, Rosenwinkel continues to explore uncharted musical territory.
THE ALBUM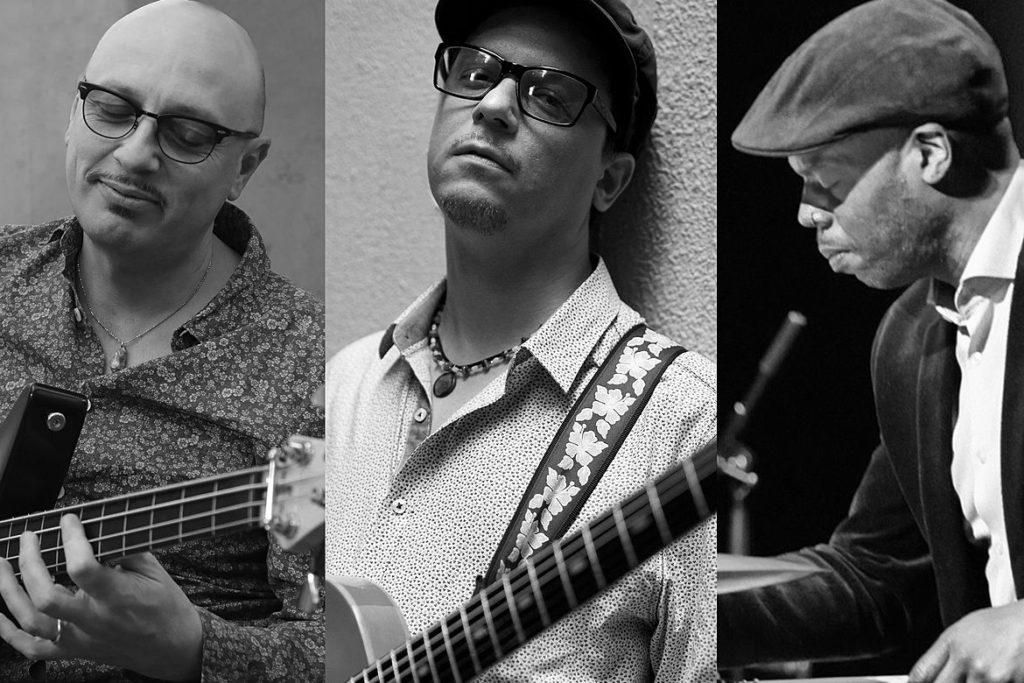 Following on the success of 2009's Kurt Rosenwinkel Standards Trio – Reflections, the new album cements Kurt Rosenwinkel's standing as a living jazz master; a torch bearer for the art form at its purest and most honest level.  Angels Around is steeped in the vast musical knowledge Rosenwinkel developed playing alongside such legendary jazz innovators as Joe Henderson, Paul Motian, and Gary Burton. Appropriately, the album is a dive into the deep end of the ever evolving standard jazz canon.
Rosenwinkel, bassist DARIO DEIDDA and drummer GREGORY HUTCHINSON dive headfirst into a collection of five standards and two originals with a singular vision and telepathic interplay that is rare even among musicians of the highest order.
TRACKLIST:
1. Ugly Beauty (Thelonious Monk) 6:30
2. Ease It (Paul Chambers) 5:54
3. Self Portrait in Three Colors (Charles Mingus) 7:24
4. Simple #2 (Kurt Rosenwinkel) 9:47
5. Punjab (Joe Henderson) 6:37
6. Time Remembered (Bill Evans) 6:43
7. Angels Around (Dario Deidda) 6:00
THE BAND
Italian bassist Dario Deidda has long been known as one of the finest players on the European scene and has been featured on over 60 recordings as a sideman in addition to his two records as a bandleader. What sets Deidda apart is his entirely unique bass sound and approach. Combining influences from traditions in jazz bass both acoustic and electric, traditional and modern, Deidda is the perfect bass counterpart to Rosenwinkel's expansive approach on the guitar. On "Angels Around", he opts for semi-acoustic bass, and manipulates it so as to produce a sound with the transparency of the standard upright, but the edge and sonic presence of an electric instrument.
Percussionist Gregory "Hutch" Hutchinson has established himself as one of the foremost drum virtuosi of his generation. A musicians drummer soundly rooted in the jazz tradition, Hutch is able to approach all styles of music with supreme accuracy and imagination, decorating compositions with his natural feel and mind blowing innovation. His relationship with Kurt Rosenwinkel extends back to the New York jazz scene of the 1990's, a fruitful and boundlessly creative time for many of today's top players, and a period of great invention for jazz music as a whole.
With Angels Around, these three luminaries traverse new musical frontiers in the standard jazz idiom. While Rosenwinkel, Hutchinson, and Deidda embody and emote the rich traditions of jazz at its purest form, make no mistake, this music is thoroughly contemporary, focused, and for the here and now.
Angels Around is in-stock now on vinyl LP and CD at Horizon Records, and we've got Kurt Rosenwinkel Standards Trio – Reflections too! Come by and pick up a copy or visit our webstore by clicking HERE.