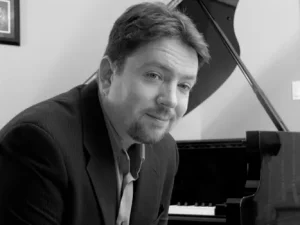 Pianist KEVIN BALES headlines THE WHEEL SESSIONS #102 on FRIDAY, SEPT. 8th, with bassist MIKE HOLSTEIN and drummer/series founder KEVIN KORSCHGEN.
Get your tickets HERE.
By some measures, Kevin Bales was a latecomer to jazz, already 17 when he encountered the sounds and structures and became captivated by the freedom and corresponding challenges of the music. But if late to the party, he wasted no time in immersing himself in the celebration, declaring total commitment to what would be his life's work and backing his announcement by resigning his job and designated career in computer programming.
Kevin could commit to jazz with a reasonable degree of expectation. He was already an accomplished pianist, with classical chops refined since the age of 10. So accomplished he was invited to audition for the Atlanta Symphony Orchestra, then under the direction of its most storied conductor Robert Shaw, at age 16.
Kevin's initial career move was to the University of North Florida and a budding if little-known jazz program. There he met and performed with, and went on to record and tour with, a number of monumental artists who had settled into that burgeoning North Florida jazz scene. Giants like Wynton Marsalis, Louie Bellson, Eddie Daniels, James Moody, Ben Tucker, Ira Sullivan, Sam Rivers, and Nat Adderley. He counts among his mentors bassist Ben Tucker, multi-instrumentalist Ira Sullivan, guitar legends Nathen Page and Jack Petersen, and the fiercely individual saxophonist Bunky Green. His meeting with Bunky Green led to five years of tours.
His encounter with guitarist Nathen Page blossomed into 15 years of spot tours and four albums. And his work with trumpeter extraordinaire Marcus Printup has become a lifetime association that has included recordings on Blue Note/Capital records. Ten years touring and recording with vocal iconoclast Rene Marie culminated in a Grammy Nominated album. His most recent recording of music composed by Fred Rogers was selected as one of the top 10 albums of 2018 by Cadence Magazine and AllAboutJazz.com
Few artists have the patience for teaching – as are few teachers accomplished players. But Kevin has amassed a reputation for his prowess in both professions. While still a senior at North Florida he was drafted into a full teaching load, and continued to be an integral part of the school's jazz program for upwards of a decade. Today, Kevin manages his own jazz program, overseeing an ambitious schedule of ambitious jazz students and runs the improvisation and small group programs at Georgia State University.
Kevin has amassed a long list of awards and a reputation as one of the finest jazz pianists performing anywhere. In 1994, less than a decade into jazz, he won the American Pianist Association's Jazz Piano Competition. In addition to nearly every important jazz venue in the South, he has performed in some of the most acclaimed clubs and festivals in America and around the world: the JVC Jazz Festival in New York, The Bakery in Los Angeles, The Kennedy Center and Lincoln Center jazz series, the Toronto and Edinburgh jazz festivals, and the Moscow Center for the Performing Arts.
You don't want to miss this amazing trio doing what they do best; and there's never been a better time to check out The Wheel Sessions at 1801 Rutherford Rd.!