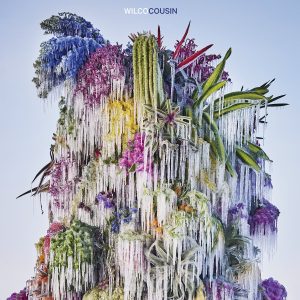 First things first, people: WILCO is BACK with a new album called COUSIN, available on CD & LP on FRIDAY, SEPT. 29th on dBpm Records.
Preorder your copy HERE.
"I'm cousin to the world," frontman Jeff Tweedy confesses. "I don't feel like I'm a blood relation, but maybe I'm a cousin by marriage." Produced by the singular Welsh artist Cate Le Bon, Cousin marks the first time Wilco have handed the reins over to a producer outside their immediate circle of collaborators since Sky Blue Sky. Le Bon's influences — among them the inclusion of saxophone, cheap Japanese guitars, and a cinematic, New Wave-style drum machine — drive the album into the future. The result is Wilco's most pointed and evocative album, one related but not tied to our present moment, truly new ground for a band that has tested musical boundaries throughout its lengthy career.
Longtime admirers of each other's work, Wilco and Le Bon first met at the band's Solid Sound Festival in 2019, where they formed an immediate connection, inspiring Tweedy to invite Le Bon to the band's famed Chicago studio, The Loft, in 2022 to work on Cousin. Le Bon pushed the band to take risks, repurposing Wilco's established strengths and challenging them to oppose habits — all the while maintaining what has, for the last thirty years, defined Wilco as a band, their fearlessness, made possible by musical virtuosity and the secret language only a family shares. "The amazing thing about Wilco is they can be anything," Le Bon says. "They're so mercurial, and there's this thread of authenticity that flows through everything they do, whatever the genre, whatever the feel of the record. There aren't many bands who are able to, this deep into a successful career, successfully change things up."
Le Bon arrived in Chicago to rebuild: to create a scaffold with Glenn Kotche's architectural drumming and John Stirratt's contrapuntal bass lines; a scene with Mikael Jorgensen's cold, lonesome synths, Pat Sansone's plaintive piano work, and guest instrumentalist Euan Hinshelwood's mangled saxophones; and a topographic pattern out of Tweedy's electric guitar bends and Nels Cline's textural explosions, which Le Bon describes as "the weather," to carve a path for Tweedy's yearning lyrics.
"Cate is very suspicious of sentiment," Tweedy says, "but she's not suspicious of human connection." With Le Bon's direction, Cousin evolved into something icier and more nighttime-ish than anything Wilco have created before, while retaining the earnest quality of Tweedy's lyrics and voice. Tweedy delivers his feelings, now, from an environment that reflects the one we live in and the one inspiring the songs in the first place.
The album's statement on human connection is writ small, revealed in vignettes of the lowest social unit: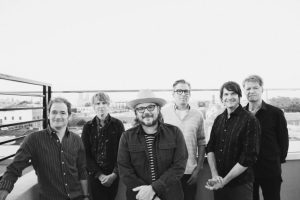 a pair. "Evicted," the album's first single, sees a narrator grappling with his responsibility for losing love counterpointed by Marc Bolan-inspired guitars. "I guess I was trying to write from the point of view of someone struggling to make an argument for themself in the face of overwhelming evidence that they deserve to be locked out of someone's heart," comments Tweedy. "Self-inflicted wounds still hurt and in my experience they're almost impossible to fully recover from."
"It's this feeling of being in it and out of it at the same time," Tweedy says of Cousin. "In and out of it. Hoping, expecting, and then despairing. Smiling through antidepressants, feeling bad in warm weather even when others tell you it should be making you feel happy. Cousin is Wilco's most emotional, worthwhile expression yet of the pain of trying to be connected to other people when we fall short so often; the joy of catching understanding in someone else's eye, however fleeting; and the immutable truth that all of us are related, whether we honor or dishonor or forget or remember."
Cousins will be in-stock on Friday, Sept. 29th on CD & LP!