Father John Misty's Pure Comedy leads off this week's pack of new stuff, but there's also some blissfully melodic stuff from New Pornographers, a gritty new Cory Branan album about checking out, and we'd be remiss if we didn't rave about the mind-blowing collaboration between Yo-Yo Ma, Chris Thile and Edgar  Meyer, taking on Bach, no less! Read on…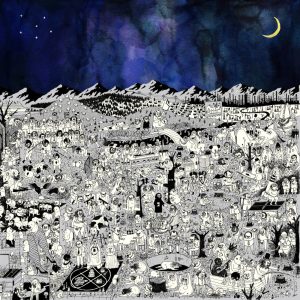 FATHER JOHN MISTY, Pure Comedy (CD/LP/2xLP, plus a 7″ single, with LP purchase, while supplies last!)
Towards the end of Pure Comedy's 13-minute centrepiece track, Josh Tillman offers a glum assessment of the album's commercial chances. His career's current status, he claims, is under threat. "I'm beginning to begin to see the end of how it all goes down between them and me / Some 10-verse chorus-less diatribe plays as they all jump ship," he sings, eight verses into the 10-verse chorus-less diatribe of Leaving LA. "'I used to really like this guy / This new shit really kinda makes me wanna die.'" Even if it seems unlikely that Pure Comedy is actually going to end Tillman's career – numerous excitable reviews certainly suggest the opposite – you can see still why he might have had some trepidation about releasing it. On the surface, it doesn't sound that different from his 2015 breakthrough album, I Love You, Honeybear. A little starker and more subtle, perhaps – the wilfully cluttered Phil Spector-isms of its predecessor are largely confined to one track, Things It Would Have Been Helpful to Know Before the Revolution – but the main musical influence audibly remains the records Elton John made in his first flush of superstardom. For all the debt to Elton, the 70s work Pure Comedy most recalls in mood is Neil Young's mournful On the Beach, another LA album thick with apocalyptic visions, dire premonitions about America's future, savage wit and glum assessments of commercial success. Certainly, its overall message doesn't seem that different from Young's mournful 43-year-old parting shot: "You're all just pissing in the wind." That album functioned as a catharsis: Young's work was never as bleak again. Whether Pure Comedy serves the same purpose for Tillman remains to be seen. "Hate to say it, but each other's all we've got," sings Tillman on Pure Comedy's title track: it's hard to work out whether that represents a sliver of hope amid the darkness, or if it's the most damning line of all.
NEW PORNOGRAPHERS, Whiteout Conditions (CD/LP)
Since 2014's acclaimed Brill Bruisers, the Vancouver collective have lost founding drummer Kurt Dahle and (at least for now) songwriter Dan Bejar (also of Destroyer) and set up their own label, but the upheaval has simply changed their course slightly, rather than knocking them off it. Now, Carl Newman and Neko Case are singing together at least as much as separately, while new sticksman Joe Seiders brings his own motorik groove and drum machines. Newman has said that they were aiming to be the "Krautrock 5th Dimension", and there's definitely more of the latter in Whiteout Conditions' exuberant pile-up of harmonies, hooks and powerpop. Songs about depression, society and the environment sound euphoric, with elements of 80s synth pop and 90s fuzz and the racing tempos only slowing slightly for evocative closer Avalanche Alley. It's hard to resist High Ticket Attractions' oblique musings on the Trump era, delivered to the sound of what could be the Dandy Warhols' Bohemian Like You being gloriously reinterpreted by the B-52s.
YO-YO MA, CHRIS THILE & EDGAR MEYER, Bach Trios (CD/LP)
For many people, the name Yo-Yo Ma immediately brings to mind the Bach Cello Suites and Ma's bestselling album; the album that has defined many a young cellist's ideas about the performance of the works. However, many discerning listeners also think 'innovation' when they hear or see his name, given the many different styles in which he performs and records on a regular basis. What I love about his new recording is this blend of traditional classical repertoire with a good dash of contemporary reimagining. When Bach lived in Germany (1685–1750) it was normal and considered the highest form of flattery if someone took your idea and did something new and interesting with it. Bach himself borrowed heavily from his contemporaries, particularly for many of his teaching works, as can be seen in the 'Anna Magdalena notebook' written to help his wife learn keyboard.Rejoining Ma are two of his frequent collaborators: Edgar Meyer on double bass and Chris Thile on mandolin. This trio has taken a number of Bach's keyboard works and one lovely viola de gamba sonata to create a new Bach sound. It is apparent from the outset that not only are all three modern musicians at the top of their game, but that they work together seamlessly as a trio. Ma, Meyer and Thile each take an individual strand of melody from these complex works and interweave new tonal ideas. Bach's music can often be bogged down in a heavy polyphonic style of composition in which many voices are all trying to have their own say simultaneously. This can sound, to the untrained ear, like a bit of a mess of noise and notes. But in these recordings, with the lightness of the mandolin and both the string players' gentle delight in the brightness of the melodies, each piece burbles along like a stream of music from some sort of Baroque heaven.
CORY BRANAN, Adios (CD/LP)
Adios is Cory Branan's death record. Not the cheeriest of openings, but like all of Branan's mercurial work, it's probably not what you think. As funny and defiant as it is touching and sad, this self-dubbed "loser's survival kit" doesn't spare its subjects or the listener. Never a genre loyalist, ADIOS finds Branan (much like his musically restless heroes Elvis Costello and Tom Waits) coloring outside the lines in sometimes startling shades of fuzz and twang. While unafraid to play it arrow-straight when called for ("The Vow," "Equinox," "Don't Go"), ADIOS veers wildly from the Buddy Holly-esque rave up "I Only Know" (sung with punk notables Laura Jane Grace and Dave Hause), through the swampy "Walls, MS" to the Costello-like new wave of "Visiting Hours." The blistering punk of "Another Nightmare in America" bops along daring listeners to "Look away, look away, move along, nothing to see here" (the song is written from the point of view of a racist killer cop). And as the mourning singer on "Cold Blue Moonlight" shifts from paralysis to panic, the song's jazzy drone shifts to an almost Sabbath fury. The tonal shifts are always deliberate and not just simple genre hopping; while the turns can be jarring you can trust Branan to take you somewhere unexpected.
JAMES LUTHER DICKINSON, I'm Just Dead, I'm Not Gone (Lazarus Edition) (CD)
When Jim Dickinson died on August 15, 2009 at the age of 67, his hometown paper, The Memphis Commercial Appeal, ran a lengthy, appreciative obituary chronicling his many achievements and credits. The lead read "The North Mississippi Allstars have lost their father, Bob Dylan has lost a 'brother,' rock and roll has lost one of its great cult heroes and Memphis has lost a musical icon with the death of Jim Dickinson." His work in the studio with the likes of Dylan, the Rolling Stones, Big Star, the Replacements, Ry Cooder and others had consistently put him in the front ranks of recording studio "go to" guys, not only in Memphis, but in Muscle Shoals and Miami, as well. His music was powerful, a driving force, marked by explosive spontaneity, it was an outlet for a creative spirit who found inspiration in the artists with whom he worked as well as those who had influenced him early on. Son Luther Dickinson writes in his poignant liner notes, "Nobody could rock as hard as he could."  I'm Just Dead, I'm Not Gone (Lazarus Edition) is Jim's 5th album released on Memphis International Records. The "Lazarus Edition" is the second album culled from his Friday, June 2, 2006 concert on the stage of the New Daisy Theater on Beale Street. He is backed by the North Mississippi All Stars, sons Luther on guitar and vocals and Cody on bass and vocals along with de facto/honorary son Chris Chew on bass plus session jack-of-all-tracks Jimmy Davis on guitar and vocals. The "Lazarus Edition" includes unreleased tracks from that live recording and two historical live tracks featuring legendary Sun Records rhythm section band members including Roland Janes, Stan Kessler, Cowboy Jack Clement, Billy Lee Riley and J.M. Van Eaton. I'm Just Dead, I'm Not Gone (Lazarus Edition) is a reflection of Dickinson's lifelong affinity for songs that have style, substance and, are at the same time, truthful. Dickinson is very much alive on these incendiary tracks reaffirming the prescient contention that gives this remarkable set its title.
COLD WAR KIDS, La Divine (CD/LP)
The sixth studio album from Cold War Kids, LA Divine, is a satisfying soulful record packed with great moments, and the band's strongest work since their debut effort, Robbers and Cowards. Produced by Lars Stalfors (who played keyboards with The Mars Votla and also worked on the previous two albums from the Cold War Kids), there's a lot going on sonically, but everything is finely balanced. There's a strong focus on the piano throughout the record and the vocals (both Willett's powerful lead and the layered backing vocals) are probably the best in the band's catalogue.
FUTURE ISLANDS, Far Field (CD/LP)
Samuel T Herring's hiccupping vocal mannerisms recall the late-night ennui of Tindersticks' Stuart Staples, and what Vic Reeves and Bob Mortimer might once have described as "singing in the club style". Along with Herring's distinctive delivery, Future Islands' appeal rests on their anthemic love songs. The Baltimore band's 2014 single Seasons (Waiting on You) topped end-of-year polls, and tracks on The Far Field such as Cave share a similar tempo, wearily lovelorn lyrics and impassioned pitch. Then there's William Cashion's Peter Hook-ish bass, which often seems like the lead instrument, bubbling around amid washes of synth. But while their fifth album is not a giant leap forwards, all their essential elements are intact and thriving, and it reaffirms their mastery of modern synthpop. There's not a great deal of variety, though the lovers' rock of Candles creates some breathing space. And Debbie Harry duets with Herring on Shadows, sounding more Marianne Faithfull/grande dame than the Blondie pop princess of old.
MIGOS, Culture (CD)
Migos' second LP doesn't break from the Ramones-like consistency of the onslaught of mixtapes they've released during the past six years, or their official 2015 debut, Yung Rich Nation. The beats are booming, the flows still rattle off like Tommy Guns and there's dreams about swimming in a pool full of cash. If Migos are indeed the new Beatles, Culture could be any of their pre–Rubber Soul albums: A taut, infectious, reliable, no-bullshit collection of 12 songs, almost all of which could be singles. "All Ass" treats the crack-whipping action "beat the pot" like a nursery rhyme, "Deadz" puts "ah ooh!" exultations into a Game of Thrones gladiator march, and "Big on Big" continues their uncanny knack for fun catchphrases.
TECH N9NE, Dominion (CD)
Tech N9ne delivers the next album from his Collabos series. The lead single from the project is 'Put Em On,' which features Darrein Safron and Stevie Stone. The mesmerizing track has Tech N9ne and Stevie Stone saluting their crew, family and Day 1 friends, all of whom have stood by them through life's trials and tribulations. Darrein Safron's soulful crooning in the chorus and the song's outro provides a heartfelt perspective to persevering through seemingly insurmountable obstacles. Elsewhere on Dominion, Ces Cru, Tech N9ne and Wrekonize blend social commentary and lyrical gymnastics on the explosive 'Casket Music,' while Murs, Tech N9ne and Rittz team for a riveting rhyming exercise that highlights some of the best talent from the West Coast, South and Midwest on 'Mo Ammo.' Krizz Kaliko, Mackenzie Nicole, Ryan Bradley from Above Waves, JL, Prozak among others make appearances on the album. On this Deluxe Edition, the incomparable Brotha Lynch Hung is featured on the additional track 'Bacon.' Throughout Dominion, Tech N9ne traces his career evolution via revealing skits and interviews. Tech N9ne's commentary provides a spellbinding look at the Kansas City rapper's professional progression, from winning fans over during his early shows to touring with Jay Z, among other things
VIEUX FARKA TOURE, Samba (CD)
JOEY BADASS, All-Amerikkkan Badass (CD)
THE WEEKS, Easy (CD)
MICHELLE BRANCH, Hopeless Romantic (CD)
DEEP PURPLE, Infinite (CD)
CHAINSMOKERS, Memories: Do Not Open (CD)
PENTATONIX, PTX Vol 4.: Classics (CD)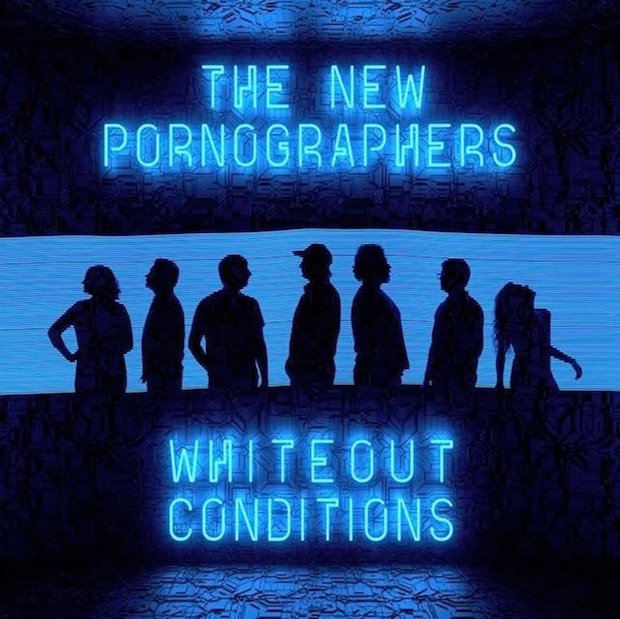 GENE'S CLASSICAL CORNER
BEETHOVEN/TAKACS QUARTET, Complete String Quartets (CD)
The Takacs Quartet begin in the middle of what is to be a complete set of the Beethoven string quartets. The Takacs had enjoyed nearly 20 years of increasing international success before, in the mid-1990s, Gabor Takacs, their founder and leader, died, to be replaced by Edward Dusinberre; and two years later Roger Tapping became the viola player. Since then, the reconstituted ensemble has won new laurels, notably with their 1998 set of the Bartok quartets (also on Decca). And on the evidence of these two discs, this is going to be a very desirable Beethoven cycle. The playing is of the highest standard: exuberant, yet also alive to the softest, tenderest gradations; tempos are well chosen and finely sustained; there is a strong sense of direction; all four musicians are equally adept at taking the lead and slipping into an accompanimental role. And so expert is their unanimity that I was surprised by a tiny flaw in ensemble 2'58" into the Molto adagio of the Eighth Quartet, otherwise played with such masterly control of shape and emotion. There are innumerable highlights, but these deeply considered readings are marked above all by integrity of purpose and achievement. The very different challenges of the four quartets are met boldly, the quirky nature of the Harp as confidently brought off as is the immense stature of the first Rasumovsky and the elusive nature of the second in E minor.The catalogue lists a bewilderingly large choice. Anyone wishing to acquire these four works, without commitment to Decca's new venture, would be well served by the Tokyo Quartet or, at mid-price, Quartetto Italiano (both of these are three-disc issues and include Op. 95). The Lindsays' two-disc set of the three Rasumovskys has all the vibrant life and depth one would expect. The recorded quality is high, with clarity of placement and full dynamic range naturally conveyed (though cello pizzicatos in the slow movement of the Ninth are perhaps over-prominent). I did feel initially that the broad, empty acoustic might be a problem, but the marked resonance doesn't take the edge off the composer's characteristic sudden silences. Future issues in this series will be keenly awaited – this promises to be among the very finest complete Beethoven quartet cycles.
HELENE GRIMAUD, Perspectives (2xCD)
2 CD compilation featuring highlights from Grimaud's DG recordings developed in close collaboration with the artist. One album is devoted to solo pieces, the other one to concerto movements. For each successive Deutsche Grammophon release to date, Grimaud has created carefully considered (and occasionally provocative) contexts. For Hélène, this collection is a retrospective offering new perspectives through a very personal choice of repertoire which creates enlightening new echoes between works. From Bach to Rachmaninov, Mozart to Chopin, Hélène Grimaud's own selection of highlights from her albums reflects her artistic journey through the piano's most famous solo and concerto repertoire in a series of interpretations that never fail to offer new perspectives on even the most familiar music. Perspectives offers the very best of Grimaud s recordings so far with a broad mainstream appeal.
KILLER REISSUES:
BILL EVANS, Definitive Rare Albums Collection 1960-66  (4xCD)
Hugely acclaimed for his remarkable grasp of melody, harmony and interpretation, Bill Evans has earned his reputation as one of the most influential pianists and composers in jazz history. Classically trained from an early age, Evans initially made a name for himself working with other famous figures of the jazz genre, including George Russell, Cannonball Adderley, Chet Baker and Miles Davis, and his playing was a key feature on the latter's legendary Kind Of Blue (Columbia, 1959). By the early 1960s, Bill Evans began focussing on leading his own groups, primarily trios. Over the rest of his career, he put out a staggering body of work, including the classic albums Sunday At The Village Vanguard and Waltz For Debby (both Riverside, 1961). He received 31 Grammy nominations during his lifetime, taking away nine awards in total, and earned himself a place in the Down Beat Jazz Hall Of Fame. However, despite all his achievements, there are still many criminally overlooked albums on which Evans' playing rivals some of his best known work; the aim of this collection is to bring back into focus some of these records, and to provide the listener a chance to review just what fine recordings are often underappreciated. Despite his premature passing on 15th September 1980, after years of substance abuse, Bill Evans is as highly regarded today as ever he was and remains an icon of jazz for millions. This four disc set, containing over five hours of extraordinary music, collates some of the lesser-known works by this master musician, which now fans old and new alike, can now gain access to.
GIL EVANS, Classic Albums 1956-63 (4xCD)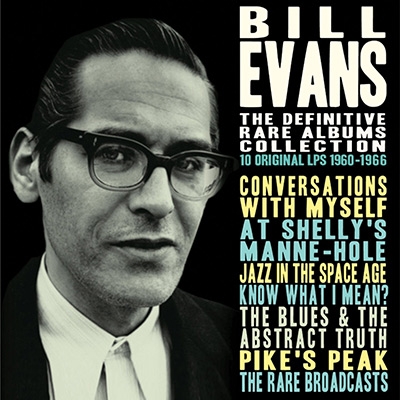 COMING SOON:
BLACKFOOT GYPSIES, To The Top (4/14)
FRONT COUNTRY, Other Love Songs (4/14)
And don't forget these STILL-NEW platters that matter!
RODNEY CROWELL, Close Ties (CD/LP)
As we've noted more expansively elsewhere, Rodney Crowell's new album, Close Ties, demonstrates his strengths as a songwriter and illustrates how he has learned to balance personal recollection, literary sophistication, and his profound worldly wisdom. Close Ties is at once his most intimate record and his most accessible, the product of years of understanding the ways songs can enter—and be entered by—life.
AIMEE MANN, Mental Illness (CD/LP)
The title of Aimee Mann's latest solo effort, her ninth, registers like a punch to the gut. In a world full of self-consciously clever and willfully obtuse album titles, Mental Illness is the equivalent of washing someone's mouth out with soap. It's not something you mull over or analyze in search of some hidden subtext or meaning. Instead, it smacks of cold reality. Mental Illness lays its hurt and sadness out so effectively that it's hard to completely accept it as pure fiction. But even if we're to take Mann's word for it that these songs were created with some personal distance, it's still no less powerful of a record. It shows not only her strengths as a songwriter, but also as a storyteller. Mann's proven that she doesn't need to be lovesick or embittered in order to play such a person on record. That, in the end, might be the most identifiable mark of a true artist.
TIM O'BRIEN, Where The River Meets The Road (CD)
The Grammy-winning songwriter / multi-instrumentalist / producer Tim O'Brien returns with his sixteenth album, which is entirely dedicated to his home, West Virginia. The amazing musical richness of Virginia O'Brien remains an inexhaustible inspiration. Where The River Meets The Road is a quest for the musical heritage of Virginia. Thus songwriter collected the material after a decade-long collaboration with the West Virginia Music Hall of Fame, and each song refers to a part of the larger story. For example, the banjo and fiddle-decorated opener "High Flying Bird" surges with the hope and optimism of the beginning of a great journey.
MASTODON, Emperor Of Sand (CD/LP)
Perma-frowned doomsayers Mastodon are back with yet another friendly reminder that someday everyone will die. This time, it comes in the guise of seventh album Emperor of Sand, a lofty concept piece about a man wandering a desert with a curse over his head set to swirling, frenetic guitars and gut-rumbling drums. "Don't waste your time/If it's the last thing that you do," goes the chorus to Emperor's boogie-metal "Precious Stones," and the band largely took that advice to heart. The LP is their most ambitious outing since 2009's proggy Crack the Skye – following two relatively pared-down LPs – and at its best (the radio-ready pop-rocker "Show Yourself," the triumphal outro of "Ancient Kingdom," the Zappa-inspired synthesizer-and-bells duet midway through "Clandestiny") it's a glorious metal miasma. At its worst (guitarist-singer Brent Hinds' mumbly, off-key acoustic intro to "Jaguar God," the noodle-y "Steambreather"), it's a potent reminder that, yes, indeed, time is precious. Mostly, they find a middle ground that pays homage to the burly heft of Mastodon past and the heady rock they've always aspired to make.
THE MAVERICKS, Brand New Day (CD/LP)
The Mavericks have a big sound. On their latest release, the (somewhat) newly re-formed band offer the aural equivalent of one of those widescreen Cinemascope Technicolor westerns of the late '50s/early '60s. The music evokes the broad empty landscapes, sleepy cantinas, and heavy-eyed senoritas of the mythical past where the differences between bad hombres and honest men were not always clear. That drunk in the corner saloon could be a doctor, the sheriff, a bum or an outlaw, and which one is the better person is anyone's guess.
JAKE XERXES FUSSELL, What In The Natural World (CD/LP)
if What in the Natural World feels both several shades darker, and unsettlingly funnier, than Jake's self-titled 2015 debut (produced by brother-in-arms William Tyler), you need only look around at our national predicament in 2017 for clues. Since then Jake has played around the country, opening for Wilco, dueting with Tyler, and touring with Mt. Moriah, Nathan Bowles, and Daniel Bachman … and the territory he's traversed, for many of our fellow citizens, doesn't brook much hope. This time round Fussell has sourced his repertoire from beyond his primary Southeastern foraging grounds, including songs from the Southwest ("Canyoneers") and even Wales ("Bells of Rhymney"). He encounters monsters, literal and figurative, everywhere in this landscape of loss and longing—from the hellhounds of "Jump for Joy" to cruel Mr. Brown in "Furniture Man" ("a devil born without horns"); from the oppressive mine owners ("they have fangs, they have teeth") of "Bells of Rhymney" to the demons and dragons on "St. Brendan's Isle." Unlike his debut, the majority of these songs are not nominally traditional; they don't hail from what Jake calls "the weird void of folk anonymity and the dark, fertile past." Five of nine are attributed to specific artists, both canonical (Duke Ellington) and obscure (Helen Cockram), and all are recast in vibrant, assured recordings that elide genres and dissolve the false binaries of tradition and innovation, folk and modern, old and new.
HAUSCHKA, What If (CD/LP)
Since 2004, Volker Bertelmann – aka HAUSCHKA– has, steadily earned a remarkable reputation as a purveyor of imaginative, distinctive, prepared piano music. On What If – which finds him adding player pianos (also known as pianolas) to his arsenal – Bertelmann expands his range even further, defying expectations and delivering what is without a doubt his most ingenious album yet. While engaging with his trademark technique of utilizing unusual objects – art erasers, for example – to treat (or 'prepare') the piano, Hauschka also programmed parts for player pianos, exploiting the speed at which they could play, manipulating the resulting sounds, and building layers to emphasize a composition's meter. What If aims to provoke reflection beyond the musical sphere with the titles of the both the album and its individual tracks. Overflowing with haunting melodies, mysterious sounds, and complex patterns, What If crowns an extraordinary couple of years for Hauschka. Likely to prove one of 2017's most original albums, What If redefines the very notion of piano music in dramatic and exceptional fashion. It stands as a rebuttal to those who lazily shoehorn Hauschka's work into the so-called, uncomfortably broad 'new classical' category, and instead underlines his status as a unique and invaluable artist.
DANGERMUFFIN, Heritage (CD)
Reaching into their creative arsenal, Dangermuffin has crafted an album showcasing the band's signature coastal-influenced grooves, melded with Americana sensibilities and Appalachian fingerpicking. The album's lyrics contemplate the universal human connection to our ancestors, ancient traditions, and symbols, while yearning for humanity to get back to its roots. 'Heritage' is an audible showcase weaving introspective lyrics with catchy, nimble guitar riffs.
BOB DYLAN, Triplicate (3xCD/3xLP)
Bob Dylan's third foray into songs previously recorded by Frank Sinatra isn't only the largest set of new recordings he's ever released (three CDs, 30 songs), it's also majestic in its own right. Dylan moves through this area – the region of Sinatra, and also of standards songwriters like Irving Berlin, Jerome Kern, Hoagy Carmichael, Richard Rodgers and Oscar Hammerstein – as if it's territory for him to chart and command. Indeed, Dylan has now made more successive albums in this idiom than in any other style since his world-changing mid-1960s electric trinity, Bringing It All Back Home, Highway 61 Revisited and Blonde on Blonde. Though a handful of songs here are delightful bounces (including the opening track, "I Guess I'll Have to Change My Plans") and some easygoing almost-blues ("That Old Feeling," "The Best Is Yet to Come"), most are downbeat, spectral ballads. In songs like "I Could Have Told You," "Here's That Rainy Day" and "Once Upon a Time" – ruminations on a memory of loss that is now central to the singer's being – Dylan raises devastation to a painful beauty. Other times, he intimates something ghostly. In Sinatra's original 1965 version of "September of My Years," arranger Gordon Jenkins opened with an eddy of strings, invoking the tide that eventually rolls in for everybody. Dylan's band creates the same undertow effect, sounding just as full, with Donnie Herron's steel guitar and Tony Garnier's bowed bass. He closes Triplicate, though, with something Sinatra sang many years earlier: "Why Was I Born," written by Kern and Hammerstein in 1929. It's a torch standard that epitomizes the sort of writing that Dylan killed off, asking the biggest questions – "Why was I born?/Why am I living?/What do I get?/What am I giving?" – on the most personal level. Dylan is no stranger to dejection or hard self-examination. What he understands here is the triumph in surviving that darkness. It's in that survival, and how you put it across to others, that you find out why you were born.
DAVID OLNEY, Don't Try To Fight It (CD)
There are always at least two ways to interpret David Olney's songs. They involve earthly matters of love, work, and engaging in vices. They are parables about the relationship between human beings and God. The fact that the meanings intertwine so well reveals his talents as a songwriter and philosopher. Olney understands our worldly actions have a ripple effect that goes far beyond what an individual may intend. Everything is connected to everything else. Olney sings and plays acoustic guitar and harmonica on Don't Try To Fight It, and he's joined by Blair Hogan on electric and nylon string guitars, Brock Zemon (who produced and engineered the record) on acoustic guitar and glockenspiel, and various side musicians on drums, fiddle, cello, dobro, piano, accordion, and saxophone. The mostly acoustic instrumentation gives the sound an organic feel, rich with the compost of various Americana traditions. One can hear echoes of waltzes, two-steps, folk songs, country blues, and Southern gospel weaved into the mix.
ERIC BIBB, Migration Blues (CD)
Eric Bibb's brand of country blues is a reminder that this precious paragon of African-American culture is music with deep soul. And more recently, Bibb has also reminded us that the blues is also about conscious and courage. His 2014's Blues People examined the sordid history of racism in America and the lessons we can draw from it today. His current project Migration Blues (March 31, 2017 from Stony Plain Records) draws parallels between the mid-century Great Migration of African-Americans from the rural South to the industrial North, and the current refugee crisis facing our world from the Middle East to the West as well as numerous other circumstances of forced displacement. In all instances, the people who sought to escape hardships have faced new hardships on their journey and at their destination. And once again, Bibb raises awareness and asks for compassion at a time when both are badly needed.
COCO HAMES, Coco Hames (CD/LP)
There's an old saying about how "you have your whole life to write your first record." For Coco Hames, the songs on her stunning self-titled debut poured from her pen over a sustained burst of inspiration…but they took more than a decade to live out. A deeply personal record filled with poignant ruminations on love lost and found, dreams dashed then rediscovered, these ten songs manage to pinpoint exquisite light amid life's darkness.
LAWSON & WILLIAMS, Chapter 3 (CD)
Two masters bring their next installment of the music that helped make them legends. Doyle Lawson and Paul Williams present Chapter 3. It's the style they first learned together as members of Jimmy Martin's influential band years ago before labels were differentiating Country, Western and Bluegrass music and songs of heartbreak stood side by side with inspirational Gospel numbers. It's classic Country and Gospel Music with the natural blend of unsurpassed brother style vocal harmonies. Songs of longing over lost love and of hope found by looking to the hereafter. Nearly all from the pen of a single writer, making them deeply personal, and each reminding us of what Country music, in terms of style, used to be.