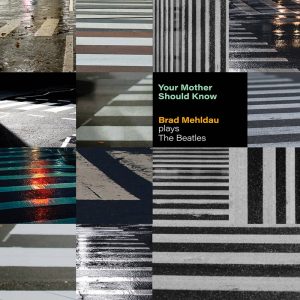 BRAD MEHLDAU has worked his pianistic magic on many different recordings over the years, from BACH to original jazz. But now he's turned his attention to one of the richest catalogs in pop music, THE BEATLES with his new album YOUR MOTHER SHOULD KNOW, out now
Order your copy on vinyl LP or CD HERE. Plus all purchases receive a free poster while supplies last!
The live solo album features the pianist and composer's interpretations of nine songs by John Lennon and Paul McCartney and one by George Harrison. Although other Beatles songs have long been staples of Mehldau's solo and trio shows, he had not previously recorded any of the tunes on Your Mother Should Know. The album ends with a David Bowie classic that draws a connection between The Beatles and pop songwriters who followed. Your Mother Should Know was recorded in September 2020 at Philharmonie de Paris.
"There is an undisputed universality to The Beatles," Mehldau says. "Their music cuts across cultural and generational lines, as new listeners continue to discover it. There is an immediacy and integrity to their songs that draws everyone in."When I was getting started at the instrument, The Beatles were not on my radar yet, but a lot of the enduring piano-pop music I heard on the radio grew out of them. That music became part of my personality, and when I discovered The Beatles later, it all tied together. Their music, and its wide influence on other artists, continues to inform what I do."
"If we look at The Beatles and the multitude of artists who have been influenced by one or another facet of their oeuvre, this paradoxical recipe for longevity is one way to consider their ongoing footprint," Mehldau continues. "For there is a good deal of strangeness to much of their music, particularly in the series of game-changing albums that begin with Rubber Soul through the release of their final record, Let It Be."
Make sure to preorder your copy of "Your Mother Should Know" today, and check out these other Brad Mehldau releases, in-stock now at Horizon!